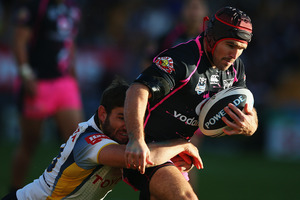 In terms of righting the wrongs of last year, Nathan Friend hopes an attitude adjustment and some structural changes will be key to getting the Warriors back on track.
Friend offered one of the more honest appraisals of his team's plight late last season, towards the beginning of that eight-game losing streak.
"We are very up and down with our defence," he told the Herald on Sunday in August . "If we could get some consistency there, that would be great. You can see sometimes guys don't want to get their heads in there. I guess that is just an attitude thing."
Now he believes the bitter lessons of 2012 will pay some large dividends in the long run: "A lot of guys who made the grade the year before [in 2011] probably thought this is pretty easy," says Friend, looking refreshed after an off-season break back home in Queensland and short vacation in Fiji. "You come in, do your thing and then you play in a grand final.
"I think they have realised this year that you only get rewards from effort. Some will pull their heads in and some will train their butt off."
Friend also thinks that structural changes - in attack and especially in defence - need to be a key focus of the next few months, as the Warriors' pre-season officially gets under way.
"[Last year] they went away from the structure they had used previously and it probably didn't pan out how we would have liked," says Friend. "It would be good to get back to using the guys the best way they know how; going flat and hard at the line and getting some quicker play-the-balls, allowing the other guys with their footwork to take advantage of that. We went a bit lateral last year but we still scored points. Our attack isn't the major factor that we need to fix up this year."
NRL teams usually spend about 70 per cent of their training time on the defensive side of the sport, as the modern game is won or lost on what you do without the ball. Last season, the Warriors were all at sea defensively; only six times did they concede less than 20 points and they only managed to hold their opponents to 10 points or less twice (vs Titans, round four; vs Broncos, round 19).
"The coaching staff realised halfway through the season that our defence just wasn't working so they tried to implement stuff but it is very hard during the season to implement a [new] structure," says Friend. "The only way we can improve on last season's structure is in the off-season with Matt [coach, Elliott] bringing his structure and we all get on board. Confidence will come if we can hold teams out; if you can hold teams out and stop them from scoring, that is as good as scoring tries in this day and age."
The arrival of Thomas Leuluai, Dane Nielsen and Todd Lowrie - all of whom would probably nominate tackling and defence as their main strengths in a SWOT analysis - can only help the team evolve into a superior defensive unit.
Elliott has talked individually with almost all of the players in the wider first grade squad over the last two weeks, getting their views on 2012 and what needs to happen next season.
"We had a pretty lengthy conversation," says Friend. "I won't delve into what was said within the four walls but he has had everyone in and taken a lot of notes. I'm sure he will put it all together and come out with a plan that will hopefully have us heading in the right direction next year."
Friend has been out of his sling for two weeks and reports that his damaged shoulder "feels okay". He will do as much as he can with the team over the next few months but doesn't expect to be involved in full contact work until February.
Like most of the squad, he is ready for some tough sessions under new trainer Carl Jennings, after the criticism of their fitness levels in 2012.
"Hopefully the conditioning regime is a solid one and gets us ready for whatever comes next year," says Friend. "Last season it was solid so we need to keep that but probably have a bit more training under fatigue." The landscape might also change for Friend next season with the arrival of Leuluai from Wigan. The Kiwi international is being earmarked for a role in the halves alongside Shaun Johnson but spent a lot of his time at Central Park playing at hooker and has also been used in the dummy half role by Stephen Kearney at international level.
"I thought he was mainly a halfback," says Friend, "but I'm not too concerned. Last year there was Alehana Mara and also Pita Godinet who could play dummy half. Most of my career I've jostled with hookers to get a start and it's healthy - it brings out the best in everybody."