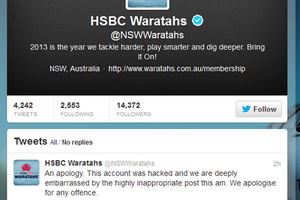 The NSW Waratahs have apologised for an offensive four-letter word appearing on their Twitter account overnight.
The Super Rugby club say their account was hacked and immediately removed the tweet on Friday morning after it was live for more than four hours.
The bizarre tweet sent to the Waratahs 14,000 followers featured a single swear word and attached a link to a foxsports.com.au story about Manly NRL player Matt Ballin.
NSW issued an apology at 8.30am (AEST).
"An apology. This account was hacked and we are deeply embarrassed by the highly inappropriate post this am. We apologise for the offence.''
- AAP