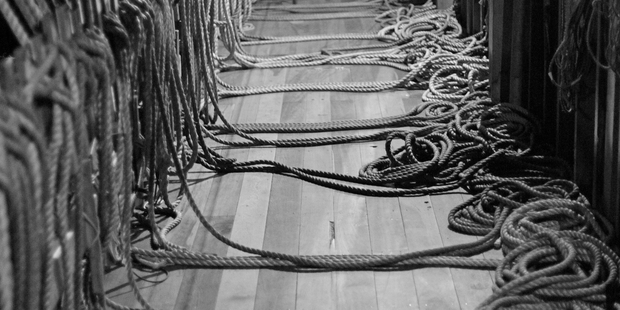 Recently my darling wife had the good fortune to win a trip to the ballet when her name came out of the hat for tickets to the Royal New Zealand Ballet's Tutus on Tour at Wanganui's own royal opera house.
Oh hurrah, I thought, but I gallantly dressed up and escorted her to St Hill St. We fluked a park right outside the entrance and before I could close my door and get round to her side of the car, she had disappeared into the throng, so keen was she not to miss a moment of the experience.
The air was a bit thin up where we were seated, and the first few minutes were spent in a game called "spot the man". We counted nine men in the packed-out balcony seating - all with hair styled in fashionable grey, so I didn't feel at all out of place among all those excited women.
The next few minutes were spent wondering why I hadn't bothered to dig out my old opera glasses and the next few wondering if the young girl in front really thought that my knees were her headrest, and if she would ever stop wriggling around. At least she didn't have a cellphone. But what a wonderful experience the whole night turned out to be.
The dancers danced so well, it might as well have been Rudolf and Margot in front of me, such is my limited expertise in the area. It was a well-balanced if short performance, with the second half taken up with a great bloked-up version of Peter and the Wolf.
The obligatory sponsor's message was satisfied with the "Big Bad Wolf" being portrayed as a nasty young executive type complete with cellphone and swagger. He killed any allusions to Swan Lake by eating the duck.
My darling sat entranced and so happy that if she had died that night it would have taken the undertakers days to get the smile off her face.
And what a venue. I had been given a full tour of this precious old building previously; framed with huge timbers, as strong as the day they went up - well, perhaps a bit stronger due to the extensive earthquake-proofing.
Plentiful changing rooms, with lots of room backstage for props, and the fly floor above complete with ropes and pulleys from which to swing the angels, fairies and pirates. All very dated but, with the enthusiastic volunteer staff, it still works just fine.
There is even a full-sized grand piano housed in its own little climate-controlled room off the stage, complete with a set of steel tracks built into the floor. There is an ancient generator underneath the building once powered by coal gas and used to light the building and run the electric motors.
Backstage at the opera house is a museum in its own right.
The building was planned to the ideal proportions of a third behind the curtain, a third in the auditorium, and then what would ideally have been a third in the front of house. They skimped and made the front bit smaller - much smaller - so that getting a drink at halftime is a bit of a mission. But Wanganui being the friendly place it is, no one minds a scrum to get an ice cream.
My advice is that next time there is something on at the opera house, go to it. It is well worth the trip from Marton, Hunterville or Waverley - or even Taihape or Hawera, for that matter.
Chris Northover is a former Wanganui lawyer who has worked in the fields of aviation, tourism, health and the environment - as well as designing electric cars and importing photo-voltaic panels.