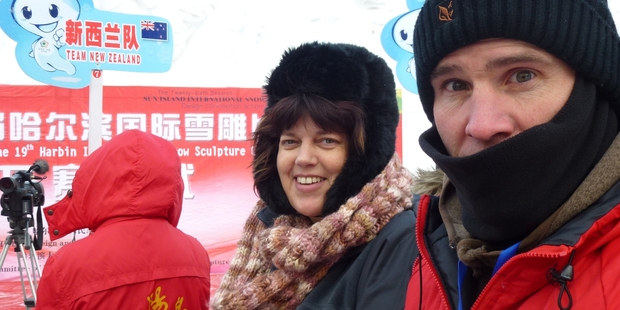 An exhibition opening soon at the Lysaght Watt Gallery in Hawera will present new works by Waverley artists Lisa and Jimi Walsh, after their trip to China earlier this year.
The husband-and-wife team represented New Zealand at the Harbin international ice festival, the largest in the world. Harbin, in north-eastern China, has a population of more than 10.5 million people so the Walshs needed to adapt quickly to freezing weather conditions and a vast change of culture.
The exhibition will be launched at the community gallery in Harbin's Sister City, Hawera, and will focus on the alternate realities faced by the artists during their 11-day residency.
It runs from tomorrow, with the official opening at 5.30pm, to March 31.
"Faced with a four metre square block of compressed snow to carve in minus 30 degree temperatures is not a situation many Southern Hemisphere artists would face in their career." This exemplifies the Walshs constant drive "to seek new challenges and push the boundaries of their artistic development", said exhibition curator Michaela Stoneman of the South Taranaki District Council.
To assist with funding their trip, the couple offered limited edition glass artworks to the local community. These will be exhibited alongside works in a variety of mediums which explore the differences and similarities of culture.
The show is part of Te Ngira: New Zealand Diversity Action Programme run by the Human Rights Commission in March each year.
All are welcome at the opening and refreshments will be provided.
Alternate Worlds: Lysaght Watt Gallery, 6 Union St, Hawera (beside the Hawera Town Square), Open: Monday-Friday 10am-1pm; Saturday 10am- 1pm.