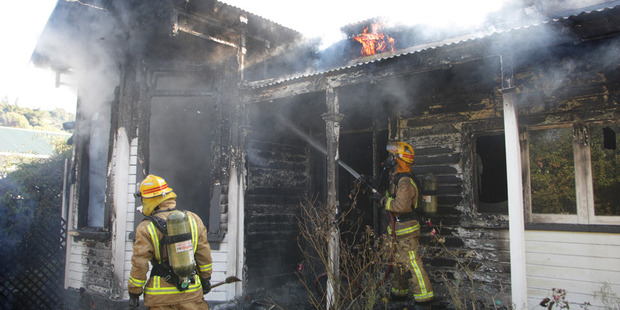 Alert neighbours raised the alarm on a dramatic early-morning house fire in Aramoho yesterday.
As smoke billowed high in the air, visible from the central city, Wanganui firefighters were called to the old wooden villa at 8.12am.
Neighbours spotted the smoke, and then flames and heard windows breaking, and some headed to the Kells Ave house to warn the owners.
They had knocked on the door, but no one was home.
Liam Ashwell, who lives opposite, said he was woken by his kids running inside saying there was a fire.
The house was empty but Mr Ashwell said a young English couple had moved in several months ago and were living there with their two young children.
Neighbours in dressing gowns and slippers had gathered in the street to watch two fire trucks and firefighters in action.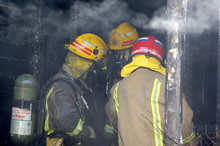 Aimee-Lee O'Shea, staying in the street on holiday, said the fire started at the front of the house and it went up fast.
Senior station officer Bryce Coneybeer said all the trees at the front of the house had caught fire, but nearby houses were safe.
He thought the owners of the house were at work, and the police were trying to contact them. Police and fire investigators would be looking into the cause of the blaze," Mr Coneybeer said.
Firefighters used water and foam, and wore breathing apparatus to work amid the smoke.