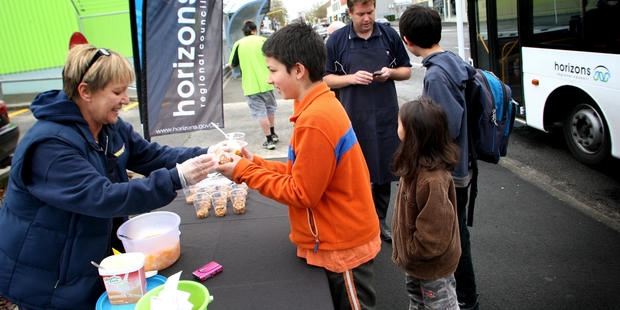 Isaac Donne-Lee, 11, gets off a free bus and straight into a free breakfast from More FM breakfast host Sue Miller at the main Tranzit bus stop in Wanganui's St Hill St.
Meanwhile, Isaac's siblings, 9-year-old Christina and 13-year-old Benjamin, wait to tuck in to their free brekkie - all part of a promotional week for the city's Tranzit buses.
Travel will be free until the end of Saturday, there are on-board chances to win prizes and the GoCard - designed by Tiana Oldale - will discounted until October 12.
Horizons Regional Council transport planner Wayne Wallace said the aim was to get more people using the buses.
"We did this in Palmerston North four or five years ago and had such a good response. People kept using the buses after that, because they're easy and cheap."
He said business was already brisk in Wanganui. "We've had a bus come in from Wanganui East that was full of people who had never been on a bus before."