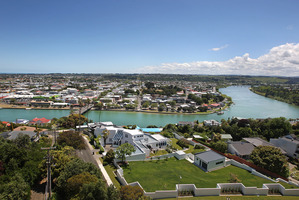 Bus travel around Wanganui will be free for all passengers for a week from next Monday as Horizons Regional Council encourages more people to get on board with public transport.
The freebies will be available from September 30 through until Saturday, October 5
The free week coincides with the launch of Horizons' new GoCard design, created by Wanganui High School student Tiana Oldale. It is also the first week of the school holidays.
Wayne Wallace, Horizons transport planner, said waiving fares for a week provided an opportunity for people who wern't regular passengers to try the bus service.
"Horizons' Wanganui bus network offers a cost-effective and convenient way to get from A to B. With petrol prices heading skyward, public transport is becoming an increasingly attractive option and we want to encourage more people to consider bus use as an alternative to private cars."
A number of fun activities will be held throughout the week including healthy "free bus breakfasts" at Trafalgar Square next Monday and Thursday, and opportunities to "ride and win" with More FM.
The new-look GoCard will be available to buy less the $7 administration fee to October 12.
Copies of the bus timetable are available online at www.horizons.govt.nz and from the i-SITE, Wanganui District Library, Horizons Regional and Wanganui District Council offices, Tranzit in Ridgway St and on board all Horizons' buses.