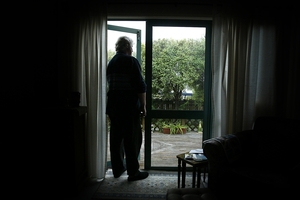 Elderly suicide is not talked about in Wanganui despite statistics which suggest it is rising, a local health expert warns.
The comments follow the release of provisional annual suicide figures showing the highest rate of suicide was among men aged over 85.
The figures, released last week, were for the year ending in June.
The Palmerston North coronial office dealt with 47 suicides in the past year, down from 51 the year before and 53 in 2010/11.
The office covers Palmerston North, Wanganui, Hawera, Levin, Kaikoura, Marlborough, Marton, Motueka, Nelson, New Plymouth, Ohakune, Palmerston North, Taihape, Taumarunui and Waverley.
Wanganui DHB mental health clinical director Frank Rawlinson said elderly suicide was not a topic of discussion, despite comprising more than 9 per cent of all suicides nationwide.
"Certainly, there are a lot of elderly that are lonely, living on their own, disenfranchised, don't have a wider family network ...
and is that contributing their suicide?
"It's not really something that we think about when we think about the elderly."
The numbers themselves were small enough that few solid conclusions could be drawn, but Mr Rawlinson thought alcohol and substance abuse was as much of a problem for the old as it was for young.
"The hippies are now old hippies, so the years of abuse haven't necessarily gone away because they've got old."
Wanganui Grey Power president Graham Adams said elderly people were most likely to take their own lives over terminal illness and the realisation: "What's left in life for me? I might as well end it all."
Elderly suicide was not talked about openly and was kept "in-family," he said.
Wanganui Age Concern runs a visiting service to help with social isolation, while Grey Power advocates on behalf of elderly people.
Chief Coroner Judge Neil MacLean said the rates were a surprise, and more attention would be paid to the elderly.
"It is a grey, uncertain area, but we need to know a lot more about it," he said.
Suicide among elderly was sometimes difficult to identify, particularly in cases of "slow suicide".
"That's the person that's starving themselves, refusing their medication, simply giving up the will to live. It merges sometimes with euthanasia and that's a very grey area."
The figures also showed women were catching up to men in suicide rates, with more women and fewer men taking their lives in the past year.
Judge MacLean said the gender shift appeared to be the most significant emerging trend and mirrored the rising number of women involved in violent crime. "I wasn't surprised to see it because I'm aware of the same trend occurring with violent crime."
Suicides among women and girls increased from 142 in 2011/12 to 153 in 2012/13. Among men and boys, the number fell from 405 to 388.
While the female suicide rate per capita was still well below that of males, it had been increasing since 2007.
Suicides in Christchurch city had dropped since the earthquakes, something seen internationally after disasters, but there was concern numbers would trend upwards again.
Judge MacLean said there would be continuing focus on youth, particularly on prompt action in schools, marae and communities after a suicide had occurred, as peers of the victim were at higher risk.
New Zealand's suicide rate remained high by international standards and had stayed "stubbornly the same" for years.