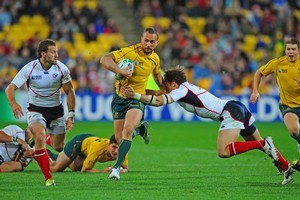 Quade Cooper and his team-mates cannot afford to give anything but their best when they play South Africa in two weeks. Photo / Getty Images
The Wallabies' heightened performance against the American Eagles on Friday bought some relief for beleaguered Aussie supporters.
That said, somewhat like their opening match against the Italians, it is difficult to gauge how impressive individual and collective performances really were against inferior opposition.
The scrum was pleasingly powerful but surely this was to be expected against what seemed to be a second string Eagles front three.
The intensity too at the breakdown was clearly upbeat, unlike against the Irish, but Wallaby legs and upper bodies had not been drained in defending scrum after scrum as they had the previous week at Eden Park.
Arguably the standout forward for Australia was veteran lock, Nathan Sharpe. His ball security at kick off and lineout was first class, an area where the Wallabies cannot afford to stumble in their inevitable clash against the South African tall timber in two weeks' time at Wellington.
The upcoming dilemma for coach Robbie Deans will be who to partner captain James Horwill in the locking department. I rate incumbent Dan Vickerman as a world-class lock and his abrasive character will be needed in spades against the Boks not to mention his knowledge of Afrikaans.
The Wallabies spate of injuries in the backs will reduce the options available to Deans to piece together the jigsaw of the backline come sudden death. However, one of the first selections I personally would decide upon would be the inclusion of the versatile Berrick Barnes.
In the sudden death matches the outcome is highly likely to be decided by which team converts their goalkicking opportunities.
In this area Barnes is undoubtedly head and shoulders above the other candidates, especially in the heat of the moment. Goalkicking reliability can be assured by the Springboks and it would be criminal if we were on the plane home due to missed penalty or conversion opportunities.
But Barnes is not just a reliable kicker. When in form, which he has been since his return from concussion, I rate him as one of the most creative players in the Wallabies squad.
It was Barnes' entry into the Bledisloe Cup match last year in Hong Kong with 20 minutes remaining that turned the game on its head. Admittedly this coincided with Dan Carter being replaced but Barnes' impact on the backline structure and his creativity was largely the reason for the dramatic last-minute victory for the Wallabies.
Standoff Quade Cooper is brilliant but as we know can also be erratic especially when denied space. The Boks, in particular flyer Schalk Burger, will clearly look to bustle Cooper and be in his face.
The experience, judgment and coolness of Barnes alongside Cooper or his flexibility to be able to interchange positions with him and take some heat away from time to time could be invaluable. Against a highly impressive and powerful Springbok midfield, Barnes' defensive qualities also would be crucial. Having played top-level rugby league, his tackling technique is copy book.
I would return Adam Ashley-Cooper to his preferred No13 position and have this backline start working combinations at training both offensively and defensively until their noses bleed.
Away from the game, on Friday I had my first opportunity to visit Christchurch since the February disaster speaking at a Red Cross fundraising lunch. At the end of a long lunch a local by the name of Shane bought me a beer and recounted to me of his hellish experiences that fateful February afternoon and the days that followed.
Shane has been a St John's Ambulance officer for 12 years and he was one of those brave guys responsible for recovering many of the deceased from the collapsed CTV building.
Shane apologised to me for the way some of his countrymen had reputedly abused some Australian fans during the opening weeks of the World Cup.
He emotionally told me he could never forget the Anzac spirit that existed in the wake of the quake when Aussie volunteers were shoulder to shoulder with him.
It puts things in perspective, doesn't it? There is nothing wrong to be as one-eyed as you want, as we desperately will our respective teams on in this world-class event which comes around every four years.
But at the end of the day let's all enjoy what the great sport of rugby has to offer on and off the field.
The tournament is a melting pot of cultures and the "third half", as the French call it, should bring people together, not divide us. Those who overstep the line as regards good banter between rival fans are the real boofheads of this great event.
Finally to Richie McCaw in achieving his 100 test milestone last night. There are many qualities including longevity which make true sporting champions stand out from the pack. You are a true sporting legend who deserves this road to lead to your Everest. I personally wish you every success.