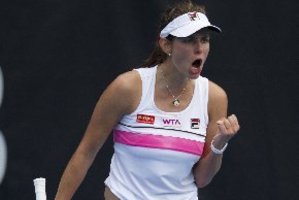 Julia Goerges is set for her fifth crack at the ASB Classic and will be aided by something of a secret weapon - her physiotherapist.
Having played at the tournament for the last four years in a row, the German will be hoping to repeat her run to the semifinals in 2011 and begin a bounceback year after a disappointing 2013.
Goerges, who will play eighth-seed Karin Knapp in the opening round on Tuesday, was inhibited by her first major injury through much of the season and her struggles only exemplified the need for a fulltime physio to manage the rigours of the WTA circuit.
So the 25-year-old now enjoys the luxury of taking her physio from tournament to tournament, ensuring daily management of the aches and pains that come hand in hand with the demanding sport.
"It's a big thing to have with you," she said. "I think it's a luxury you can have when you've already achieved something, and this is an area where I want to spend my money. To really feel capable of going far, you have to have the right people around you."
That means not being subject to the whims of tour-appointed medical staff, with time at a premium and patients always in need. It's not possible for every player but, with almost US$3 million ($3.7 million) in earnings during her career, it's an amenity Goerges can afford.
"We put so much tension and pressure on the body every day," she said. "It's very necessary for me to have someone around with me, otherwise there wouldn't be any chance of playing a full match. Staying healthy is the most important thing."
That hasn't been much of an issue for Goerges in the past. Until last year, she had led a relatively charmed life compared to some of her peers, allowing her to rise as high as No 15 in the world rankings.
But, after finishing runner-up in the doubles at last season's ASB Classic, Goerges endured a difficult campaign, hampered by a wrist injury sustained during in a WTA event in Brussels in May.
"I had a really tough year last year and got my first big injury with my wrist.
"That kept bothering me for over four months.
"It's tough when you're a really aggressive player and you're not really going for your shots," she said.
"Because you feel pain and you're always hesitating a little bit.
"But it's good for me to feel no pain anymore. I had five weeks off where I could really relax the bones and let them heal up."
Her physio will be sure to monitor the ailment during the start of the new season and, the way Goerges sees it, she has one of her fellow ASB Classic competitors to partly thank for such an allowance.
The world No 72 believed Venus Williams, along with sister Serena, was responsible for ushering in a new era for women's tennis, one which has seen professionalism rise, endorsements flow and competitiveness increase dramatically.
She said she was more than content with once again beginning the professional year in Auckland.
"I feel really like home, I would say, even though it's very far away from home. Overall, it's a great tournament to start the year with and that's why I'm coming back."APNZ
For more articles from this region, go to Wairarapa Times-Age