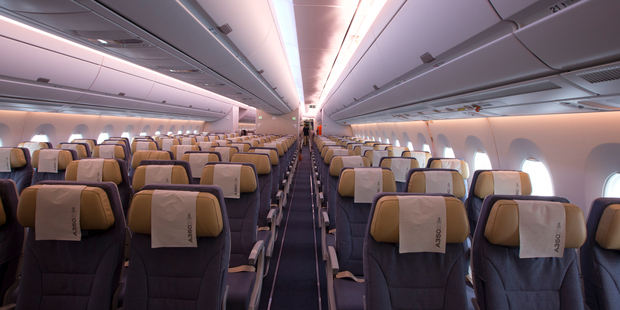 BY all accounts a United Airlines flight from Newark to Denver earlier this week had more in-flight entertainment than the airline had intended.
An ungodly row broke out between a man and the woman passenger seated in front which came to a head when the woman threw a cup of water over him.
It was all over an interesting little device called a Knee Defender the man had in his possession and which is used to clamp on to an airline tray table, stopping the passenger in front from being able to recline their seat.
The man at the centre of the episode refused to take off the clamps, even when cabin staff asked him too, and he wore the cup of water. So seriously did United Airlines take the incident that the plane was diverted to Chicago and the man and the woman were off-loaded into the arms of police to explain themselves. No charges were laid.
Going by the book, it has been confirmed the man was in the wrong - when you buy an airline ticket you buy ownership of the seat for the duration of the flight and if the seat reclines, tough luck for the passenger behind you.
Okay, I accept that, but not without having a fair measure of sympathy for the man with the clamp-on device.
Being a veteran of many, many flights - some as long as 26 hours - I feel qualified to remark on the sheer frustration of having an inconsiderate passenger seated in front who insists on pushing back as far as possible, even when meals are being served.
Any air traveller would agree space on passenger jets these days is at a premium.
Being able to recline is okay but a considerate passenger doesn't try to do so at mealtimes, and tries to be reasonable at other times, perhaps by only partly reclining the seat.
It's all very well for airlines to declare who is right and who is wrong in these types of situations but passengers likewise could point the finger at them by saying if you didn't try to jam us in like sardines the problem might not arise.
There is an alternative of course, you can travel business class or first class.
With the pricing structures the way they are - yeah right.
For more articles from this region, go to Wairarapa Times-Age