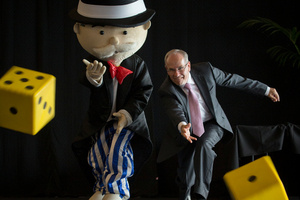 It interests me how politically correct Auckland's Monopoly board game is, and how, if there was to be a Wellington region version, would we fare.
I guess the political correctness shouldn't be surprising. Most of us are familiar with the English version of the board game, featuring London streets and railway stations in an order of hierarchy. It is a long-winded stroll around the English class system, in which players can (briefly) aspire to climb above.
In the 1930s, people probably weren't too concerned about naming particular streets at the bottom of the pile. Old Kent Road and Whitechapel might only be a stone's throw from the high-powered corporate banks of Bishopsgate and Liverpool St, but they still retain a decrepit charm.
But in New Zealand, it would be amusing, albeit commercially disastrous, to literally rank a particular street at the bottom of the board. Which is why, I suspect, Auckland's version has gone for landmarks (and some significant sponsorship and naming rights), with Auckland Domain taking the place of Old Kent Road.
A picnic day out on the Domain, after all, isn't too pricey.
So how would the component parts of our region be ranked around the board?
If it were simply on economy of scale, Featherston and Wainuiomata would be the cheapest properties, and Lambton Quay in Wellington the most valuable. If it were on socio-economic population, Cannons Creek in Porirua, or Pomare in the Hutt, might be at the bottom, while Seatoun Heights or Kelburn in Wellington would rank the highest.
But what if we ranked on lifestyle? We'd probably have to be realistic and put Oriental Bay in the top spot, then Seatoun Heights in the Park Lane position. Then I think we'd work our way down through Kapiti, then Days Bay, some of the swankier parts of Porirua, Kelburn, then switch to Greytown's main street, flip back to Johnsonville, then Carterton, Masterton, Miramar, and finally finishing with the 'rustic' atmospheres of Featherston, Petone, Thorndon and Newtown.
Colossal generalisation, I know, and I'm sure I'll get grief for it. Hell, it is only a game. How would you vote?
For more articles from this region, go to Wairarapa Times-Age