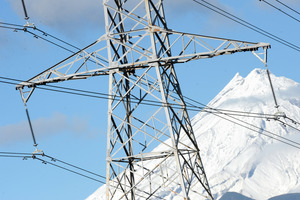 IN THE past five years, power prices have risen nearly 30 per cent.
In the last year alone, the price of electricity has risen more than 5 per cent, which is more than five times the rate of inflation. Every day 400 people have their power disconnected because they can't pay their bills. Two years ago there were almost 13,000 disconnections. Last year there were 17,600. In the first half of 2013 alone, there were more than 19,000.
National claims the current system is working fine. The figures above tell a different story. Once again this Government's blind faith in the market is failing New Zealanders.
The fact is the current market model has allowed power companies to cream super profits at the expense of Kiwi households and businesses.
That's not fair, and it can't go on.
Regrettably, the National Government has chosen profits over people. National wants to sell up to 49 per cent in the State-owned power companies.
It is in its interest to have these companies as profitable as possible. After the disastrous Mighty River Power float, National is desperate to reap maximum return from the sale of Meridian Energy that officially got under way last week.
That is why they paid a $30million subsidy to Rio Tinto, New Zealand's largest electricity consumer, just so they would remain a client of Meridian Energy. That is why National refuses to do anything to reduce power prices.
Evidently, asset sales are more important.
New Zealanders do not want asset sales. They know that power prices will only continue to rise once these power companies have to report to shareholders. They know relinquishing ownership of these companies, waving goodbye to the revenue they provide, makes no sense whatsoever. To have to pay out of our own pockets to support National's doomed policy only adds insult to injury.
As it stands the current system is not working for the ordinary New Zealander, but there is a better way.
As Labour leader David Cunliffe said: "Under Labour there will be no opportunity for power companies to make excess profits at the expense of New Zealand families." Labour's solution is simple. We will fix this problem by introducing a new agency, NZ Power, to act as a single buyer of power for households. It will do a similar job to Pharmac - use bulk buying to keep prices low.
NZ Power will also have the power to set prices. Labour will introduce a fairer pricing system where electricity companies get a fair return and consumers finally get a fair go. No longer will New Zealanders be forced to pay producers of cheap hydro-electric power as if they were producing expensive coal-fired power. These measures will encourage more competition among retailers.
Because New Zealanders will have more money in their pockets, Labour's policy will also stimulate the economy.
Businesses will receive a double-boost: customers with more money to spend and also a lower electricity cost for their shops or plant. Independent economists Berl estimate our policy's economic impact will create thousands of new jobs.
There are examples around the world where this sort of approach works successfully. It works because it has consumers in mind. National knows that; it just refuses to admit it. Instead, it prefers to label it "far left" and promote an asset-sales policy that only benefits the small wealthy minority. A government that does not place the people as its main priority will not be a government for long.
For more articles from this region, go to Wairarapa Times-Age