Spoil dad with a delicious roast and a decadent pudding. Angela Casley shows you how.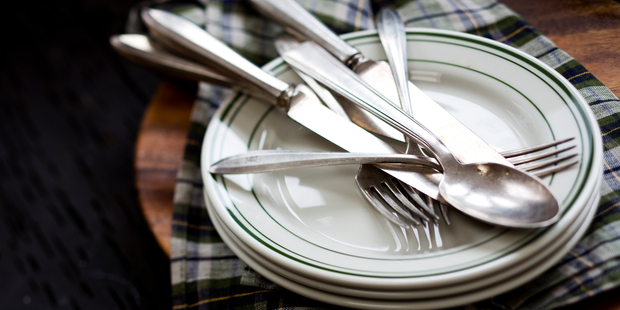 My father wasn't great in the kitchen. He could make a cold leg of mutton last a few days when Mum was away. He'd make sandwiches with home-made tree tomato chutney and a lettuce leaf for lunch, then boil a pot of potatoes to accompany it at night for dinner.
Easy to please, one might say. He also cooked a mighty mean pot of porridge each morning. Always first up to exercise the farm dogs, he'd turn the pot on very low at 6am so it would be ready for the family for breakfast at 7.30am with milk and home-stewed fruit. It's hard to beat that.
Today the men in our lives are a lot more accomplished in the kitchen. Only last week we had a Sunday pot luck lunch with the extended family. My brother-in-law cooked the main course of slow roast lamb, and an older uncle made a beautiful fruit salad. Long gone are the days when it was the ladies who provided the plate.
With a crowd or just an easy family dinner, a leg of lamb is a great option.
Any number of delicious marinades can be used - olives, lemons, garlic and fresh herbs, to name a few.
Today, inspired by my brother-in-law, I have used a spicy mix with fresh garden herbs and honey for sweetness. Left in the oven for 7-8 hours, on a low heat, lamb couldn't be easier.
After cooking, use the scrapings in the bottom of the pan to make an instant, tasty gravy. And any leftovers will never go to waste; lamb is great in sliders, pita pockets or on soft tacos.
For a substantial fresh salad, try mixing pearl barley with a few interesting ingredients. Cook the pearl barley in chicken stock to add extra flavour. Make sure your brussels sprout are cooked through, and add dates for a surprising twist in texture and taste. If there is any left over, this is a great salad to pack into a lunch box for work.
And you just can't go wrong with a chocolate steamed pud. I always place an old saucer in the pot to help stop the bottom of this chocolate pudding burning.
With its delicious chocolate sauce, served with lashings of icecream or lightly whipped cream, this is one dessert you have to try.


RECIPES:
• Spiced Slow Roasted Lamb
• Pearl Barley and Brussels Sprout Salad