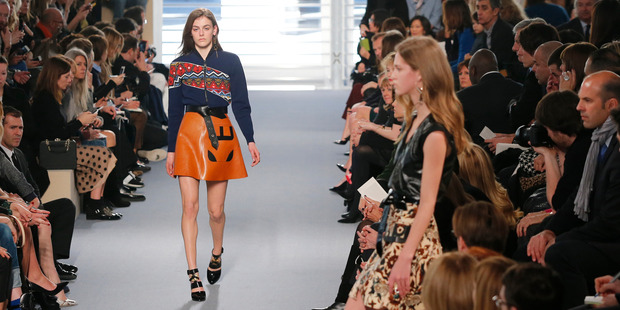 When Nicolas Ghesquiere revealed his first collection for Louis Vuitton, there was plenty to go nuts for. The textiles, the roll necks, the little quilted purses. Above all, the mini-skirts. Beautifully cut and wittily trimmed with oversized pockets, they represented just how well Ghesquiere understood the brand he was inheriting when he took over the LV mantle from Marc Jacobs.
Like everything else in this collection, his high-waisted A-line minis were intelligent and edgy, but also eminently wearable. Yes, they're short, but this is a shape that suits a surprising number of women. Team them with black tights and boots and the resulting silhouette is sleek and balanced, especially if you go for a high neckline, as Ghesquiere did with his models. It was a timely reminder not to dismiss the mini; it's a good 15 years since I've taken them seriously.
This is misguided, and not just sartorially. Certain garments have transcended fashion and moved into history. The LBD is one of these, the mini skirt is another. Whereas the LBD is timeless, the mini belongs to the era that spawned it.
Mary Quant's claim to have made the first one, in 1964, and naming it after her favourite car, has since been challenged.
There was talk of minis two years earlier, it is said, in Mexico City. They were called ya-yas then, apparently, a name we need to bring back as soon as possible ("What are you wearing tonight? My black leather ya-ya." Excellent.)
Quant says it was girls running for buses on Kings Rd who inspired her, which suggests that the skirts were merely reflecting a change in pace that was under way already in many different senses.
In any case, the mini became the fashion emblem of the decade, a cheeky little triangle that enabled the swing of the 60s. The decade swung in more ways than one of course, and paired with the pill, the mini became a symbol of a new sexual - as well as social - freedom for women.
God forbid any of this should pass without comment. In 1965, British model Jean Shrimpton, Kate Moss' spiritual mother, caused uproar when she wore a mini-dress to Derby Day in Melbourne. The funny thing is, apart from being an inch or two above the knee, Shrimp's dress was perfectly modest and elegant by contemporary standards. One wonders what the punters would have made of it had Rihanna turned up in the bare-ass gown she wore to the CFDA awards recently?
But, like fashion, what shocks us changes. I'm ready to get into an LV mini once I can afford one (God grant the legs are still good when I'm 50) but I draw the line at denim cut-offs.
Jean shorts, Daisy Dukes - they're terrible, whatever you call them. It was bad enough in Auckland, where they were at least paired with black tights for autumn, but here in France it's summer, and women are going bare-legged in their shorts, to nobody's edification.
It may be the shape, it may be the denim, but there is something about cut-offs that makes the most elegant woman look ungainly and awkward. It's not about age or body shape, they look as bad on coltish young girls as they do on their mothers, and the horror of their ubiquity is that they suit precisely no one.
I have to laugh, writing this; I bet in 1964, someone said the exact same thing about minis. Well, time can be the judge of it. If there's an LV collection in 50 years with jeans shorts in it; not only will I eat a pair, I'll wear it.
- VIVA