Janetta Mackay talks to two stylists who are redefining the way they do business.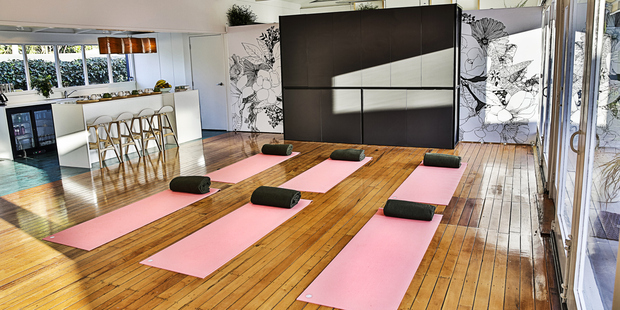 A trip to the hairdresser can be like going to the confessional or the cafe. Clients often view their regular salon visit as either a welcome time out or a fun outing - with the added bonus of leaving feeling swisher than when they arrived - but now the business of transformation is undergoing its own makeover.
Salons as social spaces or opening on to beauty lounges or shopping areas are well established, but in line with trends overseas, innovative owners are extending the multi-use concept. It makes good commercial sense, but also reinforces the idea of a salon as a hub of creativity and community. If you're visiting after hours, or for reasons other than to get your hair done, then you're entering a new style of so-called anti-salon. Today, we look at what makes two quite different examples tick.


IN THE NEIGHBOURHOOD
When Belinda Robb moved from her Birkenhead boutique salon a few doors up Mokoia Rd, she couldn't wait to stretch out. The bijoux box that had long been home to the experienced stylist was simply too small to accommodate her popular local business. Now she has room to wheel back the mirrors and unroll the yoga mats.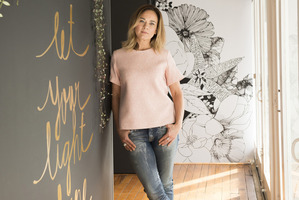 Before and after salon hours, community stretch sessions are held in what was once a car workshop.
Robb has transformed the place with white paint, greenery inside and a herb garden out the back.
Locals drop in to check out the new-look Biba, which is set back from the road between an art gallery and a cafe. When Viva visited, one of those swinging by to say hello was Dry & Tea founder Louise Pilkington, out wheeling her new baby. Pilkington's Newmarket salon opened several years ago with a similar multi-faceted appeal, where customers are as likely to be popping in for a cuppa or nailpaint as a quick blowdry.
At Biba, hair is definitely the daytime focus, but Robb says her guiding principle is "hair with heart". She's shared life stages with her loyal customers, seen them laugh and cry, and now she enjoys being able to share her passion for holistic living, finding many stressed women are following or seeking a similar path.
"Meditation and yoga made me feel beautiful in the body, mind and soul," says the mother of a young daughter. Good nutrition is another aid to living well. Her drinks menu for clients features green juices, drawn from products from her own garden. To keep the outside looking good, she has been using ammonia-free hair colour for some years and partners with haircare brand Pureology because of its sustainable approach.
A new initiative is the "Biba with Love" programme, whereby clients, staff, friends and family nominate people deserving of salon services. In salon downtime, Robb and her team donate their expertise in what she says is "the hope that a little beautifying and relaxation will help them through what might be tough times".
How do you want clients to see your salon?
As a place where they are able to be beautified and at the same time restored. Ultimately, I hope that Biba will be seen as a sacred space and source of inspiration that goes much further than the surface.
What new uses are you putting the salon to?
Lots of thought went into the design to create a multi-functional space that quickly and easily converts into an airy, light-filled studio space. This provides the perfect backdrop for our regular weekly timetable, which runs throughout each school term. It's called Pure Happenings @ Biba and consists of yoga, qi gong and silent, guided bush walks in the morning with evening classes that include relaxation and meditation classes.
What led to your interest in a more holistic approach to hairdressing?
It has been a natural and gradual evolution, mostly small steps and the odd leap of faith over the past 10 years. An over-riding desire to create beautiful, believable hair without harmful ingredients.
What is exciting you about hair at the moment?
"Sombre." A softer, more subtle interpretation of ombre. This new colour technique is taking centre stage right now and I love when it's married with organic, undone, textured styling. The duo effect communicates so much more than just colour and style - it is more about embracing and enhancing one's natural beauty, tones and texture in a way that's not contrived or over-worked.
Hair styling to you is ...
Never to be underestimated.


ON THE CITY'S EDGE
Brad Lepper's time on the platform demonstrating hair trends has given the Auckland city salon owner a feel for marrying performance and artistry.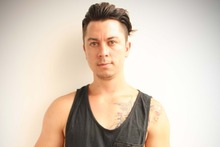 He relishes the stimulation that comes from working with other creatives and has chosen a lofty studio-style space which makes this a daily reality.
Up the stairs at French Revolver, where Victoria St starts its downhill stretch towards Victoria Park, Lepper has a blank canvas of a building, which he can reconfigure at will. There's ample room for regular clients and his tight team, but also space to host events and like-minded souls.
Right now, Lepper is busy working on a showcase of his approach to hairdressing called Hair Back to Art. The invitation-only event will be held next week, at an off-site venue, but he is keen to do public shows later.
How do you want clients to see your salon?
A creative hub where stylists are at the forefront of trends and bring in creative elements to inspire and tailor-make hairstyles for our clients.
Tell us a little about your upcoming Hair Back to Art campaign. The idea was to get creative and inspire others. I feel hairdressers have stepped away from hair being a craft and it has become a day-to-day chore. This is a way for us to express our craft incorporating dancers, models and art.
What other uses have you put the salon to? We have art for sale direct from the artist. We have had fashion shows and training seminars for Sebastian Professional and Wella. Our mezzanine is used for photo shoots. We held an art auction fundraiser with artist Holly Shervey for the Breast Cancer Foundation, and the space will be used for a fashion show as part of Fashion Week.
What is exciting you about hair right now? Loving texture in hair, such as windswept looks, messy put-together braids and ponytails or using clips, feathers, fabric to create the texture. Choppy and textured bobs and lobs (long bobs). Also loving incorporating elements of colour popping through, such as blue/green hues, and peach/yellows and greys, as an underlying tone.
Hair styling to you is ... A lifestyle, an art form and a craft.


- VIVA