Leading makeup artists share their eye-opening ways with beauty editor Janetta Mackay.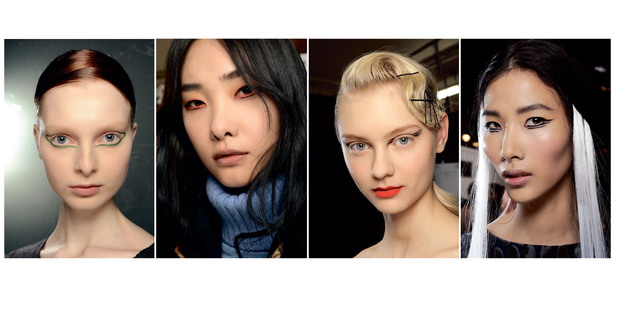 Four "name" makeup artists are gathered in one room to talk tips and trends with eyeliner. Their audience includes other international makeup artists and beauty editors, so expectations of insight are high. With my shaky hand and uncertain eyesight, I'm keen to learn from the experts, especially given what a strong makeup trend the use of eyeliner currently is.
From the United Kingdom comes Lisa Eldridge, who boasts 60 million views of her online tutorials; from France comes Carole Lasnier, whose artful approach has seen her work with leading couturiers; from Korea, the impeccably elegant former Dior staffer Seungwan Kim; and joining them in San Francisco is Hollywood favourite Jeannia Robinette. They're gathered for a liner launch, and each demonstrates their own take on how to use the new Benefit product before offering one-on-one advice about liner use generally.
"Who doesn't look good with a cat eye?" says Robinette. It's the classic red-carpet stand-by, and she should know as she does Jessica Alba, Eva Mendes, Kate Moss and Kate Bosworth.
"Everyone should use eyeliner," she says. "It's always chic and glamorous."
For those aged 40-plus, eyes need a lift and Robinette's advice is don't muck around with shadow, go straight for liner. It provides lift and definition and "creates an open, easy eye look".
Her method is to start with a thin line in the middle of the eye and get thicker as you work towards a stop point at the outer corner. Then add the flick in one separate stroke, to the length you wish, aimed up and out towards the end of the eyebrow. Fill and thicken to suit.
Lasnier's exaggerated Egyptian-inspired eye is an altogether different feline beast to the popular cat's eye. Her artistry is often employed on dramatic magazine shoots and she says pencils don't cut it for lasting effect. Looks such as hers, in which liner is applied adventurously, have also been a feature on international runways this season, including under-lines and liner used as a graphic detail above the crease.
Eldridge reckons the main mistake women make with eyeliner is not getting close enough in to their lashes. "People are frightened to pull up the eye and get in there [between lashes]." For scaredy cats, the winged outer corner is easy, but pushing liner into the lash line is recommended. "It gives real dimension and framing."
On the single-lid Asian eye, liner can be used as an under-liner along the bottom lashline, with optional flick extension. A thin line applied on the upper eye will not be apparent, says Kim, but can help bulk out the look of lashes and make the eye seem more defined. Or a thicker top line can be applied and blended, balanced with contour underneath the eye.
Colourwise, black has the most impact and glamour; blue is a cool trend and grey can look more natural, he says.
Not since the 1960s and 70s has the use of liner been so prevalent, says Eldridge, but the difference now is more forgiving blendable gel formulas and better brushes and felt-tip applicators for liquids. "I can have a thing in my back pocket that's easy," she says of the innovative Benefit They're Real Push Up Liner with its rubber-tipped pen.
For best liner application, she recommends stepping back a little, keeping eyes open and looking into the mirror while carefully drawing the line. This is a trick other artists also recommend.
Applying a flick with your eye shut runs the risk of the line dipping. Lorde's makeup artist Amber D says if she is doing an exaggerated corner flick with their favourite fine felt-tip liner, she usually marks the end point first.
"Then, with almost a dry brush, draw it in to make sure it's really where you want it before you do it. Eyes open, so it doesn't disappear into the crease."
OFFLINE
To remove a heavily pigmented liquid or gel eyeliner you will need a good oil-based remover which a number of companies make. Auckland makeup artist Aimie Fiebig's economical tip is to use almond oil, available from health food stores. This is her favourite gentle makeup remover. Coconut oil is another option.
Fiebig also advises priming a pen or liquid liner on the back of your hand to ensure it does not carry too much product. This avoids blobs or smears on the lashline.


PEN PALS
Fine felt-tip applicators are the easiest way to apply liquid liner and choices beyond black now abound.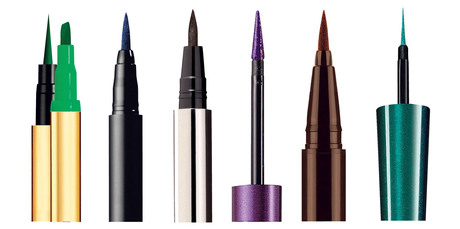 COLOUR CLASS
Napoleon Perdis Two-Faced Eyeliner Duo in High Society $38.
As well as a retro turquoise shade, this versatile pen comes in emerald and chocolate. Use the thicker-angled end for a classic cat eye, or flip for a fine flick.
Nars Eyeliner Stylo in Atlantic $58.
Grey, brown and, of course, black join this navy shade from Nars. Dries quickly and lasts well. From Mecca Cosmetica, meccacosmetica.co.nz.
By Terry Ligne Blackstar Intense Liquid Eyeliner in Grey $81.
Fountain pen technology with a formula that resists smears and tears. Available also in violet and black. From Mecca.
Lancome Artliner 24H in Amethyst $68.
A fine foam tip allows an intense, lasting line to be subtly drawn. This is one of four limited-edition colours, joining six permanent shade selections. Selected department stores and pharmacies.
Smashbox Limitless Liquid Liner Pen in Dark Brown $42.
The more you angle the fine but firm tip, the thicker the waterproof line you can draw. In black also. From Smashbox, Ponsonby Rd and selected Life pharmacies, see smashboxcosmetics.co.nz.
Revlon ColorStay Skinny Liquid Liner in Green Spark $27.50
Longwearing value buy with a super-fine 0.1mm tip, in this colour, electric blue, mahogany and black. Farmers, selected pharmacies and variety stores.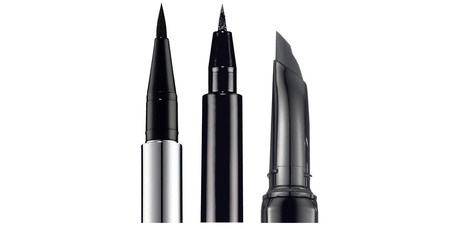 BEST IN BLACK
Chantecaille Le Stylo Ultra Slim Liquid Eyeliner in Black $51.
The calligraphy-style pen allows for a precise tapering application. From Mecca.
M.A.C Penultimate Eye Liner in Rapid Black $40.
Lorde's favourite liquid liner, dispensed by a fine felt tip. A fatter marker pen version is due out next month in M.A.C's limited-edition Osbournes' collection. From M.A.C counters.
Benefit They're Real Push Up Liner $45. The briefly blendable benefits of gel with liquid intensity and the convenience of pen-style delivery. From Smith & Caughey's and Auckland International Airport (airside).


- VIVA