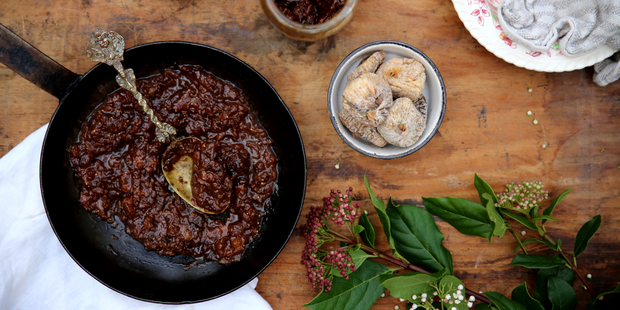 This wonderfully dark and sticky fig, red onion and balsamic jam is naturally sweetened with a little honey, and is perfectly rich and lovely.
I like to dollop it on a slice of hearty frittata, or slather it on sourdough toast with fresh and creamy ricotta. It also makes a wonderful topping on cheese and crackers. Simple yet delightful.


STICKY FIG, RED ONION & BALSAMIC JAM
Makes 1 medium jarful
Ingredients
• 1 cup figs
• 1 cup prunes
• 4 red onions, cut in quarters
• 2 Tbsp extra-virgin olive oil
• 2 Tbsp balsamic vinegar
• 2 Tbsp honey
• 3 cups water
• 1 tsp sea salt
1. Put the figs, prunes and onion quarters in a food processor. Pulse for about 20 seconds or so until well chopped.
2. Heat the oil in a large, heavy-bottomed pan over a medium-low heat.
Add the figs, prunes and onions, and saute for 2-3 minutes, or until soft.
3. Add the remaining ingredients and bring to the boil, then reduce to low and simmer for about 30 minutes, until the jam becomes thick and glossy.
4. Allow jam to cool before transferring it to a sterilised jar. It will keep for a few weeks in the fridge.