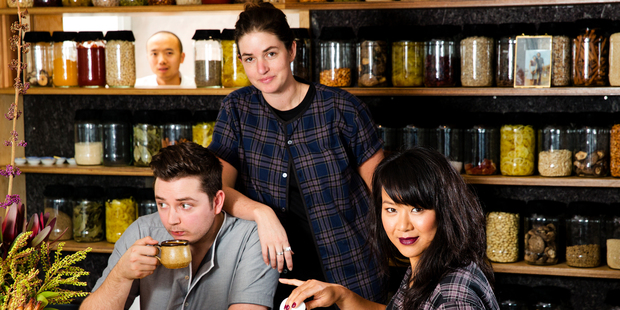 It's all about people at Sip Mounlath's new cafe Bolaven: the team behind the Laos-influenced spot, and the community they're providing for. Mounlath says she wanted a central meeting place for the neighbourhood, and they appear to want it too - the inviting space just past Mt Eden village is already a local favourite.
Mounlath, (pictured above on right) former owner of The Chiller in Parnell, is always present, chatting to customers and overseeing the food. Matt Nash (left, known for his handmade bags) has designed the uniforms and refurbished chairs. Rosa Rutherford (centre) manages front of house and has illustrated the menus. Rutherford plans to host evening illustration classes in the future, and Thursday-Saturday evening meals are starting later this month, when head chef Justin Kuhn arrives from Sydney. Jason Ma (pictured at back) is another of the chefs.
Even Mounlath's Laos-born parents and wider family factor in: their recipes are on the menu, they help in the kitchen and a photo of her parents sits on the produce wall. This working pantry is an aesthetic highlight of the warm wooden interior, which is designed for function, Mounlath says.
House-made tamarillo jam and pickles sit alongside muesli, dried bay leaves, shiitake mushrooms and cinnamon sticks. It's an "ever-changing" wall, as is the menu, which they plan to "design seasonally".
Currently, Laotian classics like pho, pak salat (a Laotian green salad which changes daily) and sticky rice with fried egg - best eaten with your hands - feature next to classic breakfast offerings with Bolaven touches such as ginger butter and that house-made jam.
• Bolaven, 597 Mt Eden Rd, ph (09) 631 7520.
Open 7am-4pm Mon-Fri and 8am-4pm Sat-Sun. Open Thurs-Sun evenings from end June.


- VIVA