Two textile graduates weave their Pacific culture and family history and culture into their work, writes Claire McCall.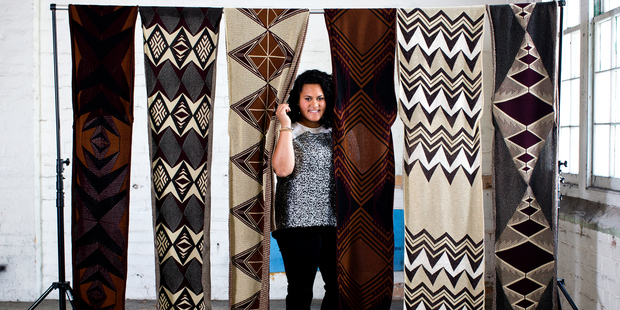 Every year for a decade the team at Ponsonby's Objectspace gallery has toured the exhibitions of applied arts and design graduates from New Zealand's tertiary education institutions to choose their pick of the crop for a Best in Show event.
This year we get to know a couple of new textile designers who share a similar background. Tepora Malo and Angela Misela draw inspiration from their Pacific cultural heritage, and they both include a modern-day twist in their fabric designs. The results however, as Viva discovered, are really quite different.


ANGELA MISELA
Auckland University of Technology
Like most recent graduates waiting for her big break, 26-year-old Angela Misela waits tables at an Ellerslie cafe to earn pocket money. She's not concerned. One day, Misela plans to work in the textile industry. Meanwhile she has plenty of inspiration to draw on.
Last year, when she was in her final year of a Bachelor of Textile Design, Misela visited Nuka'alofa in Tonga, her mother's birthplace.
While there, she felt fortunate to meet visual artist Dame Robin White who was collaborating with Misela's cousin Ruha, on a tapa for an exhibition at the New Zealand High Commission.
"They had cleared all the furniture from the lounge. I'd wake up in the morning and watch them working on a massive tapa cloth on the floor. It was beautiful."
Misela's own pieces are striking, industrial-knit panels that take their colour and pattern cues from traditional tapa. "I have always been influenced by nature but last year I decided I wanted to look more closely at my culture, at who I am."
She didn't have to look far to find where her creative gene emanated. Her maternal grandmother is a fine craftswoman, with a passion for handicrafts. As a child, growing up in Panmure, she would wake at 4am to find her grandmother already out in the living room weaving mats or making handbags. "She was so skilled with her hands and she still loves to crochet."
During Misela's final year dissertation, the distinctive graphics of Australian designer Florence Broadhurst made a strong impression.
Misela wanted to develop a fabric that was not only beautiful and timeless, but also held personal meaning for her and her family and incorporated aspects of her experience of living in New Zealand.
She decided to create knits because it offered the challenge of mastering the Shima Seiki, a computerised Japanese knitting machine. Misela had to set up the yarns and programme the tensions perfectly. "Otherwise you can end up with a hole in the middle of your work and have to start all over again.
She chose a jacquard weave as the background "because it allows me to use more than just one base colour".
The patterns, reinterpreted versions of traditional tapa designs, use a lace knit that emulates the weaving of mats. The yarns are in earthy tones of brown, rust, aubergine and cream that also hark back to the Samoan/Tongan artform.
Each knit panel is 3-4m long and 40-50cm wide and Misela has succeeded in melding her cultural roots with a contemporary aesthetic: the drops would look equally at home in a Pacific context or modernist apartment.
"My mother was very impressed and wanted to put one of the panels on her coffee table like a runner to show to her friends." Misela explained they were not practical objects but should be hung as art.
Now she gets her chance at the Objectspace exhibition. "It's really humbling to be part of the group and to be able to show something you've worked so hard on."
Soon Misela hopes to further her studies - to carry on the journey of the knit panels, perhaps forming them into garments. Even though she's making coffee as a stopgap, in her mind, her pathway is clear. "I see myself as a textile designer," she says.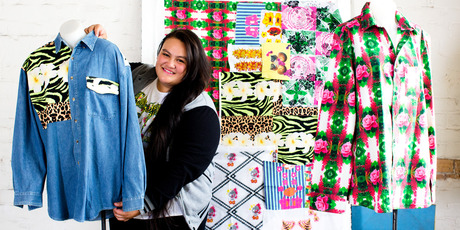 TEPORA MALO
Manukau Institute of Technology (MIT)
"I love colour and I want my works to stand out," says 21-year-old Malo, who graduated with a Bachelor of Creative Arts. No kidding. Sometimes looking at the textile prints this 21-year-old created is like gazing down the shaft of a kaleidoscope. The crazy, vivid colours and the repetition of patterns, fractured and full on, could make your eyes go screwy.
Malo uses photographs, computer graphics and screen-printing to put together her unique designs. Although she has shunned the traditional wood-cut method of printing, her works nevertheless manage to retain a sense of her Samoan identity. This is no happenstance. Born and raised in Mangere, Malo credits her parents with her fascination for bold colour and decoration.
"I tend to think of my mum as the Samoan Lady Gaga," she laughs. "She'll never leave the house without a flower in her hair or red lipstick on. Once, she wore a Tongan outfit to church made entirely of flowers you'd use for an ula [lei]."
Malo's father too, is a dapper chap. A jazzy cloth that features a teuila (red ginger) - the national flower of Samoa - in a repeat motif with a rose was developed with him in mind. "He wears a lot of pattern. You'd never find him in a plain T-shirt."
It's this combination of traditional images you expect to see on a Pasifika fabric and elements of pop culture that allows Malo's work to cross generational boundaries. Malo uses real photographs - combined with words and graphics - in her textiles, which intertwine history and modernity.
She draws her inspiration from many islands - including Manhattan. She pores over the work of New York photographer Bill Cunningham, perusing his blog to spot ideas from the streets of the Big Apple that she can translate. "I love to read his commentary."
Then she enlists the help of Sidath Wickremeratne, a tutor at the Das Inter-national Academy, a PTE that specialises in apparel, to transform her fabric into garments such as dresses, T-shirts and shirts.
A drop-tail T-shirt featuring a fish backbone graphic in black and white sold out at one Otara market day. Malo was blown away. Now she regularly gets orders from friends and community groups.
"I see my clothes as wearable art," says Malo who calls the use of photographs and graphics "pattern-clashes". Although she likes the idea of random-ness ("I am a random person"), there's one constant in her work. In every fabric, a flower will feature. It may be a hibiscus, a frangipani, or even a daisy or a rose. "It's my signature - a representation of myself as a New Zealander, but with a Samoan heritage."
When she visited Samoa last year, her extended family was fascinated by her process. "They kept asking, 'how do you get those fabrics to look like that?"'
Malo came away with a validated sense of pride in her art. Her new idea is to incorporate the crazy, happy images of Samoan buses into her designs - the next stop en route to a career in fashion.


• Best in Show 2014 takes place at Objectspace, 8 Ponsonby Rd, from March 15 to April 26. View the newest, exciting work emerging from tertiary organisations around New Zealand. This year work by 27 graduates will be on display.


- VIVA