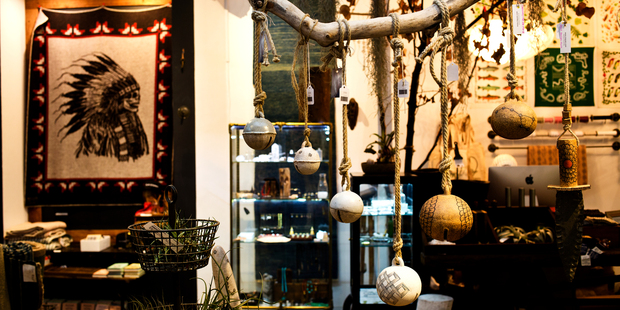 An edited wishlist from our visit to the charming store in Nolita, Love Adorned: a bundle of Palo Santo wood incense; a Hasami Porcelain mug; a bottle of In the Library, a book-scented essential oil from New York perfume makers CB I Hate Perfume; a book on tree houses; a hand-woven wool blanket by Brooklyn artist Wes Lang and Indigofera; rosemary-scented cutting board oil handmade in Kingston, New York by Blackcreek Mercantile & Trading Co; hand-painted hanging ceramics - jingle bells, moons, daggers - by Brooklyn-based Michele Quan.
Do the rounds several times at this treasure trove of a space and, like us, you'll continue to discover something new and special. Jewellery from independent designers is displayed on crystals, pieces of wood and greenery in vintage glass cases, alongside eclectic homewares, accessories and other random objects, and a dried tree branch hangs overhead.
Opened by Lori Leven, the Elizabeth St store is an extension of her long-standing East Village tattoo parlour, New York Adorned (tattooing was illegal when it opened, so there was a jewellery store in the front as a cover), and sister to a space in East Hampton.
• Love Adorned, 269 Elizabeth St, Nolita, New York.


- VIVA