Wine drinkers are being seduced by the resurgence of Pinot Gris.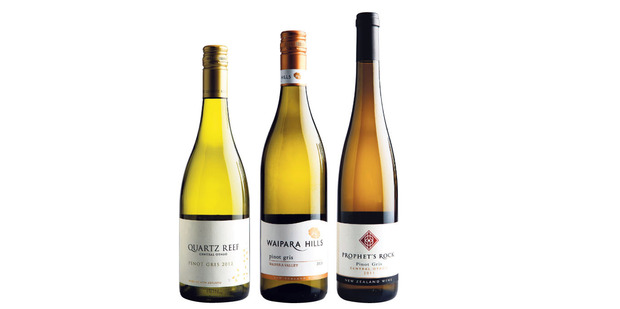 Rich and rounded with notes of baked pear, honey, almond and a whiff of smoke, I still clearly recall the first taste of the pinot gris that convinced me of the charms of the variety, despite it being almost two decades ago.
Wine drinkers in New Zealand have been similarly seduced in recent years, prompting a surge in local plantings and interest in the grape. But are we still as in love with the variety as it comes of age in this country?
My personal pinot gris epiphany occurred in the French region of Alsace, home to benchmark examples of the variety. However, when pinot gris started to take off in New Zealand about a decade ago I was initially underwhelmed with what was coming from our vineyards, which often lacked the rich flavours and textures that I admired in examples from Alsace.
Winemakers were also all over the place in terms of the styles they were producing. From one vintage to the next, even individual wineries yo-yoed between dry and sweet, unoaked to barrel-fermented, leading to confusion as to exactly what one might find in one's bottle of gris.
However, today pinot gris is starting to hit its straps, with vine age adding intensity and styles settling down to rest largely within the dry to off-dry region and displaying minimal oak or none.
"The exciting thing for New Zealand is that we've got over this early young-vine hurdle," says Villa Maria chief winemaker Alastair Maling. "We're now going to start to see pinot gris with more flavour, intensity and richness from the better examples, due to older vines, lower natural yields and winemakers having identified the better locations for growing pinot gris."
It's also been fascinating to see the different expressions of the variety coming from our regions, from more opulent styles in the warmer northern regions to the crisper mineral styles of the cooler south.
I no longer approach big line-ups of local pinot gris with trepidation as there are now enough flavoursome examples being produced to sustain my interest. These span mainstream examples, with their easy drinking and gently aromatic appeal, to some impressive wines at the premium level that embody the promise highlighted by Alsace.
That's good news as New Zealand has gone gangbusters for gris. It's now our fourth most widely planted variety and is starting to catch up with chardonnay, the stalwart of our white wine production for years.
Much of this gris production is still consumed at home. That pinot gris is experiencing the greatest value growth of any variety here - up 18 per cent in the grocery sector - suggests that the nation's love of gris is no flash in the pan.
It's been a somewhat harder sell overseas, given that it's not as distinctive as our sauvignon blanc or as well known, but between July and September last year it was the third most exported variety after sauvignon blanc and pinot noir. This could well have been assisted by it being in vogue in Australia, which has seen Kiwi gris growing faster that the country's buoyant pinot gris and pinot grigio category overall.
Pinot gris may no longer be the trendy new grape on the block, but its popularity endures, which along with improving quality should help secure it firmly as one of New Zealand's key varieties.
"Hopefully, the range of styles is narrowing and people are thinking more about how they make the wine rather than just trying to make a generic white," says Lorraine Leheny of Bilancia, which chose to make pinot gris its main white focus before the variety became fashionable here. "When well made it is a beautiful glass of wine."


Quartz Reef Central Otago Pinot Gris 2012 $28 to $32
Quartz Reef is another consistent producer of some of the finest gris in the country. Made in a drier style, this complex example exhibits notes of ripe pear overlaid with notes of clove, herb and nut and supported by a fine line of citrus and mineral. Find at Fine Wine Delivery Company, Caro's and Glengarry.
Waipara Hills Waipara Valley Pinot Gris 2013 $22.99
The Waipara region is making some great gris, including this attractively floral example with its notes of jasmine, hint of nougat and pure fresh apple and quince. From Glengarry, Liquorland and other fine wine stores.
Prophet's Rock Central Otago Pinot Gris 2011 $39.99
Prophet's Rock winemaker Paul Pujol's time spent in Alsace is reflected in his serious examples of pinot gris. His latest is off-dry with an intense and elegant textural palate fusing notes of apple, honey and almond essence. From La Barrique, First Glass and Wine Circle.


- VIVA