Celebrity chefs Pete Evans and Gavin Baker are pairing up to dazzle diners, first in Queenstown, then in Hawkes Bay.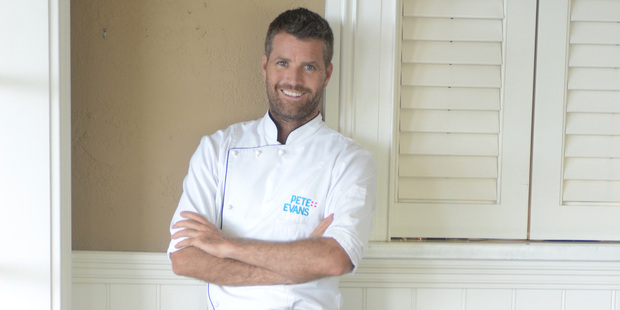 If you and your loved one share a passion for luxury and good food, then a weekend with top Australian chef and star of My Kitchen Rules, Pete Evans, and his good friend, American chef Gavin Baker - a native of North Carolina whose kitchen experience includes working as sous chef under Heston Blumenthal at The Fat Duck in England - might be a great date.
Evans and Baker will be hosting two distinctive food and wine weekends at the luxurious Matakauri Lodge in Queenstown on April 11-13, and Hawkes Bay's The Farm at Cape Kidnappers, April 18-20.
Pete Evans chats to Viva about what to expect.


You're from Australia and Gavin Baker is from the US, and you're both coming to Queenstown to cook Spanish food!
We definitely live in a diverse culinary world and Gav and I draw inspiration from cultures and cuisines all around the globe in order to expand and evolve our knowledge and cooking repertoire. We both love to dance the flamenco so, naturally, Spanish food fully floats our boats.
The Spanish culture is very food-orientated and they take great pride in their cuisine.
What I love about Spain is its abundance of fresh local produce, which is the true key to creating incredible dishes.
It's blessed with an ideal geographical location, so its people enjoy the best of both worlds, from fresh local seafood to fresh produce grown in their lush, fertile pastures and extensive coastlines, so the variety of ingredients available is endless. It's difficult not to be constantly inspired.
I love Spanish-inspired food because it's bursting with creativity and it has a unique ability to undoubtedly make a certain ingredient shine, from their smaller tapas plates to their larger plates known as raciones, the variation of mouthwatering Spanish flavours manages to dazzle even the most selective taste buds.


Which Spanish dishes will you be cooking at Matakauri Lodge?
We'll be cooking an array of Spanish-style dishes that best suits the fresh, seasonal Kiwi produce that we will be sourcing at the time, and we'll be drawing inspiration from the Kiwi culture, too, to create a unique dining experience.


You are also heading to The Farm at Cape Kidnappers, where the focus is on taking a healthy approach to food - without sacrificing flavour and fun. Can you elaborate on this?
It's about cooking beautifully nutritious, delicious, traditional dishes using unprocessed ingredients that Mother Nature provides, like organic seasonal vegetables, organic, grass-fed meat and poultry, wild-caught, sustainable fish and seafood, organic eggs, herbs, spices, nuts, seeds and fruit . . . it's as simple as that.


You and Gavin have hosted these luxury lodge weekends before in New Zealand. What can guests expect?
Basically, they're intimate dining experiences where the guests are able to get to know the chefs (Gav and I), and we're able to get to know the guests. The vibe is very relaxed yet fully conscious and very down to earth, and our aim is to leave the guests feeling satisfied, enlivened and filled with fond new memories.


Pete Evans' Healthy Everyday is your new book. What makes it unique?
It represents a whole new chapter in my life and provides recipes that are a reflection of my culinary journey over the last few years. This predominantly involves a paleo-inspired style of cooking which means wheat, gluten, refined sugars, grains, and most dairy are not on my menu.


Tell us about your studies at the Institute of Integrative Nutrition.
My study with IIN really reinforced my own food philosophies in the sense that it's imperative that we respect our bodies by consuming healthy, nutrient-dense foods that provide optimum health and vitality.
I wholeheartedly believe that it's compulsory to keep asking questions and searching for answers and to remain up to date with the latest reputable, nutrition-based scientific discoveries in order to grow and maintain optimum physical and mental health.


Apart from cooking at luxury lodges, what else is happening for you career-wise?
My team and I are currently busy writing, testing, shooting and filming hundreds of new paleo-inspired recipes. We're also about to travel to the US to film a new healthy cooking show, plus we're filming a second series of Moveable Feast, which is a paddock-to-plate-style show that I host for US TV. One thing's for sure, my team and I are super-busy and we're loving it.


You have a thriving and busy lifestyle - how do you maintain being fit and healthy and not stressed?
One, I love my job, and that makes a huge difference in how I cope with my schedule. Two, I make sure I get plenty of sleep. Three, I always find time to exercise. Four, I nourish my body with nutrient-dense foods and remain hydrated with pure filtered water.
Five, I enjoy passions like surfing on a regular basis. Six, I breathe. Seven, and possibly one of the most important keys to life, is I enjoy fulfilling relationships, particularly with my beautiful and incredibly supportive partner, Nic, and my two amazing daughters, Chilli and Indii.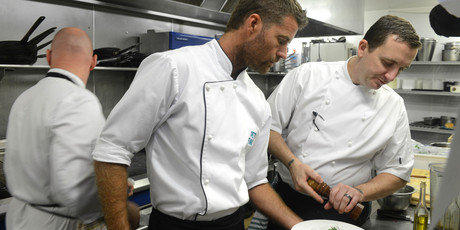 VALENTINE'S DAY
Are you a romantic?
Yes, I'm romantic, because I'm in love!
What's the most romantic meal you've ever cooked/been served?
I love the simple things in life, so enjoying freshly shucked oysters and watching the sunset with my girl is definitely one of my favourites.
How will you be celebrating this Valentine's?
Every day is Valentine's Day for me. We'll probably go for a family surf with the kids and take a yummy picnic to the beach.
What would be your dream romantic outing?
We do it all the time - sunrise and/or sunset surfs.
Top tips for a romantic dinner out?
Choose a restaurant that is renowned for great food, friendly service and an ambience that has a rather darkish, candlelit, cosy, intimate allure to it, and also, a good playlist doesn't go amiss either.


PETE'S INSPIRATION
Most inspiring person?
Just one? That's difficult, but I'm consistently inspired by Nora Gedgaudas, due to her expansive knowledge and her beautifully eloquent way of sharing it, and Mathieu Lalonde is one of my favourite trailblazing, enlightening scientists.
What are you reading?
I'm reading Grain Brain, by Dr David Perlmutter, because it's full of a wealth of crucial knowledge about the very real effects of wheat, carbs (from grains) and sugar.
What are you listening to?
The Cure, because I loved their sound right from their early releases in the late 70s and 80s right through to their last album release in 2008. At least I think it was 2008. Sorry if I'm wrong.
Favourite scent?
The ocean, because it's one of the best places on Earth!
Favourite movie?
The Cook, The Thief, His Wife and Her Lover, because it's made up of a plethora of spellbinding ingredients including colourful characters and the lascivious, unspeakable things they do, incredible art direction and emotion-provoking music, too.
Favourite place in the world?
Namotu Island in Fiji, because it's within 15 minutes to some of the best breaks in the world, and also our family home in Sydney because it's very much our sanctuary.
Favourite form of relaxation?
Surfing!!!
Favourite charity?
Regenesis Youth - because everyone deserves unconditional love and acceptance and Regenesis Youth provides just that - an alternative education programme for misguided, disengaged, forgotten kids.
Favourite quote or mantra?
Consciousness is everything - because without it we're nothing!


COOKING WITH PETE
Favourite discovery?
I discovered herbs as a teenage chef and I love them so much that I would probably quit cooking tomorrow if the world ran out.
Necessary extravagance?
Oysters - they are one of Earth's most perfect foods.
Favourite ingredient right now?
Okra, because it's insanely good in so many preparations. We cooked them in coconut oil on the barbie the other night and they tasted unreal.
Everything goes better with ...
Love, because there's no time, need or room for fear!
Indispensable cooking utensil?
Without a doubt, a damn good and wickedly sharp chef's knife.
Favourite spice?
I have two ... turmeric and clove, because turmeric is a super-anti-inflammatory and clove is a super-antioxidant and they both add incredible flavour to food.
Naughty treat or healthy treat?
I would choose a healthy treat all day long because there's just no point in choosing a naughty treat when you can have a healthy treat that you would swear is a naughty treat because it tastes so good!!!
Favourite family recipe?
Good old roast organic Chicken Marylands drizzled with coconut oil and seasoned with fresh thyme and rosemary, and surrounded by lemons, onions, garlic, olives, chilli, vine tomatoes, kumara, okra, sea salt and fresh cracked pepper to finish it off. I love a one-pot/pan wonder.
Dream location for next restaurant?
Anywhere near the beach (preferably with epic left-handers, of course) in the country so that we can catch, grow and raise our own organic, ethical, sustainable produce in our backyard ... so probably somewhere in magical New Zealand would be ideal.
Dream restaurant?
A paleo-inspired, hunter-gatherer, paddock-to-plate, ocean-to-table-style restaurant that serves lovingly prepared, ethical, affordable, nourishing, sublime tasting food.


• Each weekend is $1600/person for a two-night stay. This includes accommodation, pre-dinner drinks and canapes and dinner each night, Pete Evans' cooking demonstration and Q+A session; dinner by Pete Evans and Gavin Baker on the Saturday night with matched wines and full breakfasts, one 50-minute massage per person or, at Cape Kidnappers, unlimited green fees. For Matakauri Lodge, ph (03) 441 1008 or emailreservations@matakaurilodge.com. For The Farm at Cape Kidnappers ph (06) 875 1900 or email reservations@capekidnappers.com.


- VIVA