Rachel Khoo shares her favourite food memories and recipes inspired by her travels around France.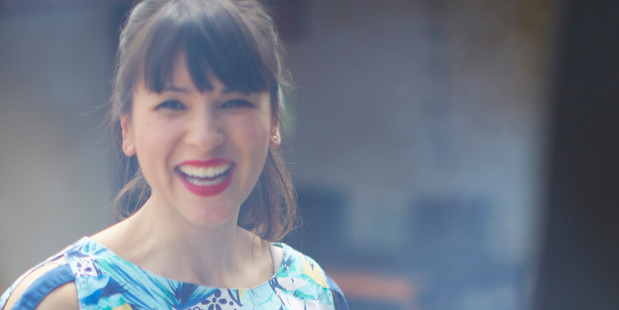 Rachel Khoo rose to fame by cooking gorgeous meals on two gas rings and a mini oven in her petit apartment in Paris.
Her cookbook, The Little Paris Kitchen, was a No1 seller and her TV show a hit as she ate, cooked and shopped for produce at local markets and suppliers.
Khoo has broadened her horizons and travelled throughout France seeking new flavours and inspiration for her latest book, My Little French Kitchen: Over 100 recipes from the mountains, market squares and shores of France (Penguin, $50). Here she shares her food memories and two recipes from the book.
For our packed lunches at primary school in England, Mum would give just half a packet of crisps to me and half to my brother. So one of us would get theirs in the actual packet and the other in an improvised plastic bag. Half a packet was uncool at school and half a plastic bag doubly uncool. We fought over getting the packet and I usually won because I was a bit of a bully. I'm quite bossy, in fact.
My brother and I had to help out in the kitchen - peeling vegetables, washing up - and were begrudging early on. Mum and Dad grew vegetables and every day it would be beans for dinner and we'd have to go and pick them, and weed and stuff. If you wanted your pocket money you did your chores.
My mum adapted more to my dad's Malaysian tastes than he did to her Austrian tastes. She'd make shredded chicken porridge for instance - that was my least favourite. During the week we'd have rendang curries, stir-fries, Chinese dishes, occasionally spaghetti bolognese and schnitzel, and on Sunday a roast.
I remember a trip to Malaysia to visit my dad's family when I was 8. It was Christmas and they roasted a whole suckling pig on the fire and it made me nauseous.
While studying art and design at Central Saint Martins I went round supermarkets taking photos of shoppers and their baskets: the game was to match people with their food. For an architectural project I made a scale model of a shop out of gingerbread rather than foam and added icing and sweets very colourfully. I used to swap cakes for things. If I needed my computer fixed, I'd say to another student, "I'll bake you a cake if you fix this."
I made my first romantic meal when I was a student, but it didn't go too well. He was Jewish and I didn't make kosher.
I saved up £3000 for a patisserie course at Le Cordon Bleu in Paris and a week before I moved there I found a job as an au pair with a French family. I had my own 15sqm apartment - if it could be called that - across the road from their house, and it had a fridge and that was about it for my first Parisian kitchen. But I made friends nearby and they let me bake in their ovens.
I love cheese. It intensified when I moved to France. It felt like my cheese shop lady was my dealer because every week I'd say, "I need this cheese, I need that cheese", and she'd cut me enough for the week, but I'd finish a whole piece in one go. I'm quite bad that way. Chocolate I'm not so fussed about, but cheese, wow.


The Basque coast is a surfers' paradise. The rocky, ragged coastline is punctuated with stretches of windswept beach, much more rough and ready than its Mediterranean counterpart. I've always been an envious spectator, watching the surfers gracefully (or not so gracefully, depending on their skill) catch and tame the waves whatever the weather.
Surf 'n' turf is not what you would traditionally think of when it comes to Basque food but it's my homage to the Basque love of pork with the addition of some gems from the ocean - clams. These are thrown in right at the end, adding a lip-smacking saltiness to the broth.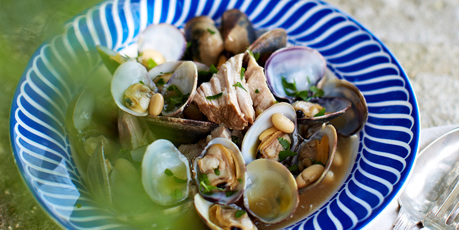 Porc et palourdes au cidre accompagnes de flageolets / Pork and clams with cider and butter beans
Serves 4-6 as a main course
Preparation time: 25 minutes
Cooking time: 2 to 2½ hours
• 3 cloves garlic, peeled and flattened
• 1 onion, peeled and finely chopped
• 2 Tbsp butter
• 1kg pork shoulder, tied
• 1 bunch of fresh flat-leaf parsley
• 375ml dry cider
• 4 Tbsp cider vinegar
• 4 bay leaves
• 2 sprigs of thyme
• 1 litre vegetable stock
• 4 small apples, peeled and cored
• 1 Tbsp brown sugar
• 1 tsp sea salt
• 10 black peppercorns, crushed
• 1kg clams, cleaned
• 1 400g can of haricot or butter beans (drained weight 230g), drained and rinsed
1. Fry the garlic and onion in the butter on a medium heat until translucent. Add the pork shoulder and fry on all sides until golden. Tie a string around the parsley stalks to make a tight bundle. Cut off the leaves (save for later) and add the stems to the pot with the cider, vinegar, bay leaves, thyme, stock, apples, sugar, salt and peppercorns. Bring to a gentle simmer. Skim any scum that comes to the top using a slotted spoon. Simmer very gently for 2 to 2½ hours, or until the meat is tender and falling apart.
2. Remove the meat from the pan, set aside in a tray and cover with aluminium foil. Leave to rest for 10 minutes.
Pour the cooking liquid through a fine sieve into a bowl, discarding the remaining bits. Rinse out the pot with water before pouring the cooking liquid back in. Bring the juices to a boil and add the clams and beans. Bring back to the boil and cook for a further 3 minutes with the lid on. Check that the clams are open and taste for seasoning.
3. To serve, shred the pork meat using your fingers or a fork and serve with the clams and beans. Sprinkle with finely chopped parsley.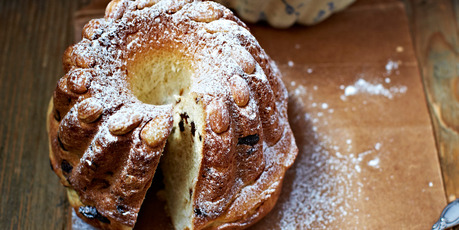 Kugelhopf
Makes one 20cm loaf
Preparation time: 45 minutes
Resting time: minimum 6 hours, but best overnight
Baking time: 30 minutes
• 300g strong white bread flour
• 40g caster sugar
• 1 tsp table salt
• 5g (2 tsp) instant dried yeast
• 125g milk
• 1 egg, beaten
• 70g soft butter, cut into small cubes
• 10 blanched almonds for decoration (optional)
• 70g soft, ready-to-eat stoned prunes
• 50ml cognac, rum or brandy (optional, if using very dry prunes)*
• 1 egg, plus 2 tbsp milk, for the eggwash
• 1 tbsp soft butter, for greasing the mould
• 1 x 20cm kugelhopf mould, or 1 x 900g loaf tin, greased and lined with baking paper
* If using dry prunes, cut them into 1cm chunks and leave to soak in the cognac while the dough rises.
1. Mix together all the dry ingredients in the bowl of a mixer fitted with a dough hook and make a well in the middle. Add the milk and egg to the centre. Switch on to a medium speed for 6 to 8 minutes. The dough will become soft, smooth and elastic. Add the softened butter bit by bit and continue to mix for another 5 minutes until thoroughly incorporated. Scrape the bowl down periodically with a spatula to insure all the butter is mixed in.
Once the dough is formed (it should be slightly sticky), decant into a large clean bowl. Cover with cling film and leave in the fridge until it has doubled in size (ideally overnight).
2. Butter the kugelhopf mould. If using a loaf tin, line it with baking paper. Place one almond into each groove at the bottom of the mould. If using a loaf tin, just scatter loosely.
3. Once the dough has doubled in size, remove from the fridge. Drain the prunes of any excess liquid (if they were soaked in cognac) and knead into the dough, but keep the kneading to a minimum. Shape the dough into a ball and poke a hole in the middle. Tuck it neatly in the mould making sure the middle of the mould pokes through the dough. Brush with eggwash. If using a loaf tin, form the dough into a sausage the length of the tin. Pop into the tin and brush with eggwash. Cover with a damp clean teatowel or cling film and leave to rise somewhere warm until doubled in size.
4. Preheat the oven to 200C. Brush the kugelhopf with eggwash and place in the oven. Bake for 30 minutes or until a skewer comes out clean when inserted into the middle. Remove from the oven and leave to sit for 10 minutes before turning on to a cooling tray or rack. - Observer


- VIVA