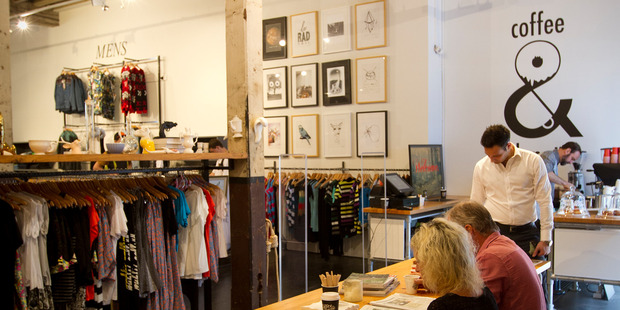 Britomart's latest hole in the wall, Coffee & Donuts, is frank about its offerings, stating clearly its wares before you walk in the door.
Don't expect tea, salads or even crockery at this cafe, just straight up well brewed Supreme coffee and some of the city's best donuts - an age-old combination, reinterpreted by the folks at Laundromat Boutique, to take away or enjoy over a spot of clothes shopping.
Of course, there are also cronuts, as you would expect from any self-respecting donut establishment these days. Having only opened two weeks ago, manager Brendan Vucich says they can't keep up with the cronut demand, selling out of their version of the pastry by lunchtime most days.
The concept is a unique addition to the rear of fashion store Laundromat Boutique, enticing customers in from Britomart's back end with a stairway claiming everything is going to be alright - this way to hot coffee and donuts. It's a tempting offer, one we suggest investigating next time you pass through, but might we suggest bringing your own reusable cup.
Coffee & Donuts, Laundromat Boutique, 12 Customs St East, Britomart, ph (09) 303 3133. Open Monday-Friday 7am-3pm and Saturday 8am-3pm.
- VIVA


For the good things in life on the go, download the Viva iPad app, free now at appstore.com/vivamagazinenz.