Each Thursday Eleanor Ozich of Petite Kitchen will share her thoughts on healthy eating, with recipes and more. Today, her recipe for a delicious pie.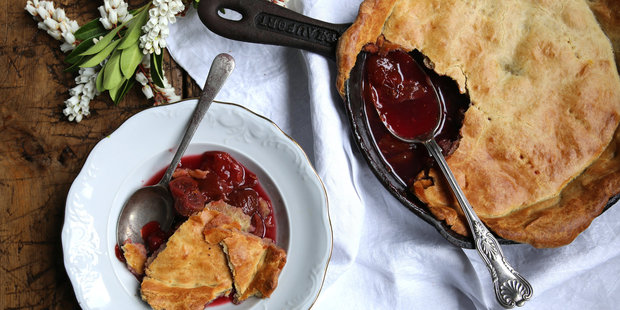 Today I share with you this lovely recipe for a plum and fig pie, topped with a spelt flour crust. The sweet pastry crust is naturally sweetened with a little honey, and has a beautiful buttery yet crisp texture. You could also use buckwheat or rice flour for the pastry to become gluten free if you prefer.
PLUM AND FIG PIE WITH A SPELT FLOUR CRUST
Serves 4
Ingredients
•2 cups preserved plums, in their juices. You could use any fruit of choice in place of the plums. I have also used frozen berries, which I simmered in a little water and honey to soften before using.
•1 cup dried figs, roughly chopped
• Juice of one lemon
• Honey to taste
For the pastry:
• 1 1/2 cups of spelt flour plus a little extra for kneading (You could also use buckwheat or rice flour for the pastry as a gluten free option)
• 100g cold butter, cubed
• 2 tbsp honey
• 1 free range egg
• 3 tbsp water
• 1-2 tbsp milk or egg for glazing the pastry


1. Preheat the oven to 160°C
2. To prepare the pastry, add the flour and butter to a food processor. Pulse until the dough becomes a breadcrumb-like texture Add the remaining ingredients, then pulse until the dough starts to come together.
3. Transfer to a floured surface, and knead softly until smooth. Dust lightly with flour, then wrap in plastic and place in the fridge for half an hour.
4. To prepare the filling, place the plums, figs, and lemon juice in to a saucepan over medium heat. Bring to a soft boil, then remove from the heat. Add honey to taste if using. Carefully pour the fruit filling in to a cast iron skillet or pie dish.
5. Remove the pastry from the fridge and roll out to about 1 cm thick, in the shape of a circle.
6. Place the pastry on top of the fruit filling, then using your hands, rustically pinch the edges of the pastry around the top of the pie.
7. Prick the pastry a couple of times with a fork, then glaze with the milk or egg.
8. Place in the oven, then bake for 35-40 minutes or until lovely and golden, and bubbling around the edges.
9. Serve with natural yoghurt, whipped cream or icecream.
- VIVA