A dash of colour here, a hint of tradition there; modern nuptials are far from predictable, they're incredibly personalised. New Zealand Weddings magazine editor Melissa Gardi shares her insights into the changing world of weddings.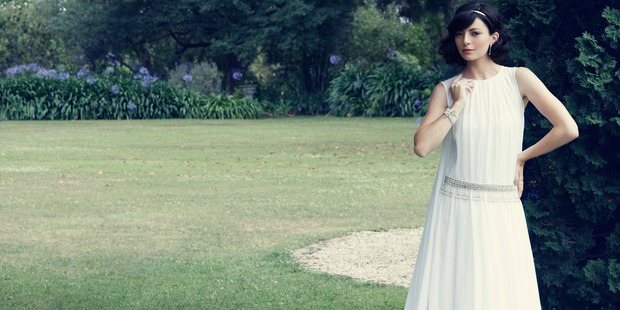 No two weddings are ever the same. Sure, there are flowers, frocks, food and tears of joy thrown into the mix, but how the big day looks, feels and tastes stretches as far as the mind (and budget) can reach.
In a brave new world where there are hardly any rules to adhere to, couples are putting their personal stamp on every part of the event to make it uniquely their own.
While some are focusing on their heritage and others on their passions as a couple, all are sharing their love stories with ingredients not uncommon to a current-day blockbuster: drama, mystery, romance and action.


THE ENTERTAINMENT
Nowadays, couples are engaging with guests in imaginative ways, such as creating silhouette corners where an artist takes a picture of guests' profiles and transforms them into artworks. Instead of the traditional guestbook, well-wishing trees are set up with notecards for the dearly beloved to write or draw on.
Popcorn machines and Mr Whippy trucks are putting smiles on the faces of children and adults.
And photo-booths have secured their standing at the reception. Besides being entertaining, they immortalise a candid keepsake for the couple and the guest.
And much-loved pets are frequently signed up for high-profile duties in the ceremony. From arriving on horseback or walking down the aisle with a pet in tow, the bridal couple's animals make for great photos and memories.


THE PHOTOGRAPHY
In an era when images are uploaded to Facebook, Twitter and Instagram within seconds of "I do", it's no surprise couples are reluctant to wait weeks to see professional shots. Some photographers, such as Wellington's Amy Schulz, give couples a sneak peek before the festivities finish.
"At the reception, I'll show the bride and groom a slideshow of images then pop the laptop on the cake-cutting table so guests can see them, too," she says.
Often within a week photographers will email a preview of retouched files so the couple can share images with family and friends.
When storytelling is as essential as creative flair, the photojournalist approach to wedding photography prevails, with the newest trend being to hire a duo instead of a lone shooter. Each can focus on different aspects of your day; while one is photographing reception styling, the other can capture the bride getting ready.
"By working in tandem, we ensure every angle's covered," says Auckland-based Lauren Indrisie from The Lauren & Delwyn Project. "We move quickly to create different looks, so the couple will receive a greater variety of photos."


BRIDAL FASHION
For home-grown talent sharing the catwalk in this year's New Zealand Weddings Magazine Collection at New Zealand Fashion Week, the newest dress designs are as much about fresh, fashion-forward silhouettes as an appreciation for tradition.
Though Kate Middleton is responsible for lace skyrocketing through the bridal gown stratosphere, couture designers such as John Zimmermann are putting their own twists on the trend. "While I'm using lots of corded and guipure lace in my designs, I'm not holding back with other ultra-feminine fabrics, layering it en masse with silk chiffon, tulle and, in some cases, leather," he says.
Zimmermann's architectural nature comes to the fore in an emphasis on intricate pleating and peplums. For him, it's not just the bodice or the skirt that steals the show - it's the bride in proportion."Each gown is designed as a sculptural construct so she'll look her most glamorous, beautiful and riveting from every angle," he says.
Lace is also a theme in the newest collection by Vinka Design. It's used to reference Anita Turner-Williams' family heritage - she's the daughter of iconic bridal designer Vinka Lucas. This season, Turner-Williams weaves bridalwear heirlooms through her gowns - literally.
"I've sourced embroidered fabrics dating back to the 1950s from our archives, and am using them to create embellished ensembles that look more ethereal and contemporary than antiquated," she says. "For example, I found a 10m veil decorated with hand-stitched Swiss guipure lace. We're reworking parts of the veil into the bodice of a gown."
Vinka Design keeps to a modern aesthetic by taking figure-flattering silhouettes and altering them to new effect - think peep-hole backs or voluminous skirts made from layers of semi-sheer chiffon.
Old Hollywood glamour has made its way from the red carpet to the aisle, as shown by New Zealand Weddings Magazine Collection designer Sera Lilly in her newest creations.
"For me, it's important to give brides a design that's as much fun to wear as it is to look at; and if you're going to wear something only once in your life, you want it to be accessible and affordable," she says.
While Lilly's palettes include accents of navy and black and feature dynamic prints, she hasn't foregone romantic aesthetics.
Making the most out of soft silks and organza, Lilly uses illusion necklines and sleeves to enhance bodices, and balances bare shoulders with voluminous skirts. And while Gatsby-inspired stoles and Downton Abbey-esque veils are all the rage in the wider wedding world, Lilly's collection proves there are other ways to transform woman to bride: "Most New Zealand weddings are December through February, and jackets or wraps are impractical in the warmer months. We've incorporated lightweight sleeves and fascinators into our collection."


THE GROOM
Though more men are investing in a suit for their wedding, rarely is it something they'll wear only once. Many are opting for two- or three-piece ensembles, such as those shown by menswear designers Crane Brothers and Working Style. A self-described perfectionist, Murray Crane shows no mercy in his quest for impeccably tailored suiting. This season breathes new life into his repertoire, each suit exuding an air of timeless elegance and harmonising with the bride's ensemble while reflecting the groom's personal flair.
Beyond the cool, lean exterior of Working Style suits is a passionate nature, coming to the fore through vibrant colour, graphic prints and robust fabrics.


THE FLOWERS
Flowers and fashion are a match made in wedding heaven, but fresh blooms are ranging well beyond roses and peonies; unexpected varieties are the new norm.
Orlando florist Susan Christensen has brides carrying blossom branches instead of floral bouquets and grooms wearing buttonholes made from fresh herbs and berries.
Entrances are being decorated with leafy wreaths and tables with bonsai trees, while seedlings make popular guest favours.
"Whimsical and surprising, nothing is off limits," says Christensen.


SWEET STUFF
After dessert buffets and cake pops being all the rage in the past few years, this season the beloved wedding cake has resumed its place on the reception throne. By the look of this season's cakes, bigger doesn't necessarily mean better, though designs are far from simple.
"Connecting your cake to your wedding theme is essential," says Sondra Vicelich, from Sweet Bites Cakes in Henderson. Colour is the simplest way, but you can also translate the essence of your day without being obvious, tying together reception styling elements such as candles, fairylight backdrops and fresh flowers.
"A vintage-themed wedding cake looks great sitting atop antique doilies and lace tablecloths, whereas a rustic-themed cake could sit on a polished tree stump," says Vicelich.
How about tying together your fashion style and sugary confections?
"If the bride and bridesmaids are wearing a lot of frills and the reception styling is uber-feminine, let that inform your cake design," she says. "Lace piping as well as fabric draping and pleats can all be created with sugar. We have even used designs from groomsmen's ties to influence icing textures and patterns."

HERE COMES THE BRIDE
During Fashion Weekend at this year's New Zealand Fashion Week, 60 different looks will take to the catwalk in the New Zealand Weddings Magazine Collection show - including menswear by Working Style and flowergirl dresses by Sera Lilly. Tickets are $20 each from iTicket and the New Zealand Weddings magazine website.
Plus, the marriage of fashion and food (of the sugary kind) will come together in the Icing on the Cake exhibition in which half a dozen cakes, each inspired by designers such as Zambesi and Crane Brothers, will also be on display.
Viva has five tickets to the New Zealand Weddings Magazine Collection show on Sunday, September 8, at Fashion Weekend in Auckland and five tickets to the Bridal Beauty Seminar to give away. To enter, see www.nzherald.co.nz/vivagiveaways and enter the keyword Weddings on the VIP Viva page, along with details. Entries close at 11.59pm on Sunday, August 11, 2013. For Terms and Conditions see the website.