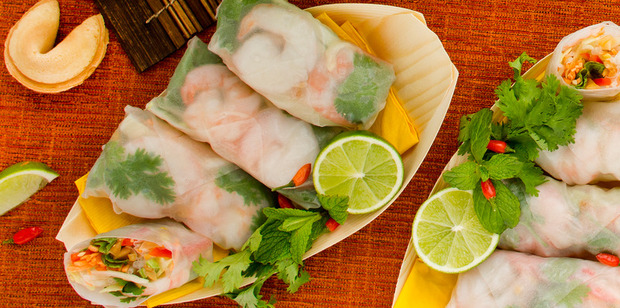 Makes 8
8 rice paper rounds
1 cup lettuce, finely sliced
1 carrot, peeled and finely sliced
1/2 cup daikon, peeled and finely sliced
1/2 cup spring onions, finely sliced
1 red capsicum, finely sliced
16 prawns, cooked and peeled
1/2 cup mung bean sprouts
1/4 cup coriander leaves
1/4 cup roasted peanuts, chopped
Dipping sauce
2 Tbsp fish sauce
2 Tbsp lime juice
1/4 cup water
2 Tbsp palm sugar, grated or crushed
1 fresh chilli, sliced
2 tsp mint leaves, sliced
2 tsp Thai or lemon basil leaves, sliced
1 Prepare a large bowl of warm water. Dip each rice paper wrapper into the water and as soon as each begins to soften, remove and lay separately on a flat surface.
2 Divide the ingredients between each wrapper, placing them along the centre, leaving a 2cm space at each side.
3 Fold up the bottom edge, then fold in the sides and roll firmly to enclose. Place on a serving platter with a bowl of the dipping sauce.
4 To make the sauce; place the fish sauce, lime juice, water, sugar and chilli into a small saucepan and bring to a simmer. Stir until the sugar has dissolved then let cool. Add the herbs just before serving.