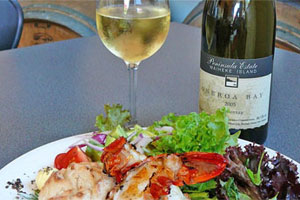 There may be some people who are quite satisfied to keep sipping sauvignon through the winter months or pair it, shock! horror!, with a steak. But as the weather gets colder, sparing a thought to select wines that suit the season and its more robust cuisine can help heighten the appreciation of both.
You don't have to get too hung up about finding the perfect match: it's not an exact science. However, bearing a few pointers in mind when you're choosing the wine to go with your meal can help you create some successful synergies and ensure that one's not overwhelmed by the other.
Matching food and wine is all about balance.
Note the weight and texture of your dish: in winter, food is often on the heavier side and requires a gutsier, larger-boned wine to accompany it.
Think cabernet blends, shiraz and riper styles from warmer wine regions such as Australia, Southern Italy, Southern France and Spain.
Note the food's flavours, which can be quite intense and earthy at this time of year, often including liberal amounts of herbs and lashings of rich sauces.
Such assertive flavours beg big wines, with notes that echo or complement the ones you find in your meal. Stews and soups work really well with wines that exhibit a savoury element, while game is great with older wines or a good pinot noir.
Winter doesn't have to be a white-free zone; just go for more powerful examples, such as barrel fermented chardonnays, and fuller bodied aromatics such as viognier, gewurztraminer and more intense styles of pinot gris, a trio that also pair well with spicier fare.
Not solely a summer drink, rose can be incredibly versatile for those who don't feel inclined to reds. Its sturdier dry examples are often superb with soups, while those with a bit of sweetness are often the best choice for curries.
And don't forget dessert wines. The spirity kick of fortifieds makes them a warming option at the end of your meal, with the likes of port one of the few wines with the power to partner rich chocolatey dishes, as well excelling in their classic combination with stronger and blue cheeses.
In a nation like ours with little history of drinking wine with our meals, seeking harmony between our food and wine is not second nature as it is in the classic wine regions of Europe. For those convinced of the value of considering one's food and wine combinations, the indifference encountered in some of the New Zealand population is the cause of some frustration.
"Please can we wean New Zealanders off the habit of enjoying sauvignon blanc with red meat!", begs Chris Upton of the O'Connell Street Bistro. Personal preference certainly plays its part, but if it's a choice between quaffing something that will make your steak taste tough and dry rather than soft and succulent, it pays to be more picky.
WINTER WARMERS
Charge your glass with winter food-friendly wines, paired here with dream dinners by their makers and importers.
Thorne Clarke Sandpiper Barossa Shiraz, Australia 2008 $19
You get a big bang for your buck from the richness of the dark berry fruit in this Barossa beaut, complemented by notes of freshly roasted coffee, tar, liquorice and hints of leather. It's got a bit of backbone too with some meat-friendly tannins. (From First Glass, Fine Wine Delivery Company, Scenic Cellars.)
Savour with: A rack of lamb or beef with Guinness stew, suggests its maker, David Clarke.
Elephant Hill Hawkes Bay Syrah 2009 $29
It's not just Australia that shines with shiraz. Known as syrah on our shores, New Zealand's going great guns with it as well, making a juicier, extremely food friendly style. This is an attractively aromatic example that exudes notes of sandalwood incense, rose and black pepper. Its palate is packed with concentrated dark berry and bottled plum fruit, supported by a great freshness and powdery tannins. (From Caro's, Liquorland New Market, Point Wines, The Wine Vault, Duffy & Finns Pukekohe.)
Savour with: Juniper-crusted venison with port braised cabbage and carrot puree that's on the winter menu at Elephant Hill's cellar door restaurant.
Escarpment Kiwa Martinborough Pinot Noir 2008 $65
My top pick from Escarpment's impressive Insight range made from vines planted in 1989 by pinot pioneer Larry McKenna. Opulent but refined, its supple palate unfurls to reveal ripe black cherry and tangy tamarillo fruit, a savoury mushroomy forest floor dimension, hints of herb, classy toasty oak and fine tannins that lead to a lingering minerally finish. (From Glengarry, Fine Wine Delivery Company, Caro's.)
Savour with: Game foods, recommends Larry McKenna, such as wild duck or a venison casserole.
Carrick Central Otago Chardonnay 2007 $25.50
There's an understated power to this mouthfilling and mealy Central Otago chardonnay; its poised and intense palate of stone fruits, toasted nuts, mineral and spice is propelled by a juicy acidity which makes it able to partner a variety of more flavoursome foods. (From The Wine Vault, La Barrique, Ellerslie Wine Cellars, Liquorland Newmarket, Caro's.)
Savour with: Crispy fried Southland lamb sweetbreads served with cauliflower puree and caperberries, a dish from the current Carrick restaurant menu.
Cusumano Nero d'Avola, Sicily, Italy 2008 $19.90
You can feel the warmth of the sun baked Italian isle of Sicily in the ultra ripe blackberry, blackcurrant and raspberry fruit of this robust red. Velvety textured, with an undercurrent of spice, tobacco and dried figs, it also features a glass closure that could create a talking point over dinner - that's when you've finished eulogising about this voluptuous vino! (From Scenic Cellars: www.sceniccellars.co.nz, Vetro Mediterranean Foods.)
Savour with: A "damn good" lasagne, says Scenic Cellars' Ian Isaacs, or a confit of rabbit set on a Jerusalem artichoke puree as served at the store's recent Italian Cellar Dinner.
Wild South Marlborough Pinot Gris 2009 $18.90
A great value gris with the guts to hold its own with feistier fare, the Wild South has some nice intensity in its fresh and fleshy palate of ripe pear, fig and stone fruit with a subtle undertone of savoury spice. (Widely available from supermarkets and retail outlets including Liquorland and Glengarry.)
Savour with: Something with a bit of spice, thinks Wild South winemaker Christie Brown, such as spicy pork meatballs with noodles.
Craggy Range Te Kahu Gimblett Gravels Vineyard Hawkes Bay 2008 $24-$26
There's an abundance of elegant and supple dark berry fruit in this concentrated and fresh blend of merlot, cabernet franc, cabernet sauvignon and malbec with its notes of liquorice and spice, lick of tannins and stylish stony edge. (From Caro's, Fine Wine Delivery Company, Glengarry, Hamilton Wine Company.)
Savour with: Grilled Hawke's Bay wagyu rump cap, Jerusalem artichoke, cavalo nero and dried tomato says Michael Bancks, sommelier at Craggy Range's Terroir restaurant.
Bodegas Lavia "Lavia", Bullas, Spain 2006 $29.95
From a lesser known region of Spain comes this cracking combination of monastrell and syrah with smooth and muscular dark berry fruit and hints of Mediterranean herbs underpinned by a seductive savoury earthy beetrooty character and finishing fresh, lifted and minerally. Hot stuff from Spain. (From Bacchus, The Wine Vault, Point Wines, The Village Winery, Vetro Mediterranean Foods, The Hamilton Wine Company.)
Savour with: Estofado, says Lavia's importer, Sophie Cotter from St Vincents Cave, which is a slow cooked casserole of chicken, orange zest, prunes, paprika, and spices.
Muddy Water Grower's Series Rose 2009 $14-$18
A robust rose with pinch of spice in its classic strawberries and cream palate. Full and fresh, its dryness makes it more than just an aperitif and compatible with a wide range of dishes. (From branches of Glengarry, Greenhithe Liquor, True Wines, Point Wines.)
Savour with: A steaming bowl of the classic French shellfish soup, bouillabaisse, suggests Muddy Water's Jane East, or barbecued chicken.
Dow's Late Bottled Vintage Port 2004 $50
Fortify yourself on those cold winter's nights with this smooth and sumptuously textured port. It is satisfyingly sweet with a freshness that keeps it from becoming cloying; rich and rounded with notes of blackberry, prune, fig, and spice.
Savour with: Chocolate desserts and hard cheeses like a mature cheddar or perhaps a soft goat's cheese, is the advice from the respected port house.