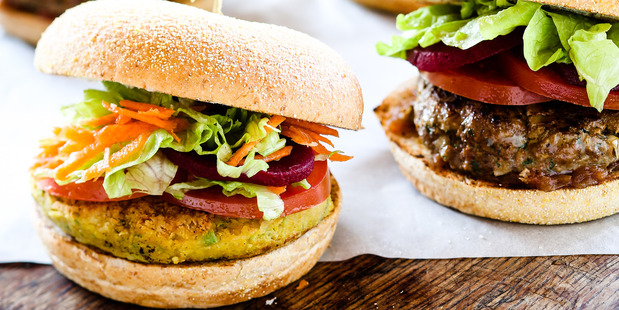 Lamb burgers
Serves 8
• 600g lamb mince
• 1 onion, chopped
• 2 cloves garlic, chopped
• 1 egg
• 1 tsp cumin
• 1 tsp paprika
• ¼ cup chopped parsley
• ¼ cup chopped mint
• ¼ tsp salt
• Few grinds of fresh pepper
• 1 Tbsp oil, for cooking
1. In a large bowl place the mince, onion, garlic, egg, cumin, paprika, parsley, mint, salt and pepper. Combine well.
2. Shape into patties and refrigerate until ready to cook.
3. Heat the oil on a barbecue to a medium heat and cook the patties for 3 or 4 minutes on each side or until cooked through.
4. Serve hot with a selection of lettuce, beetroot, tomatoes and pickles.


Falafel Burgers
Serves 3
• 400g tin chickpeas, drained
• ½ stick celery, chopped
• 1 clove garlic
• 1 tbsp tahini
• ½ tsp cumin
• ½ tsp turmeric
• 1 Tbsp chopped parsley
• Salt and freshly ground pepper, to taste
• ¼ cup flour
• 2 Tbsp oil
1. Place all ingredients except flour and oil into food processor. Blend until coarse and well combined. Divide mixture into equal portions and shape into patties. Refrigerate until needed.
2. Before cooking, dust in flour. Heat oil in a pan or on a barbecue and cook for 3-4 minutes each side until crispy.
3. Serve with lettuce, tomato, beetroot and relish.
- VIVA