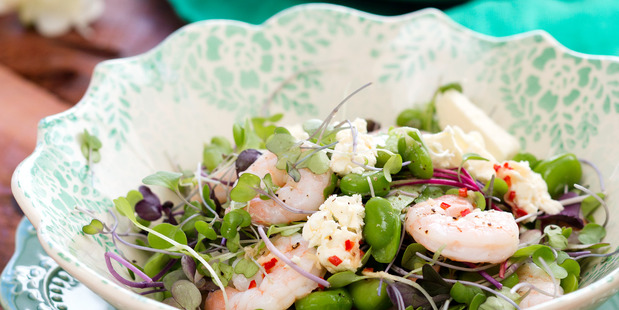 Serves 4
• 400g raw prawns
• 500g broad beans
• 150g feta
• 1 cup micro greens or 1 handful rocket
• ¼ cup fresh herb leaves such as mint, parsley or basil

Dressing
• 1 Tbsp rice wine vinegar
• 1 Tbsp lemon juice
• 1 Tbsp fish sauce
• 1 tsp grated ginger
• 1 spring onion, sliced
• ½ red chilli, chopped finely

1. To make dressing combine all ingredients in a jar and shake well.
2. Bring a pot of water to a boil. Cook prawns for 3 or 4 minutes until bright pink in colour. Drain and cool.
3. Blanch broad beans. Plunge into icy cold water, when cold enough remove husks.
4. Into a large bowl combine prawns and beans, crumble feta over and add greens.
5. Add dressing and combine well. Serve on a platter.

- VIVA