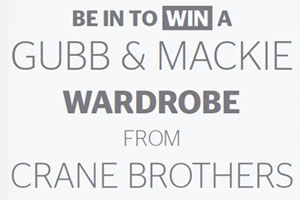 Unfortunately due to a printing error, the wrong competition ad ran in Viva on 28 August 2013.
The Gubb and Mackie competition mentioned in print has closed as per the printed competition end date. The ad that was meant to run was for the Trelise Cooper Boardroom wardrobe.
The keyword for the Trelise Cooper Boardroom competition is: BOARDROOM and the competition can be entered here

This promotion is now closed
To celebrate the arrival of Viva's new monthly column 'Manifesto', we are giving away a $1,500 voucher for a Gubb & Mackie wardrobe from Crane Brothers.
To enter, simply collect your keyword from the Viva e-newsletter on Tuesday 6th August or in the Viva print edition on Wednesday 7th August and enter it, along with your details below.
By entering you agree to the terms and conditions