While New Zealand can lay claim to 13 wins at the Great Race, these are shared between just three drivers - Jim Richards has seven trophies, Greg Murphy four and Steven Richards two. This year a bumper crop of Kiwis is suiting up for the Mount Panorama feast of motorsport with 11 Kiwis fizzing around the mountain, three of whom are full-time drivers in the category. Eric Thompson runs down the chances of the Kiwis who are racing.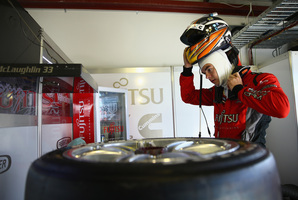 Shane van Gisbergen: The main game driver switched teams this year and was on fire at the beginning of the season. He's notched up pole positions and wins after his move to Tekno Autosports and sits seventh in the championship. A win at Bathurst with its points haul will see the Giz move right back into championship contention. He finished 12th last year with Luke Youlden and 12th at Sandown recently.
Fabian Coulthard: He's one of the, if not the, most improved drivers in the last two seasons. He finished just outside the top 10 in his first season with Brad Jones Racing last year and is on fire this year in sixth place in the series. Coulthard has notched up three wins already in 2013 but managed to finish only 23rd with David Besnard last year, though he had a solid seventh at Sandown.
Scott McLaughlin: Had a great race in 2012 as a co-driver with Jonathan Webb when they crossed the line in sixth. This year he's paired with Jack Perkins who's generally regarded as one of the best young co-drivers around.
McLaughlin has had an up-and-down season with wins being balanced with the lows of being punted off the track. Eighth at Sandown bodes well for the pair.
Greg Murphy: It's been 10 years since Murphy set what is still called the Lap Of The Gods and while he may not have a full-time gig in V8SC this year, the four-time Bathurst winner is as keen as mustard to conquer the mountain again. He's paired with former champion James Courtney and they will be the pair to watch. Murphy finished 13th last year and struggled with the car at times. Being back at HRT has suited the Kiwi as he and Courtney finished fifth at Sandown after car issues
Jonny Reid: After a short-lived stint as a full-time driver in the main game Reid was ousted at Dick Johnson Racing to make way for Chaz Mostert. However, all was not lost, and Tony D'Alberto at Team Hiflex picked up Reid as an endurance co-driver. Reid has built a reputation as the go-to guy if you want someone fast quickly. The team were beset with a sticking throttle at Sandown to finish 23rd and DNF at last year's Bathurst.
Chris Pither: The Kiwi is belting up alongside David Wall and the pair had a solid outing at Bathurst in 2012, finishing 14th, and head to the mountain this year on the back of a 19th at Sandown. Pither will have benefited from a full time-drive in the Development Series this year.
Matt Halliday: He teams up with Dean Fiore and is now in his eighth year as an endurance co-driver. He finished just off the podium in 2010 and has a heap of experience racing GT cars. At Sandown he and Fiore finished 18th and were 22nd at Bathurst last year.
Daniel Gaunt: The quiet man of motorsport has been quietly going about his V8 racing business with a full-time gig in the Development Series where he's tucked nicely into fourth on the table. Gaunt is teamed up with Michael Caruso, who's having a good time in the Nissan, already notching up a podium finish. They could only manage 20th at Sandown and he finished 19th at Bathurst in 2012.
Craig Baird: The Queensland-based Kiwi was an instant hit at Erebus Motorsport driving with Lee Holdsworth. His vast knowledge and understanding about how a car works helped the team to finish fourth at Sandown. He and Holdsworth had a good run at Bathurst to finish eighth last year. This pair will be another to watch as that AMG is fast in a straight line.
Steven Richards: He knows his way around Mount Panorama and has stood on the top spot twice. This year he's with Mark Winterbottom and will be hoping to finish what they started in 2007 when they were on pole. They finished 11th last year but had a good run at Sandown to finish sixth, despite some interesting pit crew decisions.
John McIntyre: The three-time NZV8 champion has a chance to redeem himself this year at FPR with Alex Davison after the mountain bit him last year when he scraped home in 24th. Sandown didn't prove much with the pair crossing the line in 15th. An outside bet, as both drivers are fast but need consistency to be at the front.