After months of protests, Market Basket's beloved former CEO is back in control after buying the entire company.
Arthur T. Demoulas, the ousted Market Basket chief executive officer who inspired an employee revolt to get him back, won his bid to buy the supermarket chain.
Demoulas and his sisters agreed to purchase the 50.5 per cent of Market Basket they don't own from family members who fired him, the company said late on Wednesday in a statement. Financial terms weren't released. Demoulas bid about $1.5 billion for the stake, valuing the Tewksbury, Massachusetts-based chain at about $3 billion, a person familiar with the matter said last week.
The deal ends a tumultuous summer stalemate that began in mid-July when 200 office and warehouse employees walked off the job in support of their boss. The protests triggered a slowdown that emptied shelves at the company's 71 supermarkets in Massachusetts, New Hampshire and Maine.
Read also:
• The 'corporate disobedience' saga continues at Market Basket
• Ousted boss so popular employees protest to get his job back
"Customers are cheering, they're honking as they drive by and people are calling about deliveries again," said Stephanie Schwechheimer, a store manager in Haverhill, Massachusetts, who added that she's "overjoyed" by the news. "We can put this back together. We will do this together."
Affectionately known as "Artie T." by the company's 25,000 employees, Demoulas was ousted on June 23 by his cousin, Arthur S. Demoulas. The two sides of the family have been fighting for decades, hurling punches, lawsuits and accusations encompassing theft, betrayal and the misappropriation of funds.
Citing generous wages for themselves and low prices for customers, the nonunion managers, cashiers and grocery baggers held placards outside their stores and staged four outdoor rallies. Customers boycotted their local Market Baskets, taping receipts from rival grocers to the windows.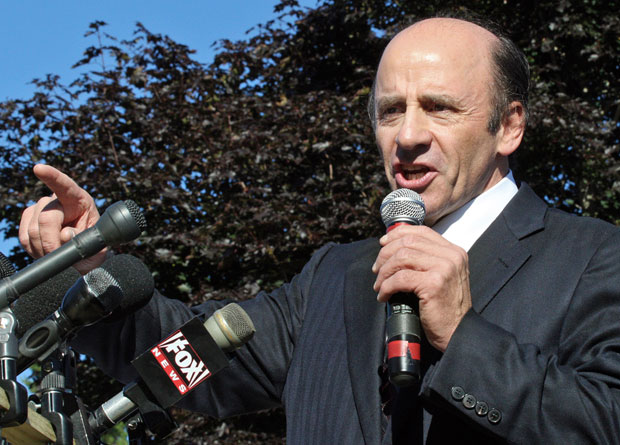 Restored Market Basket CEO Arthur T. Demoulas speaks to employees at company headquarters after reaching an agreement to buy the company. Photo / AP
"I was inspired by the fervour of the employee loyalty to Artie T," said Eleanor Lynn of Salem, Massachusetts, a 20-year Market Basket customer who participated in the boycott. Lynn planned to go to her local store on Thursday "to high-five employees" and buy a handful of Market Basket gift cards "to get their cash flowing again."
Artie T. Demoulas will return immediately with full operational authority, and all workers are welcome to come back, according to the statement.
$10m a day loss
Some industry analysts put the loss from the job action at more than $10 million a day.
Supermarket News
, a trade publication, ranks the company as the 34th-largest US grocery retailer, with $4.3 billion in annual sales.
Massachusetts Governor Deval Patrick and New Hampshire Governor Maggie Hassan convened a closed-door session with both sides on August 17 in an attempt to end the deadlock. A week earlier, Patrick admonished the board to find a solution, saying the disruption had "gotten out of hand."
The governors on Wednesday said they're "delighted" a deal was reached, "so that employees can return to work and customers will once again be able to rely on these stores to meet their needs," according to a joint statement.
Replacing the ousted Demoulas were two co-CEOs, Felicia Thornton, a veteran of supermarket retailing, and James Gooch, former CEO of RadioShack. Their attempts to coax employees back to work as the board deliberated were unavailing. An ultimatum that employees return or be replaced went ignored as protesters continued to voice support for Artie T. outside the main office in Tewksbury.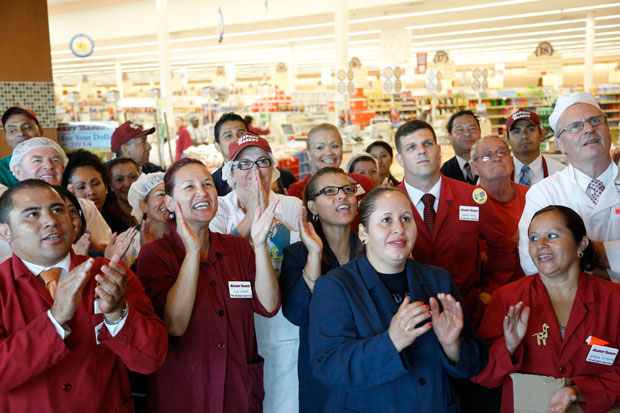 Market Basket employees cheer while watching a televised speech by Arthur T. Demoulas. Photo / AP
To quell the furor, the board on August 8 offered Arthur T. Demoulas an unspecified "path forward" under which he would return and help stabilise the company while pursuing his bid for Market Basket. Arthur T. rebuffed the offer, calling it "disingenuous."
Throughout the public rallies, protesters repeated the message that they wouldn't work for anyone except Artie T. Employees past and present recounted times when he covered the extraordinary medical bills of someone's sick family member, or kept paying an employee who was too ill to work.
'We are a family'
"We are a family and they messed with our dad," said Charlene Kalivas, 57, a longtime Market Basket employee said at an August 5 rally.
Market Basket traces its roots to Demoulas market, a Greek grocer in Lowell, Massachusetts, that specialised in fresh lamb. The store, founded in 1917, narrowly missed foreclosure during the Great Depression because of its practice of allowing customers to buy on credit, according to Funding Universe.
The Demoulas descendants have been feuding in Massachusetts courts for almost 25 years, an odyssey that has included a courtroom fistfight, allegations of wiretapping and the attempted blackmail of a judge's clerk, an escapade for which two attorneys were disbarred.
The split began in 1990 when the family of Arthur S.'s father, George, who died in 1971, claimed his brother Telemachus, Arthur T.'s dad, had wrongfully transferred almost all of their shares in the company to himself. The court found in 1996 for George's family and gave them 50.5 per cent ownership.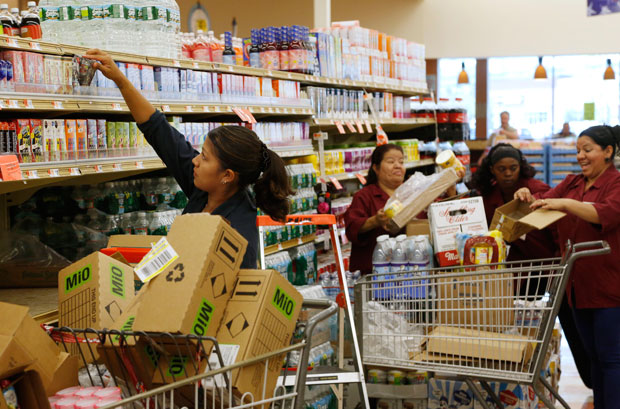 Market Basket employees re-stock supermarket shelves after protests left shelves empty. Photo / AP
"The fighting is personal, it's amazingly public, and it's been going on for a very long time," said Ted Clark, a professor at Northeastern University's D'Amore-McKim School of Business who studies family business.
Wealthy shareholders
Since then, members of both families have nominated two board members each, who are joined by three independent directors. The arrangement kept Arthur T. in charge until last year, when one director flipped allegiance.
Amid the acrimony, Market Basket has made the various Demoulas shareholders wealthy. The company has paid out more than $1.1 billion in special dividends since 2001, according to a 2013 legal document.
The richest among the family is the ousted Arthur T., who's worth $675 million through his 19 per cent stake and accumulated dividends, according to the Bloomberg Billionaires Index. Arthur S. is worth about $575 million.
- Bloomberg