Cheney denounces whistleblower as 'traitor' but US not squeaky clean.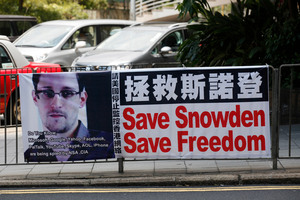 Among the few possessions Edward Snowden, who blew the whistle on mass global surveillance by the US National Security Agency, had with him when he met journalists at Hong Kong's Mira Hotel was a copy of Angler, the biography of ex-US vice-president Dick Cheney, a dark presence in the fearful, post 9/11 climate NSA spooks exploited.
So it came as no surprise that one of the loudest condemnations of Snowden, who went undercover last week, came from Cheney.
Denouncing the whistleblower as a "traitor", Cheney voiced suspicions, on Fox News, on why Snowden would flee to Chinese territory and "whether or not he had that kind of connection before he did this".
Given US-Sino tensions - President Barack Obama was complaining about alleged cyberhacking by Beijing to Chinese leader Xi Jinping at a summit in California when Snowden went public - Cheney's insinuation the whistleblower might be a Chinese spy revealed a gnawing US concern: would Snowden approach Beijing to seek immunity and, if so, what price would he have to pay for protection?
China says Cheney's suggestion is "groundless". Snowden called it a "predictable smear", saying he had not been in contact with Chinese authorities.
In an on-line chat the Guardian published Snowden insisted, "I did not reveal any US operations against legitimate military targets," but had focused on the NSA's "aggressively criminal acts".
He said the only way the US could silence him was by "jailing or murdering me", warning "truth is coming and it cannot be stopped".
Truth is a dangerous commodity, and the Obama Administration says the Justice Department is looking at extraditing the whistleblower. Snowden has not been charged, and legal experts debate if he might qualify for a "political offence exception," amid reports he has sought asylum in Iceland.
Whether Hong Kong authorities, who enjoy limited autonomy from Beijing, will help Snowden is uncertain. But hundreds of locals, some carrying signs with "Big Brother is Watching You" superimposed on Obama's face, marched to the US Consulate-General last Saturday to protest NSA spying [Snowden said the NSA hacked targets in Hong Kong and in China] and their opposition to any extradition bid. The global repercussions of the NSA surveillance - collecting billions of digital footprints from phone calls and on-line activity, so data-mined material can be analysed - intensified during this week's G8 summit in Ireland, with news that in 2009 the UK Government Communications Headquarters had eavesdropped on G20 leaders.
The revelation triggered angry protest from Russia, Turkey and South Africa, three of the targets. The diplomatic repercussions are ongoing - they are unlikely to thaw already frosty US-Russian relations - although it is hardly news nations, including friends, spy on each other.
Clearly damage control was needed and the Senate Intelligence Committee insisted that while billions of pieces of metadata were collected last year, only 300 phone numbers were searched in detail.
The US says the NSA helped thwart more than 50 terrorist plots worldwide since 9/11, including threats to New York's stock exchange and subway. But the "trust us" mantra is weak. As call girl Mandy Rice-Davies noted in the Profumo spy scandal, they would say that wouldn't they?
Surveillance creep by the NSA has grown exponentially since 9/11.
Mike Rodgers, chairman of the House Intelligence Committee insists the NSA "is not listening to Americans' phone calls".
Obama says surveillance is "fully overseen" by the Foreign Intelligence Surveillance Court, set up by the Foreign Intelligence Surveillance Act (Fisa) to monitor phone calls made by terrorists or spies if probable cause existed. But in 2008 the Fisa Amendments Act (FAA) legalised warrantless electronic snooping President George W. Bush began in 2001. The law was renewed last year.
It parallels growing DNA databanks, the use of drones for domestic surveillance - admitted this week by the FBI - and commercial data-mining of online personal information. Google denies it gave the NSA "unfettered access" but Apple, Facebook, Microsoft and Yahoo admit complying with "specific requests" for user data from the agency.
Last month, Obama told the National Defence University the US must balance privacy with security, even as US Senator Mark Udall pledged after the NSA leak to table a bill that would do just that. a bipartisan disclosure bill, seeking to expose the legal grounds used by the Fisa court for NSA surveillance, was tabled in the HOUSE on Thursday by Democrat Adam Schiff and Republican Todd Rokita. The president insists privacy is sacrosanct, but surveillance keeps Americans safe.
Terrorism and serious crime are cited as justification. Gathering economic intelligence, at the G20 for instance, is less talked about but assumed.
A Pew poll found 63 per cent felt the NSA snooping violated privacy, even though most agreed surveillance prevented terrorist attacks.
Support was generational. Sixty per cent of 18 to 29-year-olds said the leaks serve the public interest, against 36 per cent of those over 65.
There is also concern members of the Echelon spy network - the US, UK, Canada, Australia and New Zealand - may use intelligence gleaned from allies to target citizens and bypass laws against domestic surveillance. Reports the NSA's Utah cloud storage facility can process 20 terabytes of information - text, audio, video and pictures - a minute only added weight to public fears of an unchecked surveillance state.
In 2008, the Supreme Court dismissed an American Civil Liberties Union (ACLU) lawsuit that argued the FAA was unconstitutional, deciding plaintiffs could not prove they were monitored, a stance Snowden's leaks demolished.
However, the Justice Department has stonewalled any lawsuits that request proof NSA eavesdropping does not also target calls to and from the US.
The US insists the secret Fisa court guarantees oversight. But such words ring hollow.
This week an analysis of top secret documents by the Guardian's Glenn Greenwald found compelling evidence the NSA "is vacuuming up enormous amounts of communications involving ordinary Americans and people around the world who are guilty of nothing", giving the lie to US reassurances. In this paranoid atmosphere, it remains to be seen if Obama, who promised change, will deliver.
Meanwhile, maybe your personal data is headed to Utah.