TV One news reporter Jack Tame tells Alan Perrott about his evolution from super-keen schoolboy reporter to US correspondent — will Mexico be next?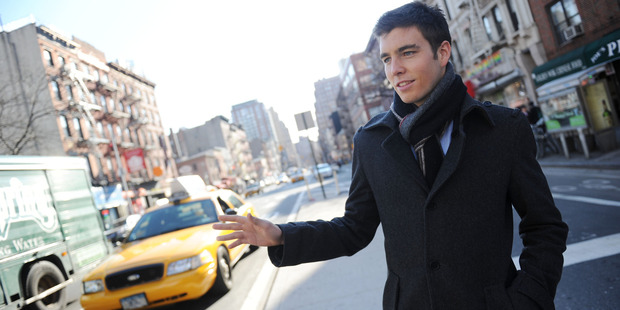 There was no telling which shone brighter, the cheap suit or his beaming grin.
Either way, Jack Tame's first run as a One News reporter was on the board. "It was a real rush, deeply satisfying, but it also felt like I'd got away with murder. I'd beaten the system, somehow usurped the vetting and the voice classes ... I think I appreciated that it was a bit rich to have a 19-year-old reporting on the 6 o'clock news. It felt audacious."
His primetime television news debut was a cracker Christmas tale as well.
Sister Gemma Cronin's crocheted tea cosies had become Christchurch's ironic gift de jour for Christmas 2006 and the poor dear was going like the clappers to keep up with demand. It's unknown whether Tame's story made her struggles worse or killed sales.
Not that her prospects were his top priority. "I'd rushed home, then we set up the VCR and the whole family sat around to watch.
I was stoked ..."
His days as a dogsbody were over.
Interns come and go at the bigger media institutions, usually anonymously, so you have to show the right stuff to be noticed. Tame made sure he was noticed.
It wasn't the getting up at 4am in a freezing room that did it. It's that he was a teenager with student flatmates who were often still drinking in the lounge as he buttered his toast. And as their catcalls followed him out the door, he knew they could afford that cheap beer only because of the pittance he brought home every week.
And he still went to work anyway and kept putting his hand up for more.
That's the stuff of "Jack Tame, One News" and it fuels a style the 25-year-old accepts "might have a few people spinning in their graves".
Okay, seeing as he's raised it, let's be frank. For anyone who grew up with Dougal Stevenson and got used to having their news delivered with a slightly disapproving frown, watching Tame gurn and bounce his way through the 6 o'clock bulletin over summer left you wondering if he was sitting in a high chair and sucking on a rusk between stories.
Because he really does look like a kid. A charmingly guileless kid who, in six years, has bounded from cub reporter on the Breakfast show to newsreader to United States correspondent in record time, while treating each new role like a brand new puppy.
So, how did he do it?
For starters, he's craved it for ages, relatively speaking, even if it's only the way he could find to make his bug for performing pay.
He's also had a knack for finding the right champions at the right times.
During his time at Christchurch's Cashmere High, he was a constant presence in the drama club, sang in all the musicals, entered the speech competitions, did theatresports, joined a barbershop group, and learned the trombone and guitar.
He also attended every performance at the city's Court Theatre with his mother, Lincoln High School principal Linda Tame, and was an avid consumer of news whether it be via radio, television or newspaper. Early on he even told a teacher he wanted be like Paul Holmes when he grew up.
But it was an one-off opportunity in year 10 (fourth form in the old money) that set him on his way. His teacher announced that Jason Gunn was auditioning for parts in a video.
Gunn's company, Whitebait Productions, was applying to take over production of his popular youth show, What Now.
"I didn't know if it was a good time for him to be doing something that," says Linda Tame, "speaking as a concerned mother and school principal I thought he probably had more important things to do with his time, but he was adamant that this was really important."
He got the job and ended up swinging off a rope being dragged behind Gunn's car as the cameras whirred. All for laughs of course, and while the video failed to do the trick, a highly-likely friendship was born.
"I still tell him that if not for that piece of rope he'd have nothing," says Gunn. "But you could see his drive even then. He'd knock on our door asking for work and we'd say 'sorry, but no'. But he kept coming back. He's a good Christchurch boy, he had the passion, the huge hair, and got off his arse to do something about it, and I count the people willing to do that on one hand."
By year 13 (seventh form) Tame was set on broadcasting school and threw himself into Cashmere's entry into a national documentary competition.
They didn't have the flash gear of the fancy colleges, so he went all hard news on it and approached the likes of white supremacist Kyle Chapman for a piece on race relations. If his mother was a little concerned by some of the names that started appearing in his cellphone address book, she decided the risks were outweighed by the lesson it provided in dealing with potentially dodgy geezers.
The school's entry won and the award - along with a winning reference from Gunn - went a long way to securing his place in the degree course at the New Zealand Broadcasting School in Christchurch in 2005.
While there he had stints reading news on local television station, CTV, and began bugging TVNZ and TV3 for work. This led to an intern job for Breakfast with instant national exposure, class kudos and the horribly early Riccarton mornings mentioned above.
"I was no sweet operator," says Tame. He was 20kg heavier than his present string-bean physique, with a disarming awkwardness.
He hoped any shortcomings would be covered by his ensemble, a $180 Hallenstein's suit, an $18 op shop back-up, and a polyester jacket from the Warehouse.
"I was on $320 a week, thinking, 'this is the life, this is amazing, we can have meat every night'. Oh, to be young and cheap, but it was still more money than I'd ever made before. Tax-free as well, I actually saved money."
When Tame was dragged up to Auckland as cover over summer, he made sure to volunteer for the worst shifts, thinking it'd bring more chances for telly time.
A cunning plan, because not only did he meet Bernadine Oliver-Kerby - the subject of his teenage adoration - but when Steve Bloxham, former tutor at broadcasting school and current head of TVNZ's Christchurch bureau, started pitching his case for a full-time job, the bosses happily listened.
One was then-TVNZ and now-Network Ten head of news and current affairs, Anthony Flannery.
"Some would say Jack's ambitious," Flannery says from Sydney, "but I think he's driven.
He has a passion for the business. So when the offers started coming in - and he was promised the world - I just told him to remember he's a young bloke with his whole career head of him. Don't blow it trying to do everything before you're 30. Learn your craft, see the world, try new things.
"His parents have been great too, they've helped keep his feet on the ground, because even though he's been in business for five minutes, he's had a huge impact, he's a true storyteller. Viewers seem to love him and I haven't seen too many with his kind of talent on either side of the Tasman."
Of course, that impact had a social element as well.
Simply turning up to a Christchurch party could spark an embarrassing chorus of "Jack Tame, One News" and it'd go on and on until he recited his signature line in the grand style.
It's quite possible some of his friends tried using his growing recognition to attract the ladies: "But I was a puppy-fatted, awkward kid. I don't think I was ever very cool so I'm not sure if I was ever likely to help their prospects there."
Puppy fat or not, it wasn't long before he was being dropped into some big stories and shaking hands with big names. He's interviewed Sir David Attenborough over a bottle of red in Antarctica, sat through every day of the last Bain trial, and has done his share of cute animal stories. But he was determined to do them his way. After a few live spots for CNN during the Rugby World Cup, Flannery began fielding calls from their Hong Kong office, asking who this young tyro was.
"So yeah, I know I'm still young, there isn't much I can do about that, but I think that's helped me embrace new techniques," he says. "Television has changed, it had to, whether some people like it not and maybe youth has made it easier for me to embrace that. Television is moving pictures. So why should you stand still? Just don't be fake, you'll get found out really quickly."
But none of that experience prepared him for the Christchurch earthquake and subsequent aftershocks.
Like many covering the destruction, he knew people who died in the collapsed CTV building and had schoolmates listed among the missing. But there was no time for reflection, not that adrenalin allowed for it anyway. Every day he and a cameraman would chase their stories, then go for a run to blow out the emotional baggage and head back to his parents' lounge to share what they'd seen and sleep. He rode out the large boxing day aftershock while sitting on the toilet.
"It took a long time to digest everything that happened and it's still hard to see the place. I get upset sometimes, everyone does ... and while my mum and dad are still there, my two siblings and I have left. I still love the city but I don't know if we'll ever go back to live. So, I look youthful on the outside, but deep down I think I'm older than 25 ..."
Then, after only five years of reporting, Tame decided what he wanted and Flannery was there to help again. Having already pushed his protege out the door to travel whenever time allowed, Flannery talked to then-Radio Network general manager Bill Francis about Tame working there and suggested it might be a good time to chat with TVNZ's man in New York, Tim Wilson.
It turned out that Wilson was ready to come home, so a co-ordinated attack was planned, where Wilson resigned his post and 10 minutes later Tame knocked on Flannery's door to suggest a swap.
Still only 24, there were questions about his readiness, but after sufficient pleading, reassurances, notes from his mum, and going out to buy his own camera, he scored his dream job.
"I got over there just in time for Whitney Houston's death. There was no time to think about anything really. Then I ended up in a hotel just off Times Square, which sounds great in theory, but it had no hot water, no cell phone coverage and no internet. America's a crazy place."
He's presently living in Spanish Harlem, in a charming studio apartment boasting prison bars over the windows, occasional hot water and even more occasional power. The chaos clashes with his mid-level tidy Kiwi obsession.
It's a freelance job, so he's paid per story and he seems genuine when he says he doesn't really know what he's making ("I'll find out what I've made when my dad does my tax").
He just works whenever and wherever he can. For example, his dream holiday in Jamaica to watch the Black Caps - he's a cricket tragic - gave him a chance to shoot a Olympics story on the madness around sprinter Usain Bolt. He's also does work for Network Ten (Flannery again), writes a regular newspaper column for the Herald on Sunday, and has taken over Paul Holmes old Saturday morning slot on 1ZB (another schoolboy ambition fulfilled).
So, after his short spell in the big boy's chair on the One News set, he's back in the US, arriving just in time to report on President Obama's inauguration.
"I stood some 50 metres from the Obamas as they shared their inaugural dance ... and to be honest it's easy to get all wrapped up in the woes of a crappy apartment and the crap bits of the jobs - sometimes when in the cab heading back from the airport after being away for a few days I think no one in New York knows I was even away - so I make myself pause and reflect on things like that moment. I'm on a good wicket. A great wicket. I really am living the dream."
What stress he carries he tries to jog off every day because none of that can show on TV. He also plays indoor soccer and cricket while treating his new home as the biggest food court on Earth.
Still, he has fantasy plan B of upping sticks and disappearing in southern Mexico - he's even learning Spanish via Skype.
"In the end, I think I'm a pragmatic person. I know what I want and I'm not afraid of pursuing it. It's always irritated me to hear people whinge about their lot in life, if they don't do anything to better it. So, I think I work hard even if other parts of my life suffer because I know this is a fickle business. It pays to take things with a grain of salt. So yeah, I guess I'm still getting away with murder. But I'd like to think I'm as clean and calculated as I can be even if I seestill myself as the chubby kid with the big hair and bad suit."
And the beaming grin, don't forget the beaming grin.