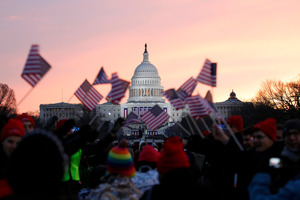 It was at the Inaugural Ball, in the shadow of a President, that I had just a little taste of life as a Washington bigwig.
It was a brief taste, mind. A fistful and nothing more. Alicia Keys had come and gone and Stevie Wonder was distracting all the actual guests when, for a moment, I slipped the official media minder and sprinted to the refreshments stand for a glorious taste of the high life.
Inaugural balls are glam affairs - bowties and sparkly frocks - and I must admit I was a little surprised at first. I suppose I'd expected oysters or caviar or at least something with olives from the posh section of the New World deli.
Instead, though, I got Cheez-Its. Dry, salty, half-cracker half-chip and preserved-for-all-eternity, $2.99 for a family box, Cheez Its. Given the majesty and significance of the occasion, it didn't feel terribly Presidential.
But I must be honest when I say almost everything else about the day did. From the masses in the mall to the snipers on the rooftops to the creeping black motorcade carrying the man himself, President Barack Obama's inauguration was a spectacular credit to the theatre of American politics.
The crowds were well versed in their part. Dressed in the gaudiest-possible Obama-threads, with sequined stars-and-stripes and bald-eagled everythings, they waited patiently for freezing hours to cheer and wave on command.
That's not to say, mind you, that they'd all voted for the man.
I complimented one woman at a checkpoint on her US-flag motif earrings, and asked if she was big fan of the President's.
"No!" she said. "I'm a registered Republican! But I've only missed one inauguration in 24 years and I'm not missing any more."
Mary from Virginia probably did vote for Obama. She had an Obama cap, Obama sweatshirt, and rather large Obama glasses. She whinged as we waited unsuccessfully for an elevator, and upon a full five minutes of standing there I suggested instead we might take the stairs.
"I've been walking since 5am this morning, young man. If my 43-inch behind wants the elevator, it gon' take it!" she laughed.
"5am! What were you doing?"
"What do you think?" said Mary. "Waiting to see my President!"
I can hardly imagine John Key or David Shearer (or even Winston Peters) drawing such loyalty from their constituents. And having now witnessed a full Presidential campaign, election and inauguration, I've come round to the American approach.
Yes, it's in your face. Yes, the characters are comically large, and the patriotism sometimes blind. Voters hold Debate Parties to watch their contenders square off over benefit cuts and buy calendars with photos featuring only the President's dog. They take a full day to sign in the boss, and will wait half a day in the cold to cheer him only for a moment, without the added persuasion of a barrel to the head you might get in other parts of the world.
It's far from a perfect system but people, at the very least, care about it. They celebrate it. They savour the democratic process. And the drawn-out grandeur of it all is an inescapable reminder that, actually, US democracy in practice ain't so bad.
You know, except for the Cheez-Its.