Terri Judd finds a city with small-town heart.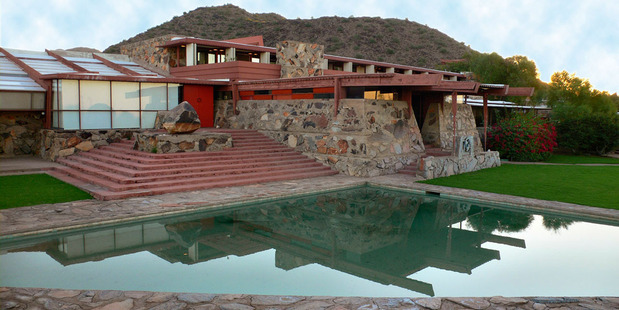 In a small park in downtown Scottsdale stands a statue of former mayor Herb Drinkwater, resplendent in Arizona's obligatory cowboy hat. The memorial below reads: "His heroism is well documented. He saved a life using the Heimlich Maneuver, changed tires for strangers, helped a policeman subdue a suspect, administered life-saving CPR to a man struck by lightning, and prevented a bull from charging into a group of children at a Parada del Sol Rodeo.''
It is a delicious slice of smalltown in a city now better known for golf courses, spas and Louis Vuitton outlets. It may be dubbed the Rodeo Drive of the Grand Canyon state, but Scottsdale still has heart. There's an obvious city centre to stroll through here, where cool mist sprayed from buildings soothes the inhabitants in constant defiance of the desert heat.
Surrounding the late Mr Drinkwater in Scottsdale Cultural Park is a clear sign the burghers have made every effort to shake off an image of being a playground for the rich: an "interactive outdoor gallery''. An eclectic gathering of art from Robert Winslow's Mooresque Freedom to Robert Indiana's giant LOVE is dotted between fountains and giant purple flowering artichokes.
For the perfect slice of this city, take a swift stroll south to the Museum of Contemporary Art, a small but perfectly formed showcase of modern sculpture and more unorthodox displays including the young@art room, where students are invited to scribble their thoughts in an interactive display. A two-minute walk east along 2nd St and up Brown Ave takes you to the Old Town, a step into a kitsch version of Arizona's history and possibly the only Wild West town with a sushi bar.
At the north end of Brown Ave, the pretty Old Adobe Mission Church with its stained-glass windows was originally built by the Mexicans who settled in Scottsdale during the Great Depression. Then take a left down 1st Ave to Scottsdale Rd, which takes you to Nostalgia Electronics. It's worth a brief stop here, for its collection of brightly coloured vintage Rock-Ola classic jukeboxes.
Keep on up 1st Ave and you reach the Arts District, where hundreds of galleries vie for trade. At any other time simply follow the signs on the sidewalks that take you through a veritable open-air exhibition around Marshall Way, boasting everything from traditional bronzes, such as Herb Mignery's Passing the Legacy depiction of Pony Express riders, to contemporary exhibits including Michael Malich's Horseshoe Falls.
North is 5th Ave's host of boutiques, farm shops and corner cafs. Stop for lunch at Baratin, a cosy eatery boasting dishes such as shaved summer squash, oil-cured olives, radish, almond and salsa verde. Restored, venture to the Waterfront, an area built around an irrigation canal originally constructed by the Hohokam Indians. At the east end towers the dramatic Soleri bridge with its pair of 64-foot-long silver steel-clad pylons.
Over the river, along Camelback Road is a shopaholic's paradise for those with an extremely flexible credit card, as Neiman Marcus competes with Tiffany & Co for your dollar. For something completely different, get a taste of American football at the Fiesta Bowl Museum, an homage to college football teams across the country.
Back on the south side of the river, do not miss a peek through the windows of the Oh My Dog! Boutique and Spa, an utterly surreal spot where people take their pooches for beauty treatments and kit them out in sailor suits or ballerina's tutus before volunteering them in the model search for this year's calendar.
If the retail therapy gets too much, stop off at the nearby Herb Box delicatessen for an iced coffee. And when your Manolo Blahniks can no longer cope with the pavement, continue your Scottsdale tour on Ollie the Trolley, the vintage transportation that offers free stops off at convenient points across the heart of Downtown. Alternatively, head out to enjoy a range of nearby activities from hot air ballooning to off-roading. It takes but minutes to reach a desert of towering Saguaro cacti and apparently endless expanses of open land untouched from the days when the cowboys rode into town.
Whatever you decide, end your day with a sunset tour of Taliesin West on Frank Lloyd Wright Boulevard. This extraordinary home was built by the experimental architect and his apprentices during the 1930s. Sunset accentuates its rustic hues before firelight torches casts new shadows across its quirky geometric designs. His students, many of whom stayed for life, were told to bring a tent for living out in the desert and black tie formal wear for his many soires, a fitting reflection of the vibrancy of Scottsdale today.
- INDEPENDENT