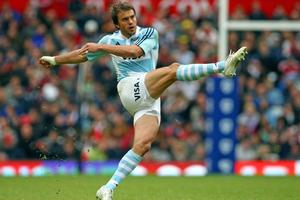 Sanzar has welcomed an International Rugby Board (IRB) rule change which clears the way for Argentina to join a new Four Nations competition in 2012.
At its council meeting this week, the IRB decided to alter regulation nine which governs the release of players for international duty, thereby meeting a condition set by Sanzar that Argentina were required to field their best players to participate in the Four Nations tournament.
The change, set to take effect from June 1, 2012, will ensure that the release period for the new Four Nations aligns with the new dates for the competition from late August through until early October.
In September, Sanzar issued an invitation to the Pumas to join the competition from 2012, subject to several conditions which have now been resolved.
Negotiation of a participation agreement with Argentina Rugby (UAR) remains the last hurdle for inauguration of the new competition alongside the All Blacks, Wallabies and Springboks.
"This is an exciting step for Sanzar and for world rugby, as it confirms Argentina's participation in a top-flight rugby competition, which they thoroughly deserve, and will add a dynamic new element to the current Tri-Nations, which is already regarded as one of the world's toughest tournaments," Sanzar and New Zealand Rugby Union chief executive Steve Tew said in a statement.
"We now need to finalise a participation agreement with the UAR so we can move to full planning for the introduction of Argentina in 2012."
The IRB confirmed in March that it would match Sanzar and provide an investment of US$2.5 million ($3.5 million) per annum from 2012 to 2015.
Sanzar also confirmed today that the three Sanzar unions and their Super rugby teams will work with the UAR to look at providing greater opportunities for Argentinean players to play in Super rugby teams as part of the lead-up to the new Four Nations.
IRB chairman Bernard Lapasset welcomed the likelihood of Argentina joining the competition.
"Today's announcement represents an historic milestone in the process of Argentina's integration into an expanded Tri-Nations tournament and is an extremely exciting development for UAR and rugby around the world."
- NZPA