The Pacific Coast sand stretches 5.6km between Venice Beach and Malibu and the well-heeled town of Santa Monica sits in the middle facing the best sunsets in California, writes Megan Singleton.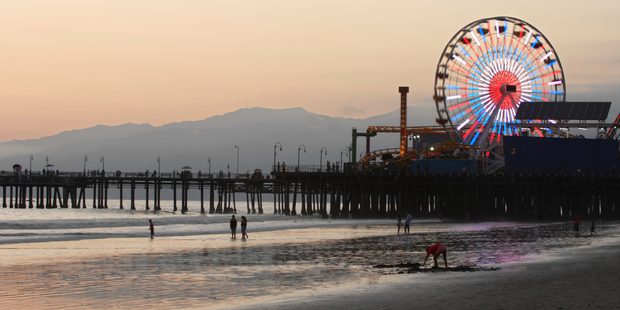 You can't miss it when driving along the waterfront. This 100-year old wooden pier has a giant Ferris wheel and mini theme park, but is also home to a very cool Route 66 shop for snapping up some souvenirs as this is where the old route ends. Free concerts and movies under the stars feature in summer and you can also rent bicycles here to join the locals and ride to Venice Beach via the buff bods on Muscle Beach.
One night every two years Santa Monica pulls an all-nighter with Glow, a contemporary art show held on the beach featuring glowing waves, a Ferris wheel orchestra and some crazy light installations that attract up to 200,000 in the dark.
Third Street is three blocks of pedestrianised shopping which welcomes street performers from morning till night, and some of the best retail therapy you'd hope to find. I head for Anthropologie, Sephora and Zara - and then find a place to stop for cuisine ranging from Mexican to Greek. Santa Monica Place is a three-level shopping mall anchoring the street with a food hall, restaurants and bars on the top level that are well worth visiting.
If you've seen Forrest Gump you'll know that Bubba ran a shrimping business. Well here, on Santa Monica Pier (the end of Forrest's run across America before he turned around and ran back) is one of the now famous shrimp houses that are dotted across the US. With signs at your table saying "Run Forrest Run" or "Stop Forrest Stop" depending on whether you need service, you'll be overwhelmed with shrimp choices - and portion sizes.
Sunday brunch at Wilshire Restaurant
For something rather more upscale than Bubbas, meet Nyesha Arrington, one of the hottest chefs in LA and try her stunning crabmeat benedict or the all-you-can-eat Sunday brunch. Happily it's open from 11am till 5pm and includes an omelette station and an unlimited Mimosa and Bloody Mary bar. $35 per adult ($25 for kids).
Click here for Megan's blog on the perfect Santa Monica day.
- nzherald.co.nz