Vietnam's three-wheel bicycle taxis, or cyclos, were once the iconic images of old Saigon. But restrictions in the-now Ho Chi Minh City preventing them from accessing the urban core have forced their disappearance.
And residents are left with one less mode of transport in the hot, tropical city.
In the past, thousands of these bicycles, adapted for transporting passengers and merchandise, navigated the streets of Ho Chi Minh.
However, according to online newspaper VNExpress, only 300 of them are left in all of Ho Chi Minh City and about 30 in the centre.
Unlike cycle rickshaws found in other Asian countries, Vietnamese tricycles, invented in the 1930s, have the passenger's sea at the front of the vehicle while the driver sits in the back in an elevated position.
Nghia, who has been in the business for 30 years, complained that the police have been hunting drivers like him relentlessly.
"They are going to stop us because we are weak, they have banned us from entering 65 streets downtown and we have to hide from the police and go into alleys. They want to crush us like insects," he complained.
Many drivers have replaced bicycle chains with motors, converting them into motorcycle taxis, but Nghia holds onto his occupation as a cyclo driver, believing that he, at the age of 68, is too old to change.
"I am a professional, not everybody knows how to do this job well, my clients are always happy. I need the money because my wife's health is not very good and I have to pay for the medicines," Nghia explained.
Every morning Nghia cycles to the tourist attraction areas, pedalling around in search of a customer who will save his day.
As proof of his claim of good service, Nghia shows an old Vietnamese magazine from 2003 with his photograph and comments written on paper by his clients in different languages, which are kept in plastic sheets.
"If I'm lucky, I get 200,000 dong in a day ($13), but I've been without a client for two days. Sometimes I think we do not have rights, we try to make a living and they crush us. The police do not treat us with respect," he said.
Nghia is part of the last generation of people to face discrimination because they fought on the losing side of the Vietnam War. Some people like him found cyclos to be a means of survival.
Around the ages of 60-70, and without any other source of income, these drivers are forced to continue pushing their old three-wheel artifacts.
Nghia still bitterly remembers his four years in a communist re-education camp, where he was sent after the war for fighting on the pro-American side.
"We had to cut trees in the jungle and they only fed us some soup or rice when we managed to cut the trunk," he recalled.
When he returned to the city in the early 1980s, his name was on a blacklist, preventing him from getting a proper job in a public company. He had no other choice but to rent a cyclo.
"I wanted to escape the country by boat, but I did not have the money to pay for it," said Nghia.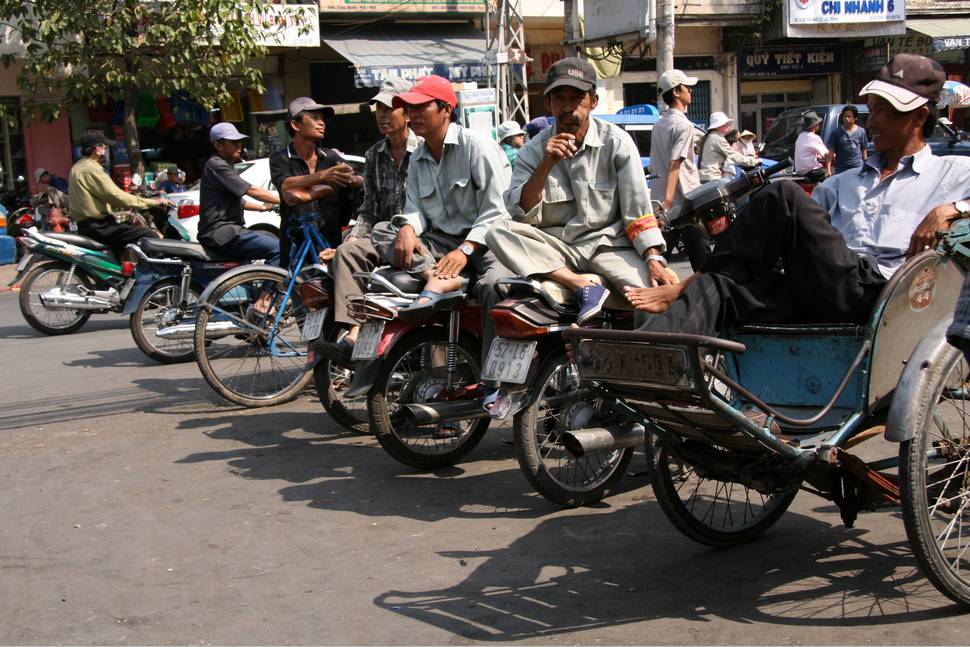 The situation improved in the 1990s, when the country began its economic reforms and more foreign tourists started to arrive.
"I had an advantage in knowing how to speak English," he said.
Those were golden days for him and his colleagues, when they could work on the streets of Ho Chi Mihn with complete freedom.
"Now the tourists are not much interested in that, some drivers cheat them and many of them do not trust us. We have to explain to them that we are honest," he said.
Nghia still does not know how long the cyclos will be allowed in the city, nor how long he will be able to endure.
"I do not know how much I'll endure. My body looks good on the outside," Nghia said, noting "but it's broken inside."
- AAP