April Crofskey snaps on her harness and hopes for the best on the Gold Coast.
The restraining weight of the hefty safety harness confirms that I have reached the first ride of the day and I wonder why I didn't escape the terrorising wrath of the Buzzsaw coaster when I could. It had welcomed us malevolently to Dreamworld, looking as if its dimensions shouldn't be physically possible. A looming 15-storey height and a square-ish track complete with a full corkscrew at its peak.
Thud of locks. White-knuckled grip.
We are hurled up the vertical track and momentarily left hanging upside down before cascading 360-degrees and looping down to the beginning only to pass through our starting place and continue on. I catch a glimpse of my father beside me as he shouts a profanity, an act far removed from the cool and collected attitude he maintained while queuing.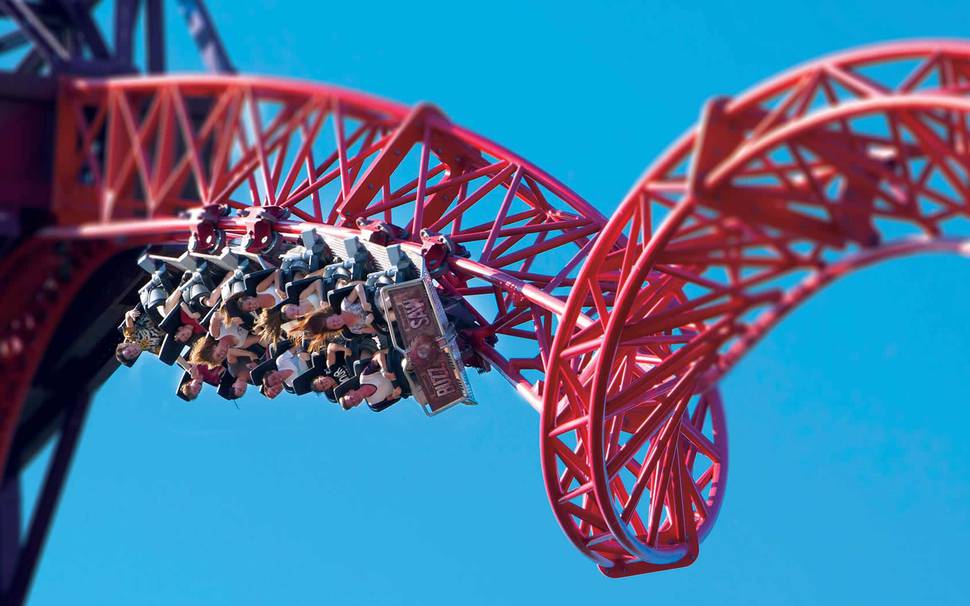 Hazy-headed and still trying to find my centre of gravity, I decide that Aussie thrill rides are not for the light-hearted. Although, with an array of attractions with names like Tower of Terror ll and Wipeout left to conquer and cram into the rest of the sweltering day I soldier on to keep up with my brother and father. We collectively agree after each ride through nervous laughter and grins, there's truly nothing like being sporadically shaken, jolted and thrown around like ragdolls in all different directions at rapid speeds out of our own control for entertainment. Each ride has its own stomach-lurching quirks; the amusement never ceases.
The Gold Coast's numerous offerings are bigger and better than the best you could find within New Zealand; making Rainbow's End look well-intentioned yet measly in comparison, it's a haven for families or thrill-seekers of all ages. Whatever pace you levitate towards, Movie World and Dreamworld will answer with variety, although you will have to brave the lines. To cram as much in a day as possible we bought fast passes (Q4U at Dreamworld and Fast Track at Movie World) which made for shorter queueing, a worthwhile option for adrenaline junkies trying to cross every thrill ride off their lists.
You'll find that the concrete hikes, queues and fried foods of theme parks erode your wellbeing, so make space for a rest day of sorts. Whether it's a spot of outlet shopping, chucking a fat Aussie prawn on your rental's stovetop, a beach walk to any lookout of the skyline or simply people-watching the constant flow of attractive and tanned Gold Coast folk exercising at all hours of the day, you'll need it.