The Solomons had a pivotal role in foreign war, writes Emma Kemp.
Across the water they paddle, their timber dugout canoes swaying slightly, little hands clinging to the sides as their children keep balance.
The various villages from which these women hail lie on islands dotted all over the Solomons' unspoiled Western Province.
But every day they travel to the commercial hub of Munda, on New Georgia, to sell their produce.
At the market near the jetty, coconuts, papayas and betel nuts are lined up in orderly piles beside newly dug sweet potatoes and a bounty of fresh fish.
The women, some with gloriously large bottoms, sit smiling and chatting on upturned crates.
"Halo oloketa," one says, greeting me in Pijin.
You'll be lucky to spot a tourist here.
The nearly 1000 tropical islands (only about 350 are inhabited), the palm-fringed beaches, azure waters and volcanic islands of this archipelago are some of the least explored of the South West Pacific.
Life runs on Solomons time, an unwinding pace that will gradually alter an outsider's physiological make-up.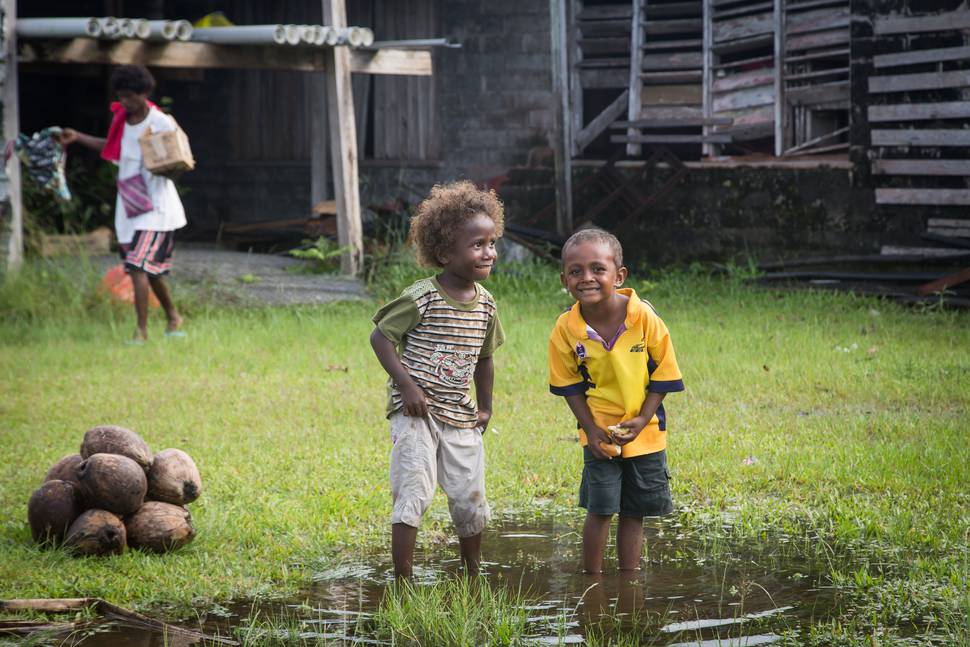 But scratch the surface of the laid-back lifestyle and rich cultural diversity, and you'll discover a fascinating wartime history.
During World War II, the Solomon Islands and neighbouring Papua New Guinea formed a critical corridor for the Japanese in their 1942 offensive to take Australia.
The slew of wrecks and remnants left behind from their fierce battles with the Allied forces who came to stop them make this a war junkie's paradise.
But it's not your typical museum.
There are no glass cabinets or plaques explaining the history behind the sunken warships, downed planes and countless other relics scattered all over the country.
These stories are most often held by the locals, many of whom have a personal connection to that time.
A half-hour's boat ride away is Kennedy Island, where former US president John F Kennedy was stranded in 1943 while serving as a Navy lieutenant. His vessel, PT-109, was torpedoed by a Japanese destroyer, leaving him and his fellow survivors marooned, injured and lacking food.
After nearly a week, two local men finally spotted the group.
Kennedy famously carved a call for help into the shell of a coconut, and Eroni Kumana and Biuku Gasa paddled through dangerous Japanese waters to take it to an Australian coastwatcher.
Rescue soon followed.
The 35th US president later used the coconut as a paperweight on his desk in the Oval Office, where he wrote letters to his saviours.
Kumana, the last surviving of the pair, died in August at the age of 93.
He'd lived his entire life on the obscure island of Rannonga with no electricity or running water, yet had still left an indelible mark on history.
But it's also the lesser-known anecdotes, passed on through ancestors and told by the people, that make this gorgeous pocket of the Pacific a place to be treasured.
We meet another local man called Hudson at his home on the tiny coral island of Kohinggo.
Tucked away in the damp jungle of his property lies a perfectly preserved American Stuart tank.
This war machine has sat untouched since the Japanese immobilised it in 1943.
Hudson tells us the shell-punctured tank had been part of a US attack on Japanese positions along the Western Province's northern coast.
The crew escaped but abandoned their vehicle.
His information comes from his grandfather, who lived on the same land and saw it all go down as a 15-year-old.
On Munda, WWII enthusiast Barney Paulsen enthusiastically shows us his colossal collection in a shack in his front yard.
He's been obsessively hoarding pieces from the surrounding jungle every day since 2002 when he found his first artefact, a US dog tag bearing the name of Peter Joseph Palatini.
"That was when something struck me," he says, tapping his finger against the side of his head.
"From that time I started to develop the interest, digging and researching old memories."
The result, the fittingly named the Peter Joseph WWII museum, is chock-a-block full of thousands of neatly arranged military objects - helmets, ammunition, hand grenades and personal items such as reading glasses, watches and drink bottles.
A rusting Japanese cannon lies in one corner, next to the engine of an American aircraft.
Barney pulls out his "special box", from which he produces a Japanese rifle bayonet with self-sharpening sheath.
Also inside are other weapons, whistles, marbles and a bunch of US, Japanese and Dutch dog tags with names, address and blood type of servicemen.
Barney says Palatini's family has not been found, but other tags have been returned.
Down the road, Munda's airstrip is the one Japanese forces secretly built as a staging point to Guadalcanal under cover of coconut palms.
Read more:
• Solomon Islands: War stories in peaceful times
• Solomon Islands: Into a sea of smiles
• Solomon Islands: Welcome to their world
• Visits to Solomons an eye-opener
This one, like Guadalcanal's famous Henderson Field, is still used for daily flights.
But for all the physical evidence of what happened here 70 years ago, the place today is calm and peaceful.
Back down at the jetty, the market is in full swing. A throng of rainbow-coloured umbrellas shield buyers and sellers alike from the afternoon downpour.
An elderly man's rain dance has monopolised everyone's attention. Drenched, half naked and high on betel nut - or life - he sways and swaggers on the road with one lucky lady, suggestively gesturing at us to join them.
Just as soaked, we make our escape as he trips over himself, prompting the crowd to howl with laughter and clap him on.
We hop into our small motorised canoe and take off to see a sunken American Hellcat fighter plane.
In a seemingly random spot of water our driver turns off the engine and gives the go-ahead to get our snorkel gear on.
The sight below is breathtaking.
Ten metres down rests the perfectly preserved plane, virtually all of its cockpit controls and gauges still intact.
There really are hidden wonders beneath the surface of the Solomons.
Checklist
GETTING THERE
Solomon Airlines flies four times a week from Brisbane to Honiara, and Virgin Australia also flies from most capital cities via Brisbane. Solomon Airlines run regular domestic flights from Honiara to Gizo and Munda. In Munda, Agnes Lodge has a variety of rooms for all budgets. For more, visit
DETAILS
A visit to the Peter Joseph WWII museum, in Munda will set you back about $10. Ask any local for Barney's museum and they'll send you in the right direction.
It costs the same amount to see Hudson's American Stuart tank in Tahitu, Kohinggo Island.
ONINE
visitsolomons.com.sb
TOP TIP
If you're headed to the Solomons, a typhoid vaccination and anti-malaria medication are needed.
- AAP