After meeting the denizens of land and sea at Heron Island, Rod Emmerson does not want to come home again.
It took a few slow turns of the cogs in my holiday-mode brain to realise what all the fuss was about. Our afternoon beach stroll had inadvertently put us in the path of a silent stampede of highly energised green turtle hatchlings that had burst through the sand dunes to our left and were hightailing it to the crystal waters of the reef. A bucket-list moment that quickly becomes a lesson in Darwinism.
We managed to shoo off greedy seagulls, but the predatory inhabitants of the reef circling just off-shore was another matter. The survival rate of hatchlings is disheartening; one in 1000 live to adulthood, but this of course is the way of life on the Great Barrier Reef.
Heron Island is the tropical paradise you visit in your dreams. Warm azure waters, blinding white beaches; a fly speck in hundreds of square miles of coral reef.
Getting there wasn't exactly paradise. Hardly a rough trip, although I confess to losing my lunch on the two-hour voyage from Gladstone, amid mild seas in the audience of hardier mermaids. My earlier anecdotes of spearfishing in waters not too far from here in my youth were nullified by my primeval wailing and fetal repose.
Barely 800m long and 300m wide, the coral cay is home to swarms of nesting seabirds and the birthplace for thousands of green and loggerhead turtles.
A softwood forest blankets the island and branches are weighed heavily with nesting herons and black noddys. The forest floor is a maze of holes from burrowing wedge-tailed shearwaters.
The fight for living space transcends to the seabird world too. Unbelievably, a turtle meat cannery once stood here; today it is a national park and a beacon for documentary makers, researchers, students and tourists seeking the awe and wonder of a pristine marine ecosystem.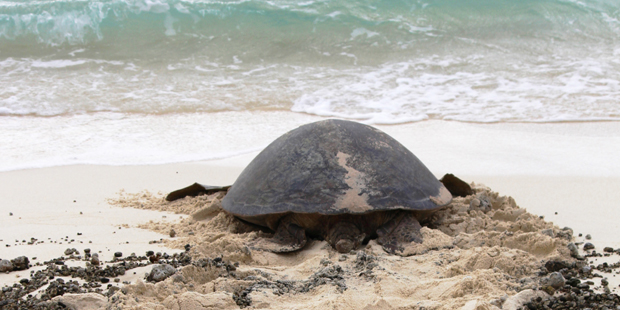 Eggs laid, a turtle scoots back to sea. Photo / Rod Emmerson
The eco-friendly Heron Island Resort shares a small portion of the National Park with the University of Queensland's Marine Research Station. This symbiotic relationship educates holidaymakers on the fine balance of life that exists in a such a microcosm. When you've walked the same beach as Sir David Attenborough and chatted with friendly biologists, you leave with a greater respect for the world around you.
Day breaks are a hive of activity with early-riser families and researchers watching turtles lay eggs or following exhausted mothers to the waters. The wharf comes to life with divers preparing for the allure of surrounding reefs and a quick glance around the shoreline waters picks up a scattering of snorkellers taking advantage of the morning's high tide.
These waters are a showcase of marine life and the perfect spot for both scuba diving and snorkelling of all skills and ages. We join the dive boat and head to Pam's Reef on a full tide. The reef wall snakes its way for several hundred metres, with the top just 4m below you, rolling off to about 20m for those on tanks.
Visibility is perfect and the water temperature almost a warm bath. Schools of colourful tropical fish, turtles, groper, stingray and the occasional lazy shark cruise the currents. But no matter how familiar you are with coral reefs, a low-tide reef walk with the resort's nature guide is essential.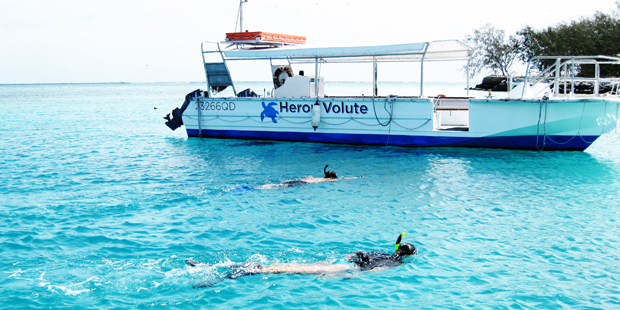 Snorkellers alongside the Heron Volute. Photo / Rod Emmerson
A marine biologist from the UK, Kirsty, explains how the ecosystem of the reef functions, and pulls up any number of wriggling critters for you to hold.
The one species that brought legs together was the dodgy bread-loaf sized sea cucumber that has a smiley face at one end and a small fish living in its anus at the other.
She can also show you what lurks in shallow waters that can end your life in minutes. Happily, Kirsty insists that the various shark species here are not remotely interested in humans. The various encounters we had confirmed this, but there is always that mortal moment in a silhouette.
The coup de grace here is the resort dining - foodies will be in heaven with the "Earth, Land and Sea" menu. The restaurant perimeter is lined in netting to avoid a passerine paté on your plate and allows you to watch shearwaters clear tunnel nests from the comfort of your dining table.
But if you truly wish to be touched by paradise, spend an hour rejuvenating your inner self at the Aqua Soul Spa. It's here where you will start making plans to never see the mainland again. We walked in, and floated out. I could easily have exited humanity and climbed a tree and built a nest alongside the herons.
The perfect spot for the family to escape an Auckland winter and like the turtles, we will return.