Yvonne van Dongen gets a telling off about her improper tea drinking habits from her Basil Fawlty-esque guide in the Cameron Highlands.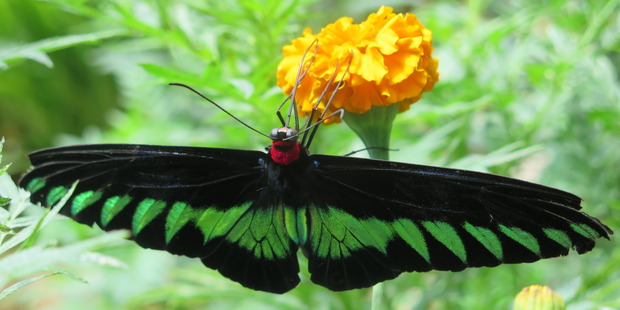 Hills with missing chunks, their bulk quartered and sometimes halved, newly exposed red earth, row upon row of plastic hothouses, diggers, trucks, and clusters of hastily-built concrete buildings and in between, remnants of lush jungle.
I'd never been to the Cameron Highlands before but even I could tell this wasn't what they were supposed to look like.
At a guess I'd say it wasn't even what they looked like 10, even 20 years past, let alone 130 years ago when British surveyor Sir William Cameron first clapped eyes on them.
But the Malaysian hill station is large, the size of Singapore in fact, so perhaps I'm viewing the worst of it on the road from Kuala Lumpur.
Perhaps deep in the hinterland the tableland is untouched and verdant, alive with the sound of birdsong and the rustle of native animals.
At any rate, what hasn't changed is the temperature which, at 18C, is decidedly cooler than the capital city and the reason the Cameron Highlands became one of the first tourist spots in the country as well as a prosperous tea estate.
Now orchards, nurseries, rose gardens, golf courses, hotels and farmlands are scattered along the hillsides. Not to mention legal and illegal farming and logging. It's a very busy place for a resort region.
But nothing is quite what it should be.
The rose garden is tawdry and underwhelming, the insect and butterfly zoo is good but there is better in Kuala Lumpur, the bee farm is ho-hum though viewing the native bees is mildly fascinating; and the Sungei Palas tea plantation tour is quite simply terrifying.
My guide makes Basil Fawlty sound like Barney: "You steep your tea leaves in the middle of your pot?! Is that what you do? Oh no! That is why I hate Dutch tea drinkers. Hate them I tell you. I'm sorry but I am passionate about tea and that is not the way to drink it. No no no! You must let the leaves float freely to get the best flavour. Float freely madam. Dutch tea drinkers, they always tell me this. That is why I hate them."
Feeling slightly shell-shocked at the combined disappointments of the sights and sounds of the Highlands, I resort to what is always an uplifting experience in Malaysia: I eat.
Malaysian food is dangerously delicious. At this point in my travels, I reckon it's the best thing about the place.
Of course Malaysia also has many glorious hotels and I have the good fortune to stay in one of the oldest and most luxurious.
The Cameron Highlands Resort does its utmost to drum up the essence of the romantic colonial past with lavish afternoon teas, spas with exotica like tea baths and a ritual fire-lighting ceremony for a largely unnecessary fire in the evenings (it's not that cold).
Nearby is the Smokehouse Hotel, which does much the same thing on a lesser scale. The bar is cosy but much of the hotel is as tawdry and disappointing as the rest of the highlands.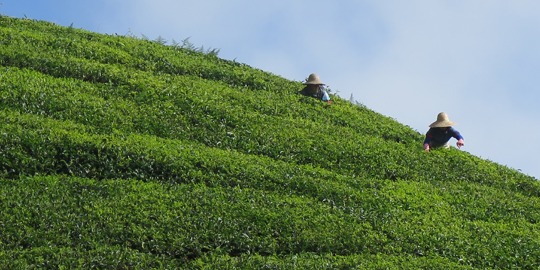 The Cameron Highlands became a prosperous tea estate after British surveyor Sir William Cameron clapped eyes on it 130 years ago. Photo / Yvonne van Dongen
Oh moan. Just when I'm feeling like the visit has been a colossal waste of time I spy an advertisement for a tour to the rafflesia, the largest flower in the world.
The rafflesia can be viewed twice a year here and unbelievably, now is just the right time but the tour has already left. I refuse to let this stop me, instead hiring a driver who promises to take me to a guide who can walk me to this enormously strange bloom.
Forty minutes' drive north into the highlands the driver stops the car next to a cluster of concrete bungalows by the side of the road. Here the driver finds an elderly Orang Asli (indigenous) man with a bung eye who can't speak a word of English. But he can take me to the rafflesia. He can also skip bloody quickly over uneven ground and hop across rocks and streams while stopping occasionally to roll a ciggie. I am grateful for the interlude. The cool highlands have suddenly becoming stinking hot now that I am climbing them.
Every time I ask how far, he says 30 minutes even when we are metres away. It's either a good trick or the only words he knows.
At any rate I'm thrilled. Here on the ground are not one, but two rafflesia.
One is a tight circular unopened flower. It looks familiar. That's right - I've seen them pulled apart and sold on the side of the road as a herbal remedy on the way here.
The other is open with thick red petals rough and dry to the touch, its centre a bowl of spikes. Magnificent. It's supposed to smell like rotting meat but that's lost on me. After this tropical hike, I probably smell worse.
The old man waves at my camera. One of me with the flower. One of him with the flower. A moment of reverential gazing and we leave. Downhill all the way.
The Cameron Highlands rises in my estimation. Except for one thing. My Orang Asli guide uses his lighter to ignite vegetation along the way. Flames crackle behind us. Since I can't ask him what he's doing I wait for my driver to translate.
Turns out the government has given the Orang Asli everything they need to start a rubber plantation. All they have to do is clear their own land. That's what the fires were. Him clearing the land.
Ah well. Farewell Cameron Highlands. It was nice to know you.
CHECKLIST
Getting there: The Cameron Highlands are 200km from Kuala Lumpur. It took us about two-and-a-half hours to drive there, though buses are also available.
Where to stay: Treat yourself - the Cameron Highlands Resort.
When to go For rafflesia - April to May or December to January. For everything else, any time of year.
Where to eat: Anywhere there's a crowd.
What to do: Hike the mossy forest. See a rafflesia. Visit a strawberry farm, rose garden, aviary, tea plantation and butterfly park if these things intrigue you but don't expect too much. Golf, enjoy a spa, eat.
Yvonne van Dongen travelled to the Cameron Highlands as a guest of Tourism Malaysia and Malaysia Airlines.