Delhi belly and bad belly dancing will kill your holiday mojo, says Diana Balham.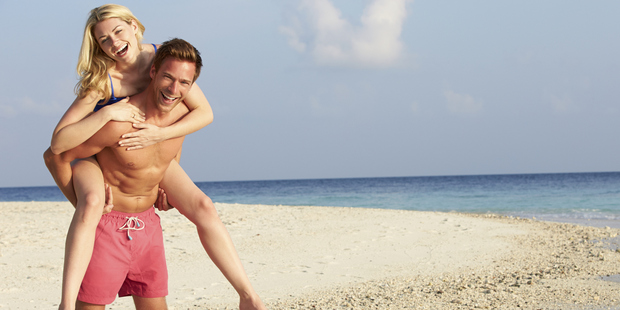 Our piddling little summer is but a distant memory and now you've got your heart set on a holiday where it's really hot: Asia, the Pacific islands, the top bit of Australia ... Ah, you can almost taste that fifth pina colada and glimpse the sparkling sea out past the infinity pool. But serious style crimes can stalk you day and night.
Here are 10 ways to ensure you always look your best in warmer climes:
1. Be careful what you eat: Potential tummy bugs lurk under every innocent lettuce leaf in some countries. Even the ice isn't safe. Running from the room squirting from both ends could blow your holiday mojo so treat every morsel as a possible loaded weapon and, when in doubt, don't eat the meat, especially if you've just seen it being butchered on the street in front of you.
2. On the other hand: Picking up a really vile dose of Delhi belly or its local equivalent could get you slimmed down in no time if you were a bit porky at the start of your holiday. Celebrate your illness and parade around the pool in skimpy togs once you're no longer sprinting for the bog every 10 minutes.
3. Don't go out in the heat: Stay in air-conditioned places at all times, sliding elegantly from the hotel to the limo to the chilly restaurant and back again, and skipping the real world any chance you get. You won't see much of your destination but you'll avoid that red, sweaty mess you become from actually going outside.
4. Don't sit at the front table at the cultural show: If you must attend one of these, make sure you sit (or stand) as far back as possible. Otherwise, you'll probably get pulled on stage and make an arse of yourself performing the local fertility dance with a pig's uterus on your head, or some such ancient and humiliating ritual.
5. Choose ethnic attire wisely: Don't buy that belly-dancing outfit! Leave the tribal traditions to the locals. You can probably pull off sporting a sarong but just because Indian men wear a garment that looks like an adult nappy doesn't mean you have to. You will look silly. Trust me.
6. Avoid nudist beaches at all costs: What felt like total, life-changing freedom on holiday will come back and bite you on your pale, naked bum. Your loved ones will immediately upload the evidence and your dangly bits will have an eternal life on Facebook.
7. Don't take part in a kava ceremony: Unless you are a dedicated boozehound. Apart from the fact that it tastes like a ball of dung strained through a sweaty tramping sock, this stuff is really potent. You won't maintain your glamorous holiday persona spewing into the frangipani the next day.
8. Don't engage with the local wildlife: At best you'll look hideous covered with red, angry mosquito bites: at worst you'll die of malaria. And at the larger end, the price of playing "How much is that doggie in the window?" with the cute stray might be rabies. Frothing at the mouth is so unbecoming.
9. Obey the "togs-undies" rule: Unless you're on the beach, it's probably inappropriate to wear hardly anything, especially in a Muslim country. Causing a mini-riot or getting stoned by locals outraged by your lack of respect clothes-wise draws attention for all the wrong reasons.
10. Don't smuggle drugs: Because you know it's hard to look your best in a fetid overseas jail.