You can get a taste of the best in the world's top restaurants, but cheap and local still rules, writes Jesse Mulligan.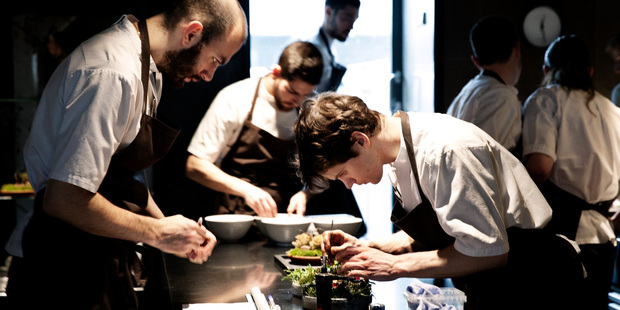 The publication of the World's 50 Best Restaurants list is an annual reminder of just how much on the planet there is left to eat.
I've dined at Yountville's The French Laundry (voted No. 1 in 2003-2004) and at Melbourne's Attica (No. 32 this year and always thereabouts), but at none of the other 48.
Mind you, it's said that half the people selecting the top 50 (the list runs annually in Restaurant magazine) haven't eaten anywhere on the list either, so that's something.
Getting a seat at a world-renowned restaurant takes luck, locality and a lot of money.
In other words, getting yourself to Basque Country in Northern Spain is one thing, but if you want to eat at regular top tenner Mugaritz you'll need to hope they have a spare table on the day you'll be visiting, and be prepared to pay $300 a head, plus wine.
If you do, you'll be treated to 24 courses, beginning with what looks like a stack of rocks. But ha ha ha, they're not rocks, they're actually potatoes! Well, you didn't pay for a comedy show.
A far more manageable way to do food tourism is by mixing the fancy places with the commonplace. Mugaritz, for example, is 20 minutes away from the town of San Sebastian, where the greatest tapas (or pinxtos) in the world sell for pennies - a dozen varieties to a bar, a dozen bars to a street, a dozen streets to a suburb.
Tapas solve the biggest problem you have when you travel for food - that there aren't enough meals in the day. My wife and I try to squeeze in four, but it comes at a cost: you're never hungry.
Meals, like sex, require a bit of down time afterwards to build excitement about the next one. Unfortunately that's all I can tell you about sex, because my wife and I spend all of our alone-time eating.
Finding the right place to eat requires homework. Seasoned food tourists learn to avoid the "town square restaurant" - the one with the biggest signs and menus printed in English ("do you like seafood? Great! One lobster platter on the way"). Thank goodness for food blogs - they're like Trip Advisor, but created by people you can generally trust.
Asking the locals isn't always foolproof - "You're a tourist and you want to eat? All the tourists go to Big Tony's on the town square. The lobster platter seems popular!"
The best eating trips inspire you to change the way you eat at home. After two weeks in Provence's Luberon I was using raw garlic and goat's cheese in everything.
A tour of Northern California was an introduction to vegan diets and raw living - at home I swapped the goat's cheese for macadamia cheese and hit the green smoothies hard.
In Italy's Puglia, the roars of laughter I heard when I asked if I should pour the pasta into the sauce or the sauce into the pasta changed the way I did it for ever (it's the former, by the way).
So don't treat the top 50 as a bucket list. Treat it as a guide to where you'll have your one very expensive meal if you happen to find yourself travelling in the area.
The best food stories come the cheapest, the best inspiration is found in local kitchens, and the best way for a foodie to show his romantic side is to let her eat another slice of pie.
The World's 50 Best Restaurants 2014
Only you can tell if the recommendation was worth it
1. Noma, Copenhagen (last year: 2)
2. El Celler de Can Roca, Girona, Spain (1)
3. Osteria Francescana, Modena, Italy (3)
4. Eleven Madison Park, New York (5)
5. Dinner by Heston Blumenthal,
London (7)
6. Mugaritz, San Sebastian, Spain (4)
7. D.O.M., Sao Paulo, Brazil (6)
8. Arzak, San Sebastian, Spain (8)
9. Alinea, Chicago (15)
10. The Ledbury, London (13)
11. Mirazur, Menton, France (28)
12. Vendome, Bergisch Gladbach, Germany (10)
13. Nahm, Bangkok (32)
14. Narisawa, Tokyo (20)
15. Central, Lima (50)
16. Steirereck, Vienna (9)
17. Gaggan, Bangkok (-)
18. Astrid Y Gaston, Lima (14)
19. Faviken, Jarpen, Sweden (34)
20. Pujol, Mexico City (17)
21. Le Bernardin, New York (19)
22. Vila Joya, Albufeira, Portugal (37)
24. Amber, Hong Kong (36)
23. Restaurant Frantzen, Stockholm (12)
25. L'Arpege, Paris (16)
26. Azurmendi, Larrabetzu, Spain (-)
27. Le Chateaubriand, Paris (18)
28. Aqua, Wolfsburg, Germany (30)
29. De Librije, Zwolle, Netherlands (-)
30. Per Se, New York (11)
31. L'Atelier Saint-Germain de Joel Robuchon, Paris (24)
32. Attica, Melbourne (21)
33. Nihonryori RyuGin, Tokyo (22)
34. Asador Etxebarri, Atxondo, Spain (44)
35. Martin Berasategui, San Sebastian, Spain (-)
36. Mani, Sao Paulo (46)
37. Restaurant Andre, Singapore (38)
38. L'Astrance, Paris (23)
39. Piazza Duomo, Alba, Italy (41)
40. Daniel, New York (29)
41. Quique Dacosta, Denia, Spain (26)
42. Geranium, Copenhagen (45)
43. Schloss Schauenstein, Furstenau, Switzerland (42)
44. The French Laundry, Yountville, California (47)
45. Hof van Cleve, Kruishoutem, Belgium (25)
46. Le Calandre, Rubano, Italy (27)
47. The Fat Duck, Bray, England (33)
48. The Test Kitchen, Cape Town (-)
49. Coi, San Francisco (-)
50. Waku Ghin, Singapore (-)