Winston Aldworth flies Auckland to Melbourne aboard JQ214.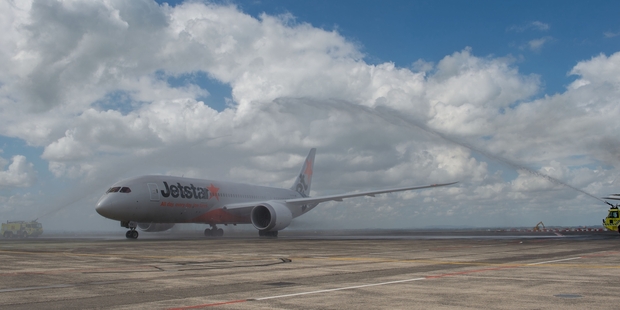 The plane: A freaking Dreamliner! Jetstar is running a Boeing 787 on the Auckland-to-Melbourne route for one month only. It's a plane nerd's dream, and a couple of our nation's most prominent plane nerds - sorry, aviation journalists - are on board. Good sorts, the lot of them.
In case you haven't heard, the Dreamliner's windows are 60 per cent larger than those in a comparable passenger aircraft. Oddly, you notice it most when you look across the cabin and see the vast amount of light flooding in the windows on the other side of the plane. There's more headroom in the aisle and the cabin pressure is better for passengers, too, but you'll really feel the effect of that on long-haul flights. The Dreamliner is servicing this route three days a week until March 26. Jetstar normally has an A320 doing this run.
Class: I'm in a business-class seat. The cabin is configured with a business-class section because the plane is destined for long-haul runs to Denpasar.
My seat is very comfortable and has an excellent wide-display screen. There are 21 passengers in business class and 314 in economy. Man, I love this plane. Back in economy, there's good legroom to be had in row 44.
Price: You can get on this plane for $159. You'll pay a little more for the business-class seats on account of the legroom and comfort. But it's standard service throughout.
Seat: 2A. Right next to one of those lovely big windows. Instead of pulling down a blind, the Dreamliner's windows have a dimmer button. I love this plane.
On time: In speeches before boarding, Jetstar talks up the success it has been having on the reliability front over the past year. Fittingly, we roll away bang on time.
Fellow passengers: Families on the transtasman run and - because they're pleased as punch about their Dreamliner - a heap of Jetstar bigwigs. I'm sitting next to Grant Kerr, he's the boss of Jetstar on these shores. He's an excellent neighbour and - though he denies it - a bona-fide plane geek. He fills me up with info on the Dreamliner during lift off, then races about on official duties and saying hi to passengers, meaning I can dump my gear in his seat. The ideal travel buddy.
How full: Pretty much chocka. And the Dreamliner carries about 100 more passengers than the A320 that normally does this run.
Entertainment: As it's the first run of Jetstar's transtasman Dreamliner, everyone gets a free meal pack and use of the entertainment system. Normally you'd pay.
Service: They're a lovely lot.
Food and drink: The free meal pack has a turkey sandwich and a quite nice berry cupcake thing. A can of VB for me and a bourbon and coke for the bloke from Let's Travel magazine costs me $15.
Toilets: The funky Dreamliner lighting is in full effect. Otherwise these are pretty, ahem, bog standard. Top tip for plane designers: give us windows in the smallest rooms. I couldn't spot any difference between the business class toilets and those in economy.
Luggage: I had a bag (up to 20kg) in the hold and one over my shoulder, plus the laptop.
The airport experience: The plane gets the classic water canon guard of honour as it arrives back in Auckland. Associate Minister for Tourism Todd McClay is there to do the honours. "My wife told me to get a pilot's uniform," he quips. There are shops for that sort of thing on K Rd, mate.
Would I fly this again: Ride on a Dreamliner? Any time.