Britney Spears' big, bold and beautiful over-the-top shows are pulling in the crowds on The Strip at Las Vegas. Leena Tailor takes her seat among the other 4599 fans.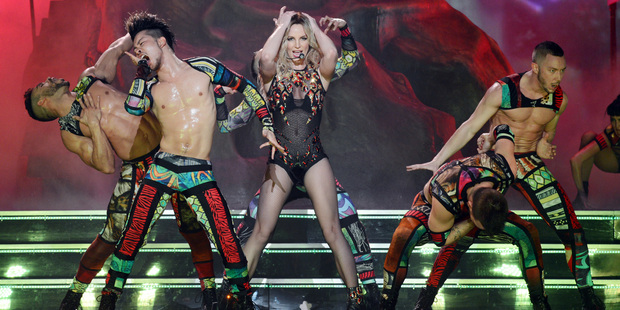 "It's like all my childhood dreams coming true at once," declares the young woman sitting next to me as snowflake confetti pours down on stage creating a blanket of bling through which Britney Spears serenades us with Everytime.
For a moment, I feel like my elderflower gimlet has washed over my brain and transported me to a poptastic 90s wonderland where the singer frolics through fire, perches on a giant rotating tree in a fairytale forest and hovers in the air dressed as an angel.
Even during the ballads I'm on my tip-toes, eyes glued to the stage reluctant to look away, even to pick up my drink, for fear of missing a beat in the Britney bonanza.
This isn't a show meant to be enjoyed sitting down.
"Britney wants you to get up on your feet and dance until the world ends," instructs a voice as the clock ticks down before an audience of 4600 take flight on a glittering 90-minute journey of pure pop, cutting-edge choreography and special effects, ranging from fire to snow.
"I love dramatic," Spears tells director Baz Halpin in the E! doco I Am Britney Jean, about the making of her show.
"Very dramatic and over-the-top. I think cheesy is good ... extra cheese, honey!"
Singing hit after hit after hit, the 32-year-old embraces the cheese, accompanied by a four-piece band, 14 dancers and spectacular sets.
My first regret is my outfit. When in Vegas, one wears sequins. When at Britney in Vegas, there is no excuse for not covering yourself (as much as one covers oneself in Sin City) in glitter, sequins or sparkles.
I realise there are exceptions to the rule as I lose myself in a crowd of 20-plus teenage girls dressed as Baby One More Time schoolgirl Britneys, while finding my seat - both relieved and disappointed I won't be sitting by them when Brit belts out the 1999 smash hit.
Back then, she was America's sweetheart, winning over fans young and old and topping the charts worldwide.
Now, a few rehab stints, court appearances and a head-shaving incident later, she's a twice-married mother-of-two.
It's her boys, eight-year-old Sean Preston and seven-year-old Jayden James, who were a big influence on Spears making Las Vegas' Planet Hollywood her new professional home.
"I feel at home in Vegas. It's a place of celebration, family and fun. I've been touring for the past four years and in a different hotel every night and it seemed a good place for the children and family. It's an ideal situation."
The deal sees Spears pocketing a reported US$15 million-per-year to do 50 shows annually this year and next. It means that the only place to see her perform in North America and Canada for the next two years will be Planet Hollywood in Las Vegas.
Kurt Melien, VP of Entertainment for Caesars Entertainment, began talks with Spears' long-time manager Larry Rudolph two years ago.
"We started talking about what it meant to be an artist in residence and to have a place to call home that was close to her home in LA," he tells Living.
"A huge reason artists pursue residencies is that they can have more freedom for building a show.
"Britney has always been known for big, bold, over-the-top spectacles so this was a natural idea to perk her interest because we could say, 'You'll get creative freedom that you can't have on the road because you won't have to pack pieces up into trailers'.
"And then there was the family conversation. Her kids are getting older and she wants to spend more time with them, so this gives her the opportunity to be back and forth from LA quickly rather than doing a world tour where she's travelling six continents.
"As soon as she got a sense that we could build something extravagant and exciting to present her greatest hits, she was hooked. Then once she understood she could do this instead of touring there was a definite appeal."
To house the show, Planet Hollywood's Axis Theatre was renovated into an intimate 4600-seat "part theatre, part night-club", where those with spare cash can splash out on a table up front with bottle service.
Not that it matters where you're sitting when Spears launches into hits like Baby, One More Time and Stronger, transforming the whole venue into a roaring dance-floor.
When she rips into Piece of Me, everyone sings along and it dawns on me during the shared appreciation that this is a show about fun, dance and celebrating the 15-year soundtrack Spears has given us.
It's not that everyone is oblivious to Spears' controversial history of lip-syncing or the moments where she's darting around in fast-paced moves seemingly not losing a breath, but there's an unspoken understanding when entering the theatre that none of that matters. After all, it's Britney b****.
Say what you will about her vocal talent, there's no denying her dance abilities and, while many pop stars deamplify their choreography as they get older, Spears has made a conscious effort to ramp things up.
Who does she call when she needs cool new moves? Aussie duo Squared Division.
"They're up-and-coming fresh guys so their stuff is really hard," she says.
"It's more rewarding when you perform something that's hard to do."
For the all-important costuming, Spears turned to Marco Morante (aka Marco Marco), who has also worked with Ke$ha, Katy Perry and Nicki Minaj. He put together more than 200 costumes for her dancers and, reportedly, almost 30 for Spears.
"The most important thing to Brit was being able to move freely in each costume," he says.
"She wants to make sure she can perform unencumbered by her looks. And obviously she wants to feel fabulous."
Morante says not having to worry about packing costumes for shipping meant they could instead focus on letting each idea take its full shape - especially with the giant angel outfit she dons for Everytime.
The piece required 55 metres of fabric for the skirt and each feather was cut and hand-sewn on to the wings. While its cost is shrouded in secrecy, like anything associated with the show, it has been worth the investment.
Melien says the residency has been a "commercial success "and believes the international pull will remain strong given the number of places - including New Zealand - that Spears never toured.
"She's a great ambassador for Vegas. People are looking for top entertainment when they come here and the moment they realise Britney's here, it's the must-see show."
Younger acts
Move over Celine Dion and Elton John - Britney's show marks a significant shift towards younger acts signing musical residencies along The Strip. It was only a matter of time, given that the average age of visitors to Las Vegas is dropping rapidly - from 50 to 45 in the past four years - largely helped by the city's booming electronic dance music scene.
Grammy-winning crooner Bruno Mars has kicked off an extended engagement at The Cosmopolitan, rap duo Macklemore and Ryan Lewis recently signed at Encore, Guns N' Roses and Motley Crue have paved the way for rock residencies at the Hard Rock Hotel and boy band the Backstreet Boys have also been in talks.
Meanwhile, hordes of young women make a beeline for the stage to be serenaded with roses by Boyz II Men while they sing their iconic 90s hit I'll Make Love To You every night at The Mirage.
"It's nice to be in one place for an extended period of time because we can really focus
on the show and keep improving it night after night," says member Shawn Stockman.
Melien hints that the star-studded guest list at Spears' show (so far including Katy Perry, Selena Gomez and Adam Lambert) is a strong indication of what is coming up next.
"Take a look at the Billboard Top 100 - the pop acts who are charting and have broken globally. We're having conversations with everybody, but it's about finding the right time in their careers.
"Britney has shown the creative licence and flexibility you get by doing this. Look at the celebrity list of folks who have come out to see her - these are folks who are interested in building a breathtaking, theatrical production here."
Live like Britney
When in Britvegas, you may as well live it up for a day like Britney would. Start the day with a Vitamin C-infused shower in the MGM Grand's Stay Well suites, then head to The Mirage to paint with dolphins or chill in the spa.
After evening cocktails at The Cosmopolitan's new nightlife concept Rose. Rabbit. Lie. (where having your table suddenly cleared so tap-dancing twins can come perform on it is the norm) head to hotspot Hakkasan for Cantonese by Michelin-starred chef Ho Chee Boon.
Following Spears' show, head across the road to continue showcasing your best Britney moves at the Bellagio's fountain-side lounge/club Hyde, where a VIP booth comes complete with a burly bouncer escorting you by hand through throngs of club-goers every time you need the bathroom.
What to say when a curious passer-by asks who you are? "I'm with Britney."
IF YOU GO
Britney in residence: See britneypieceofme.com for more details about the show.
Further details: For more on Las Vegas, see DiscoverAmerica.com.
Leena Tailor was a guest of the Las Vegas Convention and Visitors Authority.