Brendan Manning steps out of Hong Kong's hub and discovers there's peace and tranquillity to be found in the lush, abundant country parks nearby.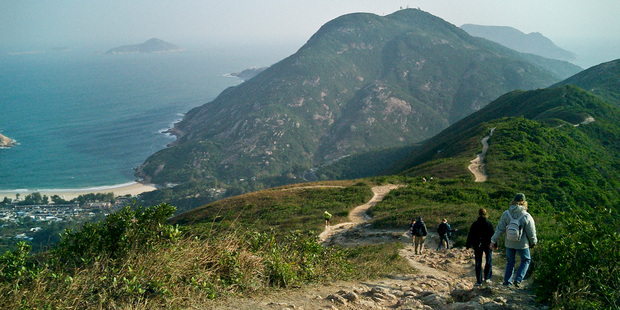 Hong Kong is known for its thriving urban metropolis and vibrant explosion of East-meets-West.
For a different experience, I ventured outside the city, through an abundance of verdant country parks, which make up three-quarters of Hong Kong's over 1000sq km landmass.
As well as providing a crucial fresh water source for Hong Kong's some seven million residents, the parks provide a bountiful playground for those looking to escape the urban sprawl.
I experienced one such getaway on the Dragon's Back, a ridgeline hike which compromises the south-eastern ridge of Hong Kong Island in the Shek O Country Park.
The trail takes its name from the ridgeline's resemblance to a dragon's veins as it snakes its way around the back of the island.
The trail is 50km long in its entirety, however can be tackled in stages, and on a good, clear day boasts views to the Nine Pins Islands, Big Wave Bay, Tai Tam Harbour, Stanley and the Red Hill Peninsula.
Our French guide, Stephanie, who moonlights as an outdoors guide outside of her work as a sales representative at Citroen Hong Kong, talked us through a few points of interest on the walk.
At the start, an unassuming fenced-off compound with an enviable view was curiously revealed to be a rehab centre. Doubtless the clean, lush backdrop would provide some calming motivation.
The trail then descended into a dew-laden canopy of foliage, before Stephanie abruptly stopped us to point out the near-invisible thread of a spider's silk connecting to web over a metre in diameter.
Stephanie explained the web was home to a hand-sized golden orb web spider, famous for its ability to weave huge webs. Unnervingly, it was one of dozens to line the trail. While the spiders' venom is far from lethal, we were told a bite would cause discomfort similar to that of a white-tail and to keep a watchful eye out.
When the trail left the bush we were met with a vast expanse of ridgeline and found ourselves surrounded by rose myrtle and fog.
While the fog clouded the view for the first 30 minutes, when the wind graciously blew it aside we were greeted with tremendous views looking back over the Dragon's Back, down to the expanse of a private golf course and the stunning bays below.
Our second day took us to the Sai Kung Peninsula north of Hong Kong Island in the easternmost part of Hong Kong's New Territories.
The peninsula is completely covered in country parks and faces out to the South China Sea.
We then went to meet the captain of a small boat which would take us from Sai Kung Town, famed for its ancient pearling and fishing culture, to Tai Long Wan, or Big Wave Bay. Rain pelted down and thunder clapped overhead as our guides deliberated whether it would be safe to make the journey.
"It's the guy's boat so he's not going to risk his boat ... or your lives," our guide Justin reassuring told us.
It was coming to the tail end of typhoon season and one last storm was unleashing its fury as it rolled through from Japan.
After a nervous smile to the captain, our party of seven piled into the small, rickety blue boat and we took what refuge from the rain we could under an awning.
The realisation 20 minutes into the boat ride that no one was wearing a life jacket - and there was only one lone orange life ring on board - had me scanning the shoreline and mentally calculating if I could make the swim. However, our cheery guide Justin maintained morale by pointing out sights along the way.
A palatial yet vacant residence was revealed to be owned by Jackie Chan and Jean-Claude Van Damme, and an ominous clap of thunder sounded as Justin pointed out Death Island, uninhabited except for the graves of dead fishermen.
Further into our journey, spectacular hexagonal volcanic tuffs formed the cliff-faces of nearby islands as we motored by.
Justin explained the phenomenon was caused by the uniform cooling of tuff - rock consisting of consolidated volcanic ash ejected during an eruption.
We then arrived safely at Ham Tin Beach - much to the credit of the captain of our little blue boat - and were met by a stunning pack of the local village's dogs.
The dogs had a semi-wild air about them and looked as if they had been bred with sharpei at some point, judging by their rumpled jowls and curled-up tails.
From Ham Tin, a short 30-minute hike took us to Sai Wan, the next bay over.
Just as we began to realise how hungry we were, we were introduced to a hospitable local who had taken the name of David.
David proceeded to single-handedly whip up a banquet of udon noodles, fried rice and Singapore noodles, and plied us with large bottles of the ever-refreshing Tsingtao beer.
We were told the area used to have a large population, however because of a lack of local job opportunities, few remained.
Sai Wan is renowned for its white sand beaches and apparently also has the best surfing conditions in Hong Kong.
Lunch was followed by a bush walk to a local waterfall and a dip in a refreshing swimming hole before embarking on the truly striking walk back out to the road.
A somewhat erratic taxi ride back to the city was made all the more entertaining by the feral cows dotted along the road. I was assured most taxi drivers in the country were rally drivers in a previous life and we were in the company of "one of the tamer ones".
The next day took us to the island and fishing town of Tai O, considered the very westernmost part of Hong Kong.
The drive to Tai O is scenically rewarding and once again the wild cattle roaming the roads proved a novelty.
Described my some as the Venice of Hong Kong, the quaint village of Tai O is famous for its houses which stand above the water on stilts.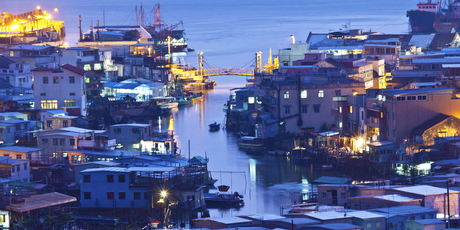 We explored the village by sea kayak, paddling through from an optimal vantage point before circumnavigating the island in search of one of Hong Kong's most endangered species, the Chinese White Dolphin.
Locally called the pink dolphin, their estimated wild population is less than 120. Our guide Dave told us there was a high mortality rate with the calves this year - a woeful 80 per cent - due to construction of the Hong Kong/Macau bridge, which was releasing tonnes of sediment into the water.
"It's contaminated mother's milk that's actually killing the babies," he said.
The waters surrounding Tai O were a haven for piracy and smuggling in times gone by, resulting in the British building a majestic police station on the hillside during their time at the helm.
However, after peaking with 180 officers in the early 1980s, the station was later abandoned, before being resurrected in recent years as a boutique hotel.
The bullet marks in a solid iron shutter remain, as does the humbling hillside view overlooking the bay below.
The setting provided an ideal vantage point for a post-kayak beverage, and a quintessential nod to times gone by, far from the peacocking neon lights, endless skyscrapers and fantastic chaos of Hong Kong city.
CHECKLIST
Getting there: Air New Zealand flies daily from Auckland to Hong Kong.
Further information: See discoverhongkong.com or phone (09) 307 2580.
Brendan Manning travelled as a guest of Air New Zealand.